Logitech releases Slim Combo keyboard case for new 10.5-inch and 12.9-inch Apple iPad Pro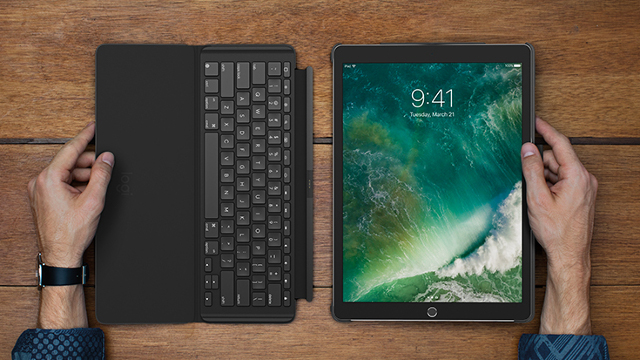 Ever since the first iPad was released back in 2010, people have dreamed about replacing their laptop with the tablet. The big draw, of course, was not having to carry a heavy and bulky notebook. At the time, many such portable computers were quite thick and heavy, making them a chore to lug around. Even though there are much thinner and lighter notebooks nowadays, the dream of replacing them with an iPad remains; even more since the release of iPad Pro.
Earlier today, Apple announced new 10.5-inch and 12.9-inch Apple iPad Pro tablets. While the company makes its own keyboard case for these slates, that hasn't stopped third-party companies from making arguably superior offerings. Today, Logitech unveils its latest such keyboard cases for the newest iPad Pro models. Called "Slim Combo," it will protect your iPad Pro while also making it a powerful laptop -- it even has a place to hold the Apple Pencil. The keyboard is removable, so you can use the iPad as a traditional tablet without removing the tablet from the case. It even draws its power from the Smart Connector, meaning no need for batteries!
"The Logitech Slim Combo is the the most versatile companion for the new 10.5-inch and 12.9-inch iPad Pro. The iPad Pro with the Slim Combo bring you the future of personal computing; a future that's easier, faster and more fun. A protective cover and detachable keyboard supports four use modes -- Typing, Viewing, FaceTime, Reading -- providing amazing versatility. The keyboard connects using the Smart Connector so there's no pairing and no charging. The Slim Combo features well-spaced, backlit keys and a dedicated row of iOS shortcut keys for comfortable, efficient typing. The case tilts your iPad Pro within a 50-degree range, giving ou the perfect viewing angle so you can be productive, creative, connected, relaxed," says Logitech.
Michele Hermann, vice president of mobility at Logitech explains, "In the past, you were bound to a workspace with a PC, and used your tablet for quick messages or entertainment when you weren't in the office; that's not the case anymore. To be a pro today, you need the power of the PC, but more easily available whether you're on a train, at the park, in a meeting or wherever you need to be. The Slim Combo unleashes the power of iPad Pro to bring you the future of personal computing; a future that's easier, faster and more fun."
This slideshow requires JavaScript.
If you want to purchase the Slim Combo keyboard case, it can be had in your choice of two colors -- black or blue. While the 10.5-inch keyboard is $129.99, the larger variant is $149.99. Both sizes are available today from either Apple or Logitech directly.