JBL releases Everest 2.0 Bluetooth headphones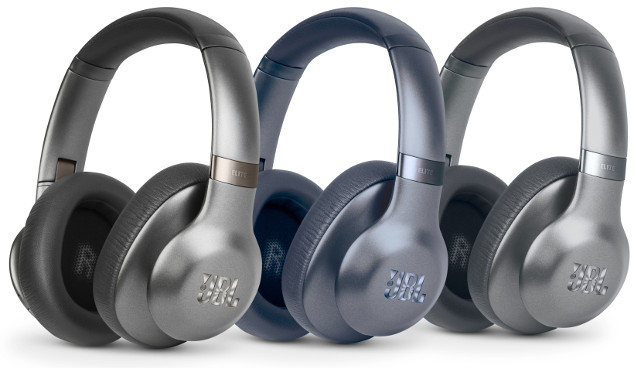 Bluetooth headphones are all the rage nowadays, thanks to smartphone manufacturers -- such as Apple -- that have omitted the 3.5mm audio port from their phones. iPhone is not the only such device -- there are some Android devices that don't have the headphone jack either. While you can add the jack back with a dongle, a wireless option can be much more freeing.
Today, JBL unveils four new Bluetooth headphones under the Everest 2.0 branding. What makes this particularly cool is that the line has models ranging from $100 to $300, making it possible to find a set that best meets a budget. They are quite differing in style too, featuring in-ear, on-ear, and around-ear options. While only the top model has adaptive noise-canceling technology for listening, all four feature an integrated noise-canceling microphone, making them good for communication tools too.
"The Everest 110, 310, 710, and Elite 750NC headphones are the flagship of JBL's headphone portfolio. Crafted with care and tuned to deliver a powerful JBL sound experience, Everest is a musical companion listeners will value. Featuring a perfect combination of style and simplicity, the series offers a variety of on-trend metallic shades including Gunmetal and Mountain Silver among other colors, with an exclusive Steel Blue shade in the Everest 110 and Elite 750NC models," says JBL.
The Samsung-owned company further shares, "Bluetooth technology powers an entirely wireless experience, giving listeners the freedom to tackle the day's activities without the hassle of wires. The headphones' long-lasting battery gives audiophiles more flexibility to listen to their favorite tunes for 15-25 hours. Additionally, a quick recharge feature enables users to juice up the battery to maximum capacity in just 2 or 3 hours, depending on the model."
JBL shares the specifications below. Please note that there seems to be a typo -- the 710 model is around-ear.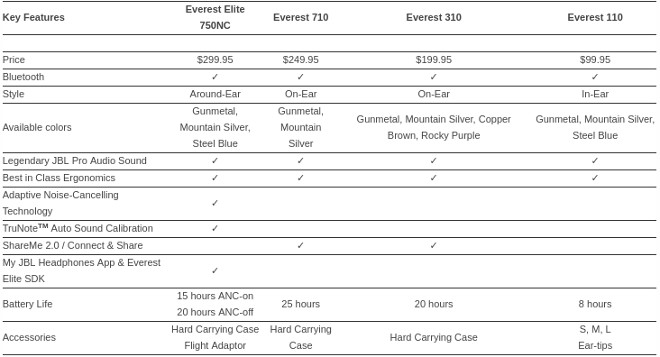 Which model you select will vary based on price, fit, and features. While the Everest 110 is least expensive at $100, for instance, not everyone likes sticking things into their ear canals. The two most expensive models -- the 710 ($250) and Elite 750NC ($300) are around-ear, meaning they cover your ears entirely. Again, some folks don't like that style as it can cause sweat and temple-pain. My personal preference would be the Everest 310 ($200) as on-ear headphones tend to be more comfortable. All of this is subjective, however, as people have different shaped heads and ears.
If you are interested in picking up a set of these Everest 2.0 Bluetooth headphones, all four are available starting today. They can be had from JBL directly or from Best Buy.