HTC U11 squeezable Android smartphone coming to America in beautiful 'Solar Red' color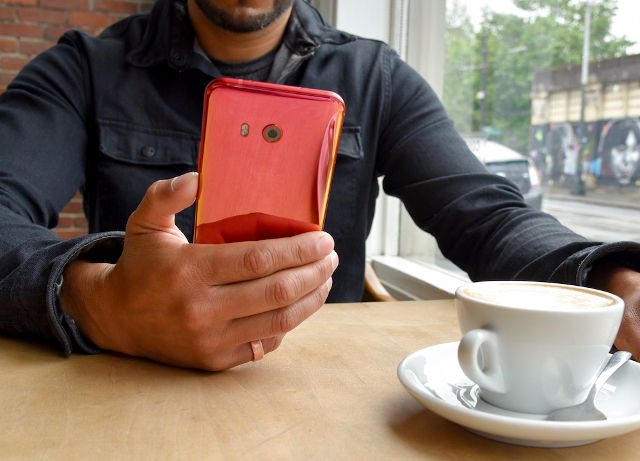 One fun aspect of Android is that there are many different device designs. Unlike the iPhone which is largely uniform in style, there are countless smartphones running Google's mobile operating system with different sizes, shapes, colors, user interfaces, etc. Heck, you can still get an Android phone with a physical keyboard!
One manufacturer that is often pushing the envelope on design is HTC. Its newest smartphone, the U11, is absolutely gorgeous from an appearance perspective, but it has a very unique aspect too -- it is squeezable. Yes, you can squeeze the frame to interact with the phone. Unfortunately, one of the most lovely colors for the phone, called "Solar Red," was not available to consumers in the USA. This is changing, thankfully, as HTC is bringing the sought-after color to America.
"Following extraordinary customer demand, HTC today announced we're bringing the stunning Solar Red color of HTC U11 to America. HTC U11, which began shipping June 9th in the US, is already seeing exceptional demand for colors in Sapphire Blue, Amazing Silver, and Brilliant Black; the addition of Solar Red adds another shimmering, hue-shifting color that especially excited fans who saw it during HTC's global announcement in May. Customers can begin pre-ordering HTC U11 in Solar Red soon after 12am midnight Eastern Time tonight, June 20th, exclusively at htc.com," says HTC.
The company also says, "HTC U11 in Solar Red has amazed fans since its announcement due to its incredible ability to shift colors between fiery reds and glowing oranges depending on how light strikes the Liquid Glass surface. By layering highly-refractive precious minerals across the phone's back using a unique process called Optical Spectrum Hybrid Deposition, we've created vivid new colors that transforms light with every movement you make. We then heat and bend the glass using extreme pressure to result in a 3D curved appearance that fits snug in the hand and feels slim no matter which way you hold it."

I must confess that I absolutely adore this Solar Red color -- it looks almost fire-like, with red, yellow, and orange emerging based on how the light hits it. In a sea of boring-looking smartphones, HTC is delivering a device that truly engages the senses -- both sight and touch. If you want to buy the phone in this color, you must get it unlocked from HTC directly where it will cost $649. Pre-orders open tonight, so you should act fast at midnight ET if interested.