Find and control Windows 10 privacy settings with WPD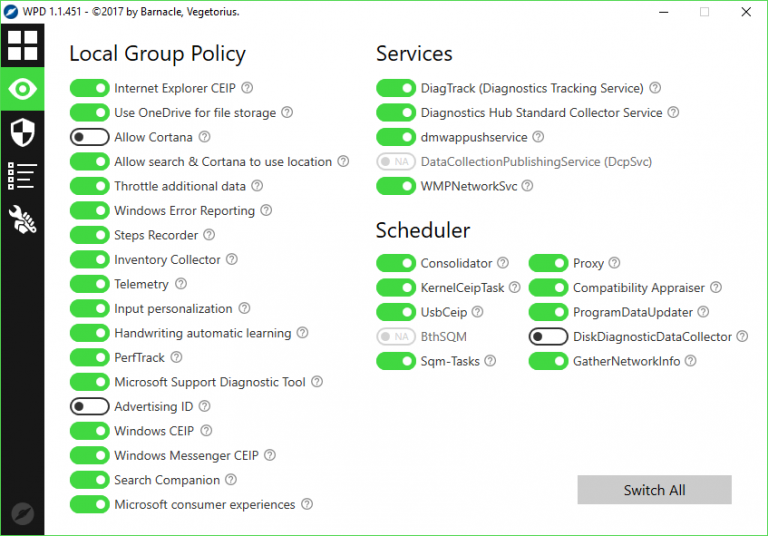 WPD is a freeware tool for exploring, understanding and tweaking Windows 10 privacy settings. We've seen many of these -- we'll bet you have, too -- but the program does have some unusual extras which help it stand out from the crowd.
The interface is up-to-date, for instance. The developer hasn't got it right in every area, but the program does look like it was written for Windows 10.
A "Privacy" area allows enabling or disabling more than 30 Group Policy, Windows services or scheduled tasks. Many of these look a little cryptic -- "UsbCeip", "dmwappushservice", "Sqm-Tasks" -- but there's often helpful text which explains what the service does, and in some cases what might happen if it's disabled.
As with similar tools, the program can try to block access to specific telemetry-related IPs. It doesn't just dump these into your HOSTS file, though, preferring the safer option of setting up custom rules in the Windows Firewall.
If you don't use Windows Firewall, or you'd prefer the HOSTS approach after all, WPD can copy its IP addresses to the clipboard for reuse wherever you like.
A "Tweaker" setting covers app permissions ("let apps use my camera") and adds some general privacy settings, including an option to clear the swap file when your PC starts.
A bonus Uninstall option allows uninstalling some or all standard Windows apps from your PC.
The main issue with WPD is the lack of any recovery or restore features. There's no way to back up your current settings, to create a system restore point or reset everything to the Windows 10 defaults. This isn't a fatal problem -- if you're concerned, create a system restore point yourself -- but keep it in mind. If something goes wrong, you're on your own.
WPD is a free tool for Windows 10.