ASUS releases affordable XG-C100C 10Gbps PCIe network adapter for Windows and Linux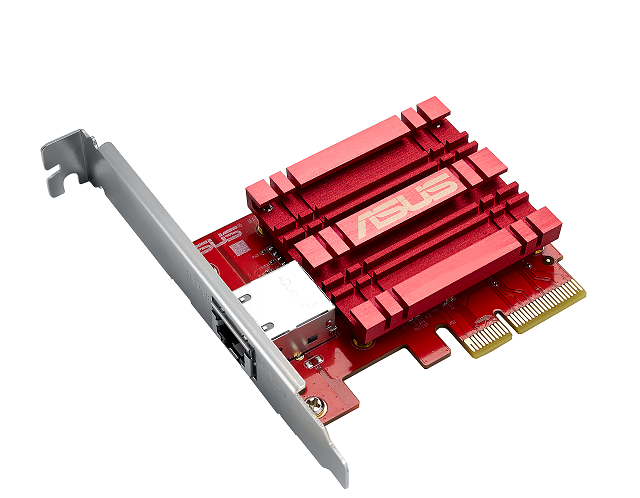 Do you need a 10Gbps network adapter? I am going to go out on a limb and say no. Many homes only use Ethernet for the internet -- not transferring files between machines on the network. While some businesses could absolutely benefit from the speed, installing such a card in a workstation would be pointless without a 10Gbps network to which it could connect. That's the thing, to get the full speed of such a card, you need a compatible network, which you probably do not have.
I say all of this to highlight that a 10Gbps PCIe network adapter card for consumers is as bit silly right now, but that hasn't stopped ASUS from making one. Today, the company announces the XG-C100C 10Gbps PCIe network adapter for both Windows and Linux. While not the first 10Gbps card, it is surprisingly affordable.
"The ASUS XG-C100C uses next-generation 10GBase-T (10G) networking technology to deliver speeds of up to 10Gbps -- 10X faster than standard gigabit Ethernet. XG-C100C supports 10/5/2.5/1Gbps and 100Mbps networking standards, so it's designed to provide you with the latest Ethernet technology, while ensuring full backward compatibility with your existing network infrastructure," says ASUS.
The famed company further says, "XG-C100C has a standard RJ45 LAN port so you can easily upgrade to 10Gbps networking using standard, readily available copper network cables, avoiding the need to install costly optical fiber cables. Plus, full compatibility with Windows versions 7, 8.1 and 10 plus Linux Kernel 4.4 allows a wide range of OS choices. In addition, built-in Quality-of-Service (QoS) technology automatically prioritizes bandwidth for gaming, ensuring a smooth, latency-free gaming experience."

Asus shares the following specifications for the XG-C100C.
Port Attributes
RJ-45 for 1 x 100Mbps/1Gbps/2.5Gbps/5Gbps/10Gbps
Mbps Ethernet Ports
Auto-Negotiation : Speed
Standard
IEEE 802.3an 10GBASE-T
IEEE 802.3u 100Base-TX Fast Ethernet
IEEE 802.3ab 1000BASE-T Gigabit Ethernet
IEEE 802.3az Energy Efficient Ethernet
IEEE 802.1p Priority Queuing
Performance
LED Indicator
Dual color Speed LED
Single color Link/ Act LED
Environmental
Operating Temperature: 0 °C to 40 °C (32 °F to 104 ºF)
Storage Temperature: -40 ° to 85 ° C (-40 °F to 185 °F)
Dimensions
12 x 8.46 x 2.05 ~ cm (LxWxH) (Without Bezel)
Weight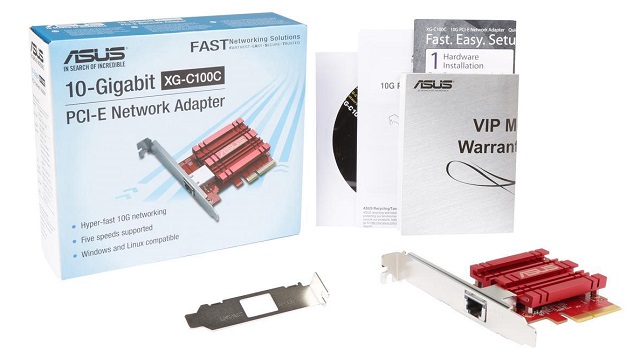 The ASUS XG-C100C PCIe network adapter for Windows and Linux can be had immediately from the usual retailers, such as Newegg. How much is the "affordable" card? An impressive $99. It comes with a half-height PCI bracket in the box. Keep in mind, since it is compatible with slower connections, such as gigabit, it wouldn't be the worst thing in the world to buy it now for future-proofing -- if you need to pick up a network card anyway. With that said, a standard gigabit Ethernet adapter is far less expensive.