Facebook's Find Wi-Fi rolls out to Android and iPhone users around the world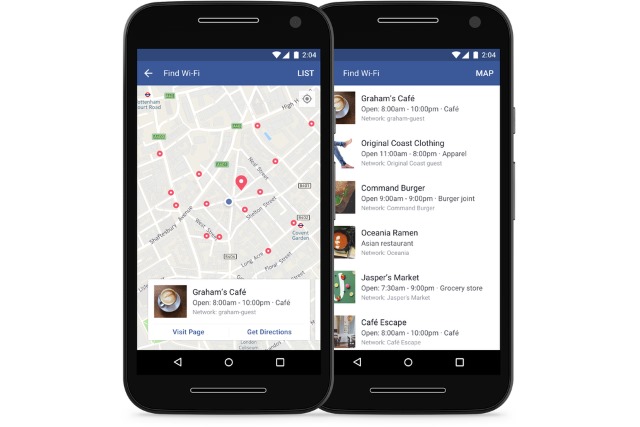 Modern takes on Maslow's hierarchy of needs (jokingly) refer to a wireless internet connection as being a necessity. While Wi-Fi may not be -- in the strictest sense of the word -- necessary, it's certainly true that it has become the prey that we now hunt for.
To make the search a little easier, Facebook is now rolling out its Find Wi-Fi tool globally. What previously started as a small-scale test is now available around the world for Android and iPhone users, so anyone looking to minimize data usage will be able to find an easy way online.
This is clearly a tool that will be of particular interest to travelers who are trying to stay within their monthly data allowance while abroad, but anyone with data limitations -- or anyone who wants to get their laptop online without having to tether -- can take advantage of it.
Facebook says that there are other circumstances in which the tool can prove useful: "We launched Find Wi-Fi in a handful of countries last year and found it's not only helpful for people who are traveling or on-the-go, but especially useful in areas where cellular data is scarce."
Engineering Director at Facebook, Alex Himel, says:
Find Wi-Fi helps you locate available Wi-Fi hot spots nearby that businesses have shared with Facebook from their Page. So wherever you are, you can easily map the closest connections when your data connection is weak.

To find Wi-Fi hotspots, open your Facebook app, click on the "More" tab and then "Find Wi-Fi." Once in the "Find Wi-Fi" tab you may need to turn it on. You can then browse the closest available hotspots on a map, and learn more about the businesses hosting them.