JBL Flip 4 waterproof Bluetooth speaker will make your summer lit [Review]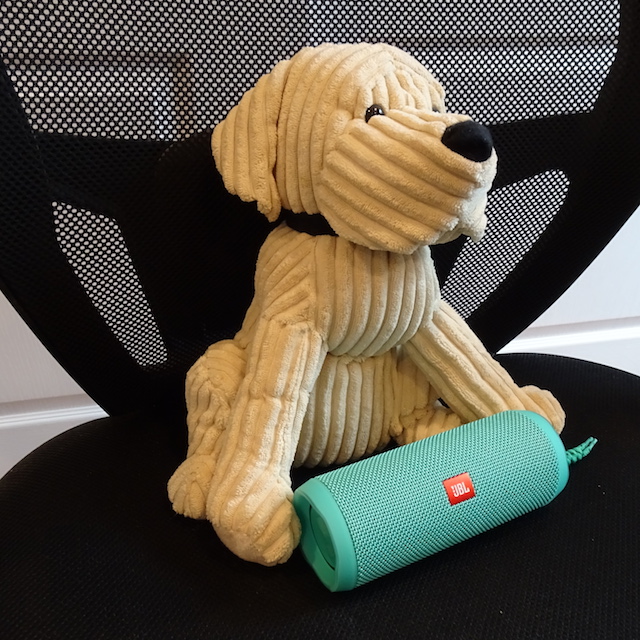 Summer is finally here, and so far, I have been loving it. While I haven't gone to any fancy beach parties, I have had quite the good time relaxing in my backyard. Nothing beats soaking up the sun while laying in a chaise lounge. As the breeze blows by, I sip my favorite beverage -- Perrier sparkling mineral water.
While this scene sounds great, there is still something missing -- music. While listening to the songs from birds and sounds of lawnmowers can be enjoyable, I prefer to rock out to my favorite tunes. Ranging from 2 Chainz to Wings, I blast my favorite songs -- not so loud as to bother my neighbors, however. This year, the Bluetooth speaker that is serving up my jams is the wonderful JBL Flip 4. It is rugged, waterproof, and most importantly, it sounds phenomenal.
Specs
Bluetooth version:

4.2

Support:

A2DP V1.3, AVRCP V1.6, HFP V1.6, HSP V1.2

Transducer:

2 x 40mm

Output power:

2 x 8W

Frequency response:

70Hz – 20kHz

Signal-to-noise ratio:

≥80dB

Battery type:

Lithium-ion polymer (3.7V, 3000mAh)

Battery charge time:

3.5 hours @ 5V1A

Music playing time:

up to 12 hours (varies by volume level and audio content)

Weight:

515g

Dimensions: (H x W x D)

68 x 175 x 70 (mm)
Unboxing
Impressions
The speaker itself is essentially a tube, and the model I am testing is a beautiful teal color. The body is comprised of rubber and a beautiful woven fabric. It invites you to touch it, and feeling the materials in your hand is very rewarding. There is even an attached lanyard for your wrist so you can carry it without worry of drops.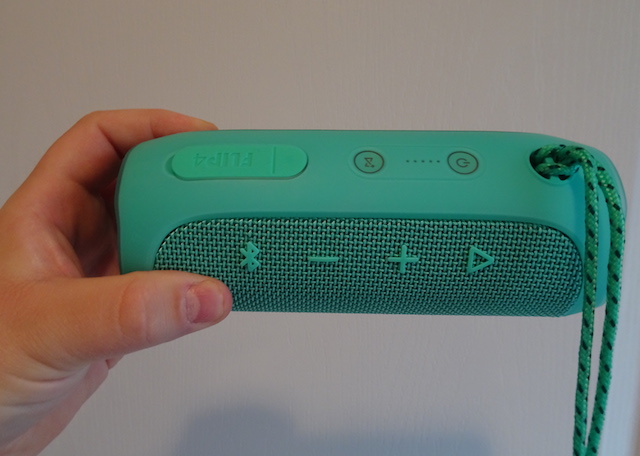 There are four buttons on the top. A button for Bluetooth pairing, volume up and down, and play. The triangular play button does triple-duty, as it also pauses when pressed once and next when double-pressed. If you'd like, you can even enable the play button, when held, to summon either Siri or Google's assistant right from the speaker itself. Cool, right? This is enabled using the JBL app.
The rear of the speaker is home to two buttons -- one for power and the other for connecting more JBL Flip 4 speakers -- yes, you can connect multiple speakers (more than 100!), but I only have one, so I was not able to test this, sadly.
Also on the rear is a rubber door, that when lifted, exposes two ports -- a micro USB connector for charging and a 3.5mm jack for non-Bluetooth devices. Unfortunately, the door can be hard to pry open sometimes. The speaker comes with an absolutely gorgeous USB cable -- it is flat, orange, and the Type-A end is reversible. Well done, JBL.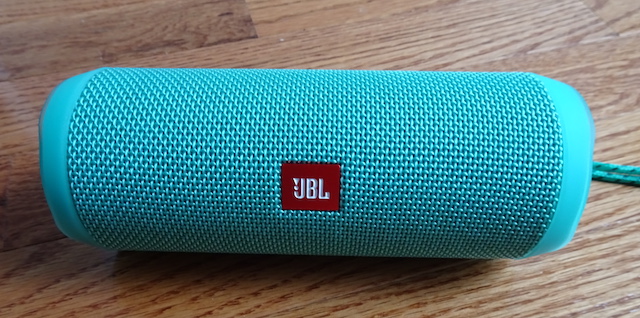 To test the speaker's IPx7 waterproofing, I used it outdoors in my backyard. While I do not have a pool, I left it outside for days where it was regularly rained on. I even left it on my lawn for my sprinkler system to soak. Despite the harsh conditions, the JBL Flip 4 survived. This is beneficial, as I can see myself forgetting it outside in the summer. To test its submergibility, I filled my bathroom sink and dunked it. All was fine.
OK, but how does the JBL Flip 4 sound? Well, I am happy to report that this is one of the best-sounding portable Bluetooth speakers that I've ever heard. Seriously, folks, it's remarkable what this little guy can do. Highs are very clear, while it emits some very strong bass thanks to its dual radiators. As a fan of hip-hop music, solid bass is very important to me. New albums from artists like 2 Chainz and Roc Marciano sound great.
But wait, does this mean that rock songs will have too much bass and sound muddy? Nope. When listening to Ms. Joni Mitchell or Smashing Pumpkins, for instance, the songs were very vibrant and punchy -- an excellent experience. In fact, I listened to a very eclectic mix of music genres beyond rock and hip-hop, including dubstep, dance, techno, and even classical -- the JBL Flip 4 did a great job with them all.
The JBL Flip 4 has a 3,000mAh battery, which the company claims will last 12 hours. This will obviously vary based on usage -- including volume levels. I seem to average about 8-9 hours with my usage, which meets my needs perfectly.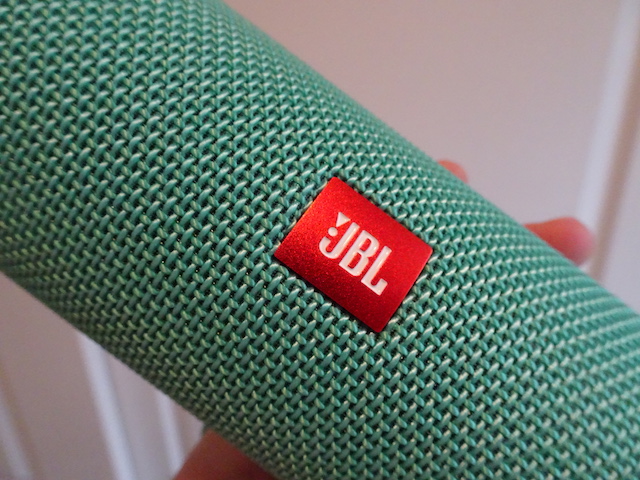 The speaker includes a microphone as well, allowing it to double as a speaker phone. Calls sounded fine from the Flip 4, but I like it more for the convenience aspect. If my phone is on a table out of reach, and the speaker is next to me, I can easily answer a call without getting up -- hooray for laziness!
Overall, for $99 you cannot go wrong here. The JBL Flip 4 has everything going for it. The Bluetooth speaker is well designed, attractive, and rugged. Most importantly, it sounds amazing and can get loud -- great for small parties. While I absolutely adore the teal color, you can choose from many others, such as blue, black, and even a cool camouflage design.
The JBL Flip 4 is highly recommended. Prepare to have your summer turnt up, y'all!