Windows 10 Creators Update incompatible with certain PCs already running Windows 10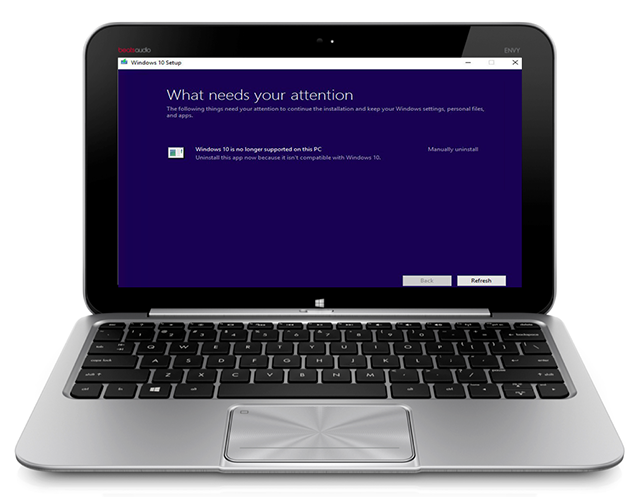 The Creators Update rollout is continuing at a glacial pace, with most Windows 10 users yet to be offered it. The reason for this is Microsoft wants to make sure the update is fully compatible with PCs before it's pushed to them (you can, of course, download and install the update manually at any time).
However, it turns out there's a whole class of PCs running Windows 10 that simply can't be upgraded to the Creators Update. And these aren't old PCs either.
SEE ALSO: Fall/Autumn Creators Update -- how about a Windows 10 name that doesn't suck, Microsoft?
As reported by Ed Bott over on ZDNet, 2-in-1 PCs powered by Intel's Atom Clover Trail CPUs aren't compatible with the Creators Update. These devices first appeared on the market around 2013-2014, running Windows 8, and could be upgraded -- for free -- to Windows 10 without problems. Upgrading to the Anniversary Update also caused no issues.
However, the Creators Update fails to install on those PCs, with a message stating:
Windows 10 is no longer supported on this PC

Uninstall this app now because it isn't compatible with Windows 10.
There's no actual app to uninstall, it's just that the OS update fails on that hardware configuration, despite being given a clean bill of health by the compatibility check that the Windows Setup performs prior to starting the upgrade.
Acer confirms that Intel Clover Trail processors are not currently supported in Windows 10 Creators Update, but states that "Microsoft is working with us to help provide compatible drivers to address this incompatibility."
While anyone with an incompatible PC can simply hold off trying to install the Creators Update for a while, as Bott points out, Windows 10 has an 18 month support lifecycle, so there's only 9 months left until the Anniversary Update stops being eligible for security and reliability fixes. That will be a particularly nasty kick in the teeth for anyone who fell foul of Microsoft's forced upgrade policy last year. While Windows 8.1 mainstream support ends on January 9 2018, its extended support runs until January 10, 2023, so anyone who managed to avoid the upgrade to Windows 10 can enjoy receiving all of the important updates for quite some time…