Fall/Autumn Creators Update -- how about a Windows 10 name that doesn't suck, Microsoft?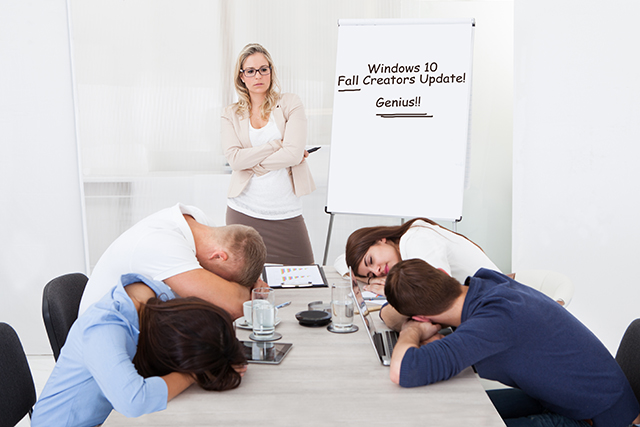 Microsoft has been producing operating systems for decades, but it's never been very good at naming them. Things started off well enough, with a straightforward numbering system -- Windows 1.0, Windows 2.0, Windows 3.0. Then the company opted for a year-based approach -- Windows 95, Windows 98 -- before switching to using letters -- Windows ME (Millennium Edition) and XP (eXPerience, eXtra Patches?).
Then we had Windows Vista, followed by a return to numbers -- Windows 7 and Windows 8, and a random jump to Windows 10. And now we're getting twice yearly updates for that latest operating system, with rubbish names that appear to have been thought up by someone who hates their job.
Windows 10 November Update -- it's out in November!
Windows 10 Anniversary Update -- it's been out a year!
Windows 10 Creators Update -- you can create stuff with it!
Windows 10 Fall Creators Update -- you can still create stuff, and it'll be out in the fall!
Windows 10 Autumn Creators Update -- because a large chunk of the world doesn't have a season called "fall"!
SEE ALSO: Should Microsoft rethink its Windows 10 feature update plans?
Apple named its OS X operating system versions after big cats initially (Leopard, Snow Leopard, Lion, Mountain Lion), before it ran out of big cats and switched to naming the releases after locations in its home state (Yosemite, El Capitan, Sierra, High Sierra).
Yes, El Capitan, in particular, is an awful name, but at least there's consistency to the naming process.
Google names its Android versions after sweet treats -- Marshmallow, Nougat, Oreo (probably)… Again, a bit silly but consistent, and memorable.
Ubuntu names its OS after adjectives and animals -- Yakkety Yak, Zesty Zapus, Artful Aardvark -- and Kodi uses a sci-fi/fantasy naming convention -- Jarvis, Krypton, Leia…
And all of those names work anywhere in the world. They haven't needed to change the name in different countries as Microsoft is having to do with its Fall/Autumn Creators Update, presumably because they gave it some thought in advance.
And also, "Creators Update" just sucks as a name.
I'd like to suggest some alternatives Microsoft could consider, moving forward.
How about a space theme?
Windows 10 Apollo, Gemini, Mercury…
Or Disney characters?
Windows 10 Goofy, Pluto, Chip 'n' Dale…
Or maybe Greek letters?
Windows 10 Alpha, Omega, Gamma… they might have to skip Beta though, as let's face it that's the true name for each Windows 10 release.
What naming convention would you like to see Microsoft adopt for Windows 10?
Photo Credit: Andrey_Popov/Shutterstock