Toshiba Portégé X30 Windows 10 business laptop [Review]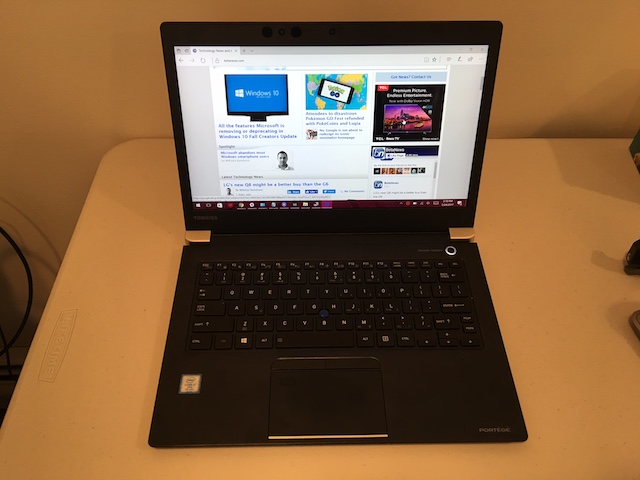 When you want to buy a business-class laptop, there are many brands to consider, such as Dell and HP. Of course, we cannot forget the iconic "ThinkPad" line of portable workstations from Lenovo, which were made famous by IBM. There is one brand in particular that doesn't get enough attention, however -- Toshiba. Actually, its Portégé line is arguably the best such laptops for business, both large and small.
I've been testing one of the company's latest such notebooks, the X30, and I am quite impressed. Since it is a business-grade laptop, it has a pointing nub that many professionals seem to appreciate. Of course, there is a traditional trackpad too.
The first thing you'll notice about the Portégé X30 is the premium feel. When your fingers touch the magnesium alloy body, you will immediately think "oh my." This is no plastic chassis here, which is much-appreciated from a quality perspective. It also lends to a very light machine, as it weighs just 2.3 pounds.  It is very thin too, at a mere 15.9mm. The hinge arms are thick and well-made -- it is designed to last.
The model I am testing has a 7th-generation Intel Core i7 7600U and 16GB of DDR4 2133. Impressively, it has a single stick of RAM, and not dual 8GB. It has two slots, meaning you could upgrade to 32GB by purchasing one additional stick. That is very cool. With that said, 16GB should be plenty for many business users.
Opening the machine was quite easy, although one of the screws is hidden under the center rubber foot -- be careful. Once inside, I had access to upgrade both the RAM and Wi-Fi card, but I did not see the SSD. It may be soldered to the other side of the board. The battery should also be simple to swap if needed.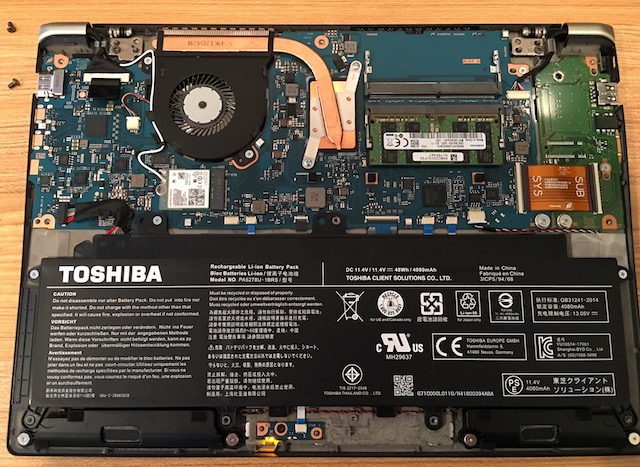 The graphics are just Intel integrated, which is fine for normal office work. In other words, there is no high-end Nvidia or AMD GPU to be found. The Portégé X30 is not designed for hardcore video editing or CAD, however. It is also not intended for gaming, obviously.
Battery life is excellent, with this model getting me around 10-12 hours depending on usage. Toshiba claims that the machine can get up to 18 hours, which might be possible with light use and certain settings, but I did not experience that. It more than exceeded my needs, however.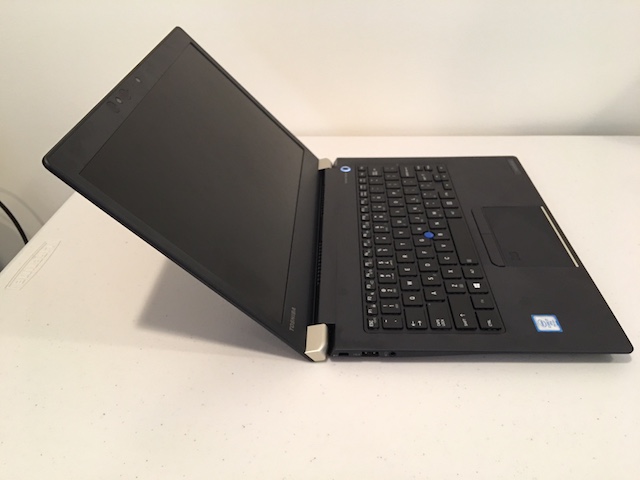 Where it does shine is with storage, however. The model I am testing has 256GB which is probably OK for many -- especially as more and more companies embrace the cloud and on-premises shared storage. It is the speed that is impressive here, as the drive is a Samsung M.2 NVMe variant. I was able to average 3,300MB/s read and 1,300MB/s write -- very nice!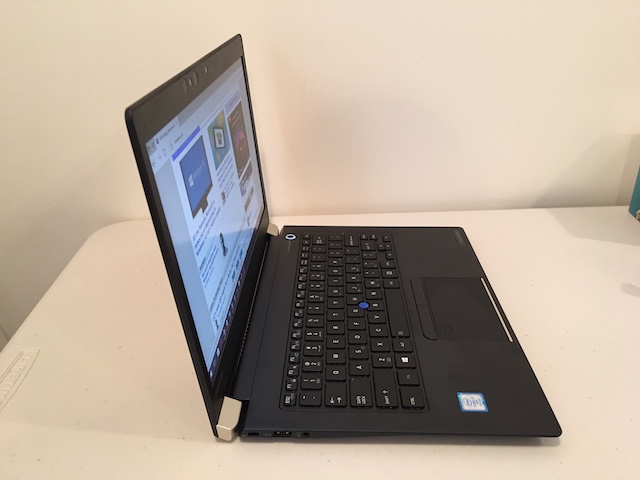 The 13.3-inch display is not ground-breaking, and that is fine. The resolution is merely 1080p, but on this size screen, that is certainly passable. I very much like that the touchscreen is not glossy -- the matte variant does great job of preventing reflections. It doesn't seem to show fingerprints as much as a glossy screen either.
The speakers are actually quite good, but as is typical with laptops, they are lacking bass. The Harman Kardon speakers do a good job of being clear and getting fairly loud, however. Some quality headphones would be a wise investment though.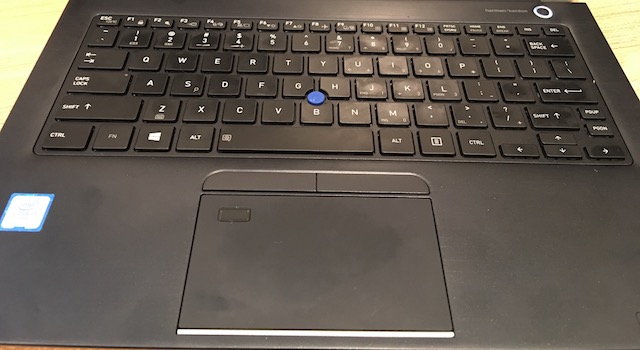 For any laptop to be recommended by yours truly, it has to have a good keyboard. I am happy to say the Portégé X30 does not disappoint. The keys are well-spaced and offer satisfying movement. The backlighting is bright and useful. Some people may dislike that the right shift key is shortened to make room for page up and down, but it hasn't been a problem in my typing.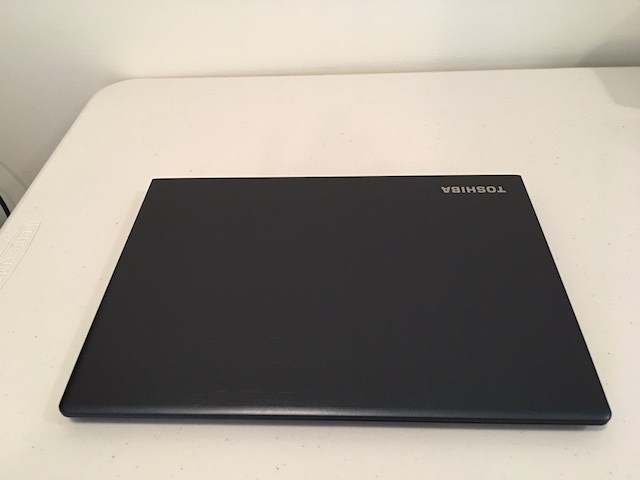 The trackpad is my biggest complaint, and it isn't actually bad. Actually, the pointing aspect of the pad is quite good, with fluid movement and accuracy. Unfortunately, Toshiba made a very odd design choice by putting a fingerprint reader on the top left of it. In other words, the top left of the trackpad has a dead spot for mouse movement. The fingerprint reader should have been put elsewhere, such as to the left or right of the trackpad or in the power button.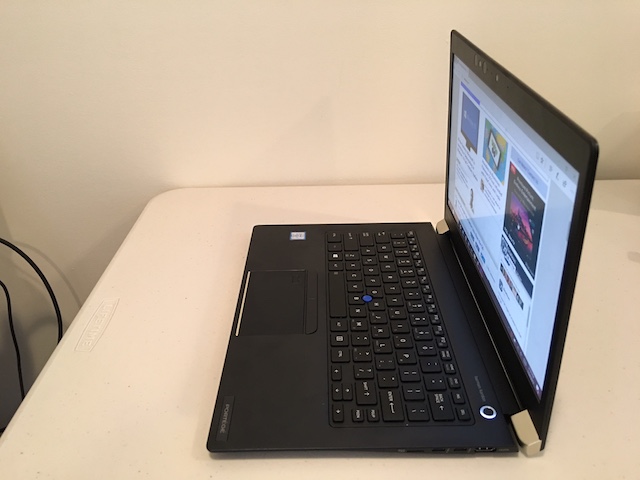 To highlight the bad design choice, the Portégé X30 comes with an excellent IR camera for Windows Hello. In other words, there is almost no need to even have a fingerprint reader. I always opt for the camera-unlock method, meaning the trackpad has a dead spot due to a feature I won't use anyway. Oh well. Not a deal-breaker, but I'd like to see this revised in the next generation.
For Internet and intranet access, there is no Ethernet port as the machine is simply too thin. Fortunately, you can add one using a dongle. The wireless card is excellent, however, as it is an Intel Dual Band Wireless-AC 8265. Intel makes the best such cards, and this particular model is excellent.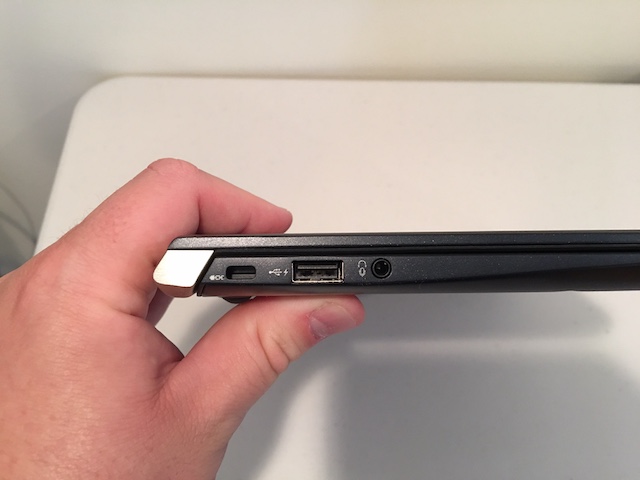 Like I said, you can add an Ethernet port with a dongle, and thankfully, you have your choice of either USB Type-A or Type-C. The left side of the laptop features an audio jack and USB-A. The right has a micro SD reader, dual Thunderbolt 3/USB-C and a full-size HDMI port for video. A full-size SD reader would have been better, since an adapter can turn that into a mini-reader -- that can't be done the other way around. Photographers will need a USB reader dongle if they use full-size cards.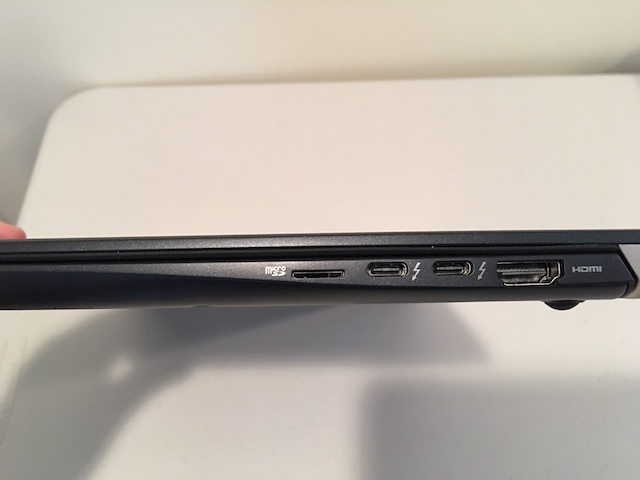 I would prefer if the Thunderbolt ports were separated, however, with one being on the left. Since these are used for charging, it would be more convenient to have a charging port on each side. If I am at Starbucks, for instance, and the outlet is to my left, I need to run the cable around the back to the right side. Not the worst thing, but it effectively makes the cable shorter than it actually is.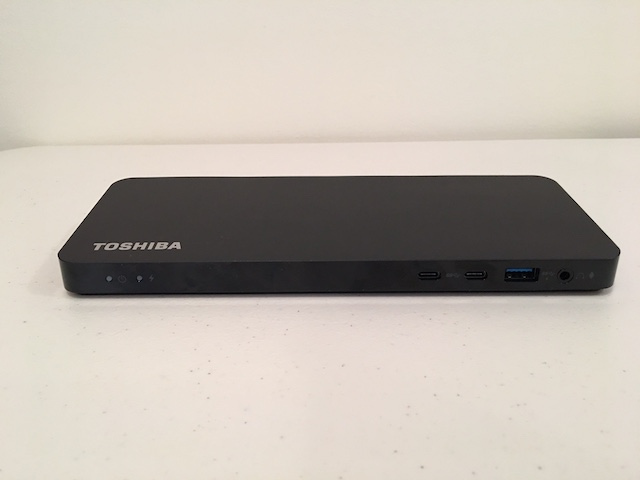 Speaking of dongles, Toshiba is also selling a Thunderbolt 3 docking station ($299) that works with the Portégé X30. Actually, it should work with any Thunderbolt 3 machine -- it works brilliantly with my MacBook Pro, for instance. This accessory essentially turns the laptop into a desktop. You can connect, say, a monitor, mouse, and keyboard to it, and then with a single Thunderbolt cable, connect your laptop to those accessories and charge at the same time.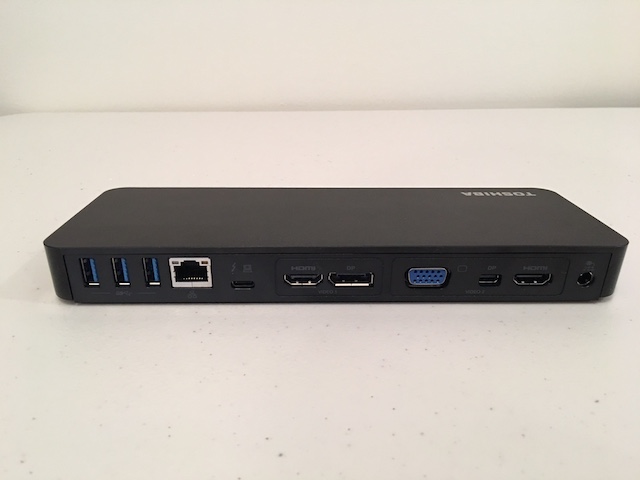 Toshiba's docking station in particular is the best I have tried (many have proven buggy) -- it works flawlessly and has many ports. For instance, for video, it offers HDMI, DisplayPort (full and mini), and VGA -- perfect for a business workstation. It can output 4K too.
The dock has four USB-A ports (one on the front), two USB-C ports (both on the front), Ethernet, and a front 3.5mm audio jack. When you first plug it into the Portégé X30, you will be asked to authorize it. Once you do, you are off to the races!
Ultimately, the Toshiba Portégé X30 is an excellent business-class laptop, that when paired with the optional docking station, also becomes a top-notch desktop. It is light, powerful, and quite frankly, beautiful too. It is even pretty easy to upgrade. If you need a portable workstation for your company, the Toshiba Portégé X30 is highly recommended.