Giveaway: Get Advanced SystemCare 10.5 PRO (worth $19.95) FREE for a limited time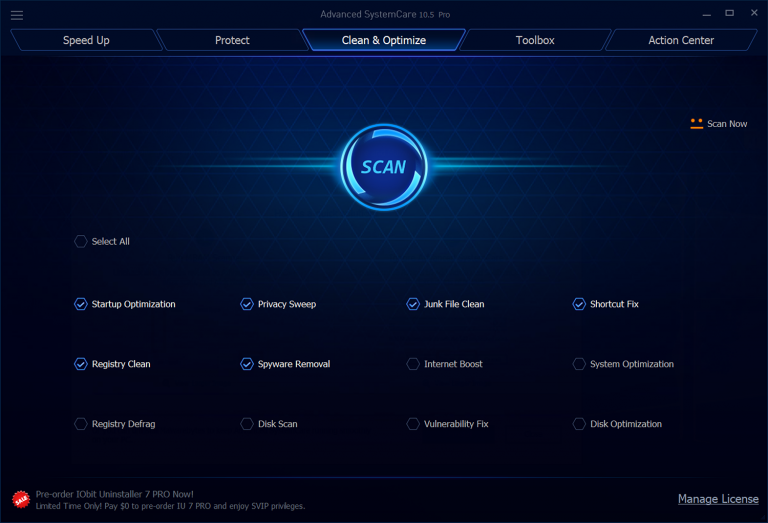 As Summer continues relentlessly, why not escape the sun and spent some time optimizing your PC? From today, 4 August 2017, you'll be able to do just that thanks to our 48-hour Downloadcrew Giveaway, which is for a year's license for Advanced SystemCare 10.5 PRO, worth $19.95.
This package contains an entire library of essential tools to help you clean up, optimize, maintain and secure your PC.
The fantastic thing about this giveaway is that it's for the current version of Advanced SystemCare 10.5 PRO, so it offers full support for Windows 10 Creators Update, including the ability to clean up after the Edge browser. It'll even help you tighten those lax privacy settings set by Microsoft.
Advanced SystemCare contains the best of IObit's collection of powerful system tools, including the brilliant IObit Uninstaller 6, which covers Windows apps as well as regular programs, and DriverBooster for ensuring your drivers are fully up to date.
Other modules include spyware removal, Registry clean (and defrag), privacy sweep, junk files removal, internet speed boost, security defense and vulnerability fix.
A Speed-up module is included that checks your PC for unnecessary startup items, dubious settings and unwanted Windows apps. The Startup Manager supports browsers as well as Windows, while the Protect module blocks malware from altering your DNS settings.
There's also a new Large File Finder tool to help free up drive space, while the app also benefits from a redesigned user interface that's cleaner and simpler to use and expanded database for removing spyware.
New in v10 is FaceID, a clever tool which uses facial recognition to identify unauthorized users of your system, stores their image and raises alerts. A Resource Manager makes it easier to identify processes which might be hogging your RAM, CPU or hard drive.
The giveaway starts midday EST (that's 9am PDT or 4pm GMT) today, 4 August 2017, and ends on 6 August at midnight EST (9pm PDT or 4am GMT) and the only caveat is that you must activate your Advanced SystemCare 10.5 PRO license by midnight PDT (7am GMT), so don't hang around.
Bookmark and get over to Downloadcrew Giveaway promptly!