Leaked memo shows high return rate for Surface devices, and Microsoft's image-improvement plans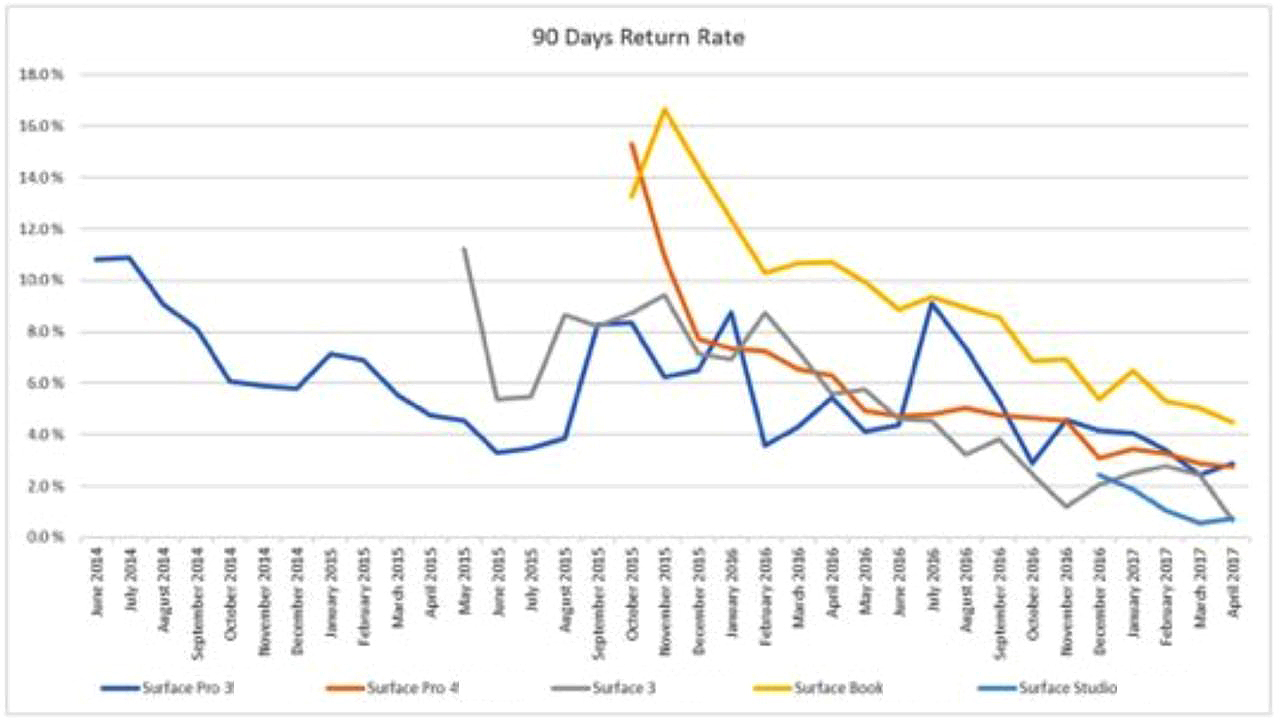 When Consumer Reports announced that it was dropping its "recommended" status from Surface devices, Microsoft was quick to defend itself. While the software giant disagreed with the move, saying it doesn't believe the "findings accurately reflect Surface owners' true experiences or capture the performance and reliability improvements made with every Surface generation," a leaked internal memo shows high return rates for Surface Pro 4 and Surface Book.
While it's certainly true that return rates have dropped over time, the information contained in the memo goes some way to explaining the decision taken by Consumer Reports. The memo also shows that Microsoft is ready to communicate with the ratings group and encourage it to "reverse [its] findings." The company is prepared to go on the offensive to defend its reputation.
In the leaked memo -- which has been seen and partly shared by Paul Thurrott -- Panos Panay says that he wants to "engage" with Consumer Reports because "feedback like this stings, but pushes us to obsess more about our customers."
It's certainly fair to say that both the Surface Book and Surface Pro 4 suffered issues after launch, and this is reflected in fairly high return rates of around 17 and 15 percent respectively back in late 2015 -- as illustrated in a chart in the memo. Microsoft did work to address the issue, but it took some time for the Surface Book return rate to drop below 10 percent.
Referring to Consumer Reports' recent announcement and the work that was done to address issues, Panay says: "These improvements were unfortunately not reflected in the results of this survey."
He goes on to say:
We take quality seriously, conducting rigorous reliability testing during development to forecast failure and return rates, which are then continually viewed against [real world data] post-launch. We also regularly review other metrics to understand the experience we are providing to our customers and our findings show our products are in a much healthier place than noted by Consumer Reports.
While Panay concedes that there were launch problems with some devices, he notes that return rates have "consistently decreased over the past 12 months." But with that having changed, Microsoft is now ready to try to limit the damage of Consumer Reports' decision. "We have put together a comprehensive set of data that reflects the strength of our quality and our customer sentiment, and will be working with partner organizations, including marketing, retail, and sales, to share that information broadly," says Panay.
Watch out for more action from the Microsoft PR machine in the coming weeks.
Image credit: Thurrott.com