Casio Edifice EQB-501: a semi-smartwatch with clout [Review]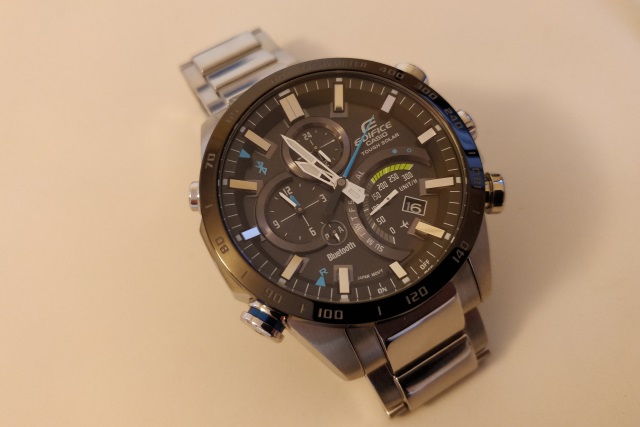 Smartwatches. I'm not a fan. People may fawn over the likes of the Apple Watch, but I'm yet to be convinced by timepieces of this ilk. To be honest, I'm not -- or at least haven't been for a while -- much of a fan of watches in general. But that could be about to change.
The Casio Edifice EQB-501 is a chunky, stainless steel bracelet watch that's hard to ignore; it is big, bold and striking. It is also Bluetooth enabled so it can, via a connection to your phone, automatically set the time (both locally and for a second timezone), check for emails, and serve as a phone-finding tool -- oh, and it's solar-powered. Compared to an Apple Watch it barely classifies as a smartwatch, but for me it's ideal.
Here we are looking specifically at the Casio Edifice EQB-501XDB-1A model (or EQB-501XDB-1AER in Europe). This features a dark dial, and blue and green highlights on the face. An otherwise identical EQB-501XD-1A (or EQB-501XD-1AER) has a silver dial, and red highlights. There's also a (more expensive) Limited Edition EQB-501TRC-1AER whose design is "inspired by" the Scuderia Toro Rosso racing team, and features a nylon strap and STR branding. There are also different colored metal versions depending on where you are in the world.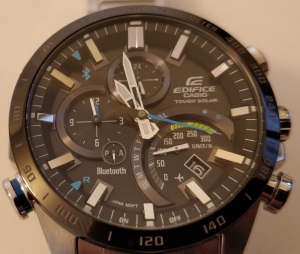 I mentioned that the EQB-501 is solar-powered. The entire face of the watch is a photo voltaic panel and this takes care of charging so there's no need to worry about plugging in as with most smartwatches, or winding up like a traditional watch. Even with just indoor lighting used as a source, Casio says a day's charge can be achieved in 8 hours, although a full charge takes rather longer -- 37 hours even in strong sunlight.
The face features multiple dials, many of which serve multiple functions. The main face and hands serve to tell the time, but the second hand also spins around to various points as an indicator of when the watch is connected to a phone via Bluetooth. A secondary face shows the time in a second country of your choice, and switching between the two when traveling is a simple matter of holding in one of the buttons for 1.5 seconds.
The calendar dial not only shows the date and day of the week, but triples up as a way of showing speed as well as indicating whether you have email.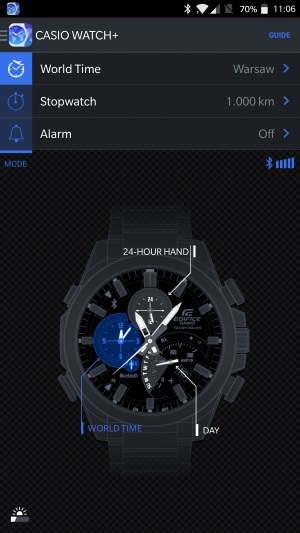 The Casio Edifice EQB-501 is only a semi-smart watch, so in order to do anything beyond telling the time and using the stopwatch, you'll need to connect it to your iPhone or Android phone and make use of the dedicated app.
This can be used to set the time and alarms, and automatic setting takes care of this in moments -- there's also automatic adjustment for daylight saving. The app can be used to set up email accounts for checking and using your watch to locate your lost phone. This phone finder function is only for those instances when you have misplaced your phone down the side of the sofa, or hidden it under paperwork -- as long as your phone and watch are connected, you can use your watch to trigger your phone's ringtone. It's nothing fancy, but it works.
When you have configured email addresses in the app (there's support for Yahoo, Gmail, iCloud, AOL, AIM, Outlook and Softbank addresses) you can press a button on the watch to check for new mail. If there are unread messages, you'll be notified via the hand on the calendar face. This is, again, very basic. You're only told if there is mail, or if there is none. There's no way to tell how many messages you have, and you'll need to turn to your phone to read them. Still, for people who don't get all that much email, it could be useful.
The Edifice EQB-501 is waterproof to a depth of 100m, or a pressure of 10 bar, so it can remain strapped to your wrist at pretty much all times. With a rugged, scratch-resistant face, it should stand up to most things you put it through.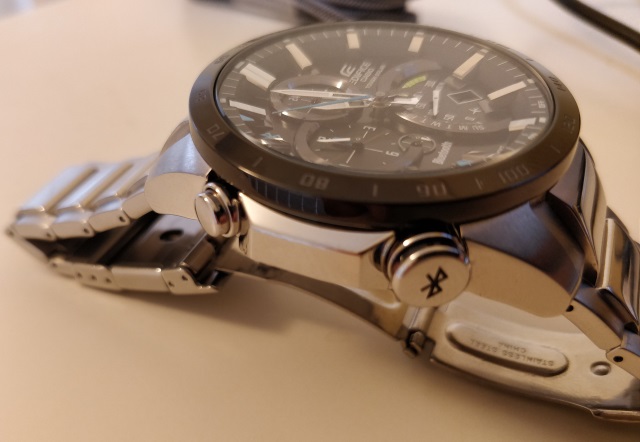 For the smartwatch skeptic, this is an ideal timepiece. It retains the look and feel of a traditional watch, while benefiting from some of the features of smartwatches. If you're not looking for a miniature smartphone on your wrist, this could be the semi-smartwatch you've been waiting for.
You can find out more and buy the watch from the US Casio website or the UK Edifice site. The Casio Edifice EQB-501XDB-1A can be yours for £325 ($320), the EQB-501XD-1A for £325 ($300), while the QB-501TRC-1AER is £400 (this model is not available in the US).