IPVanish: A versatile VPN that doesn't log your traffic or sell your browsing data [Review]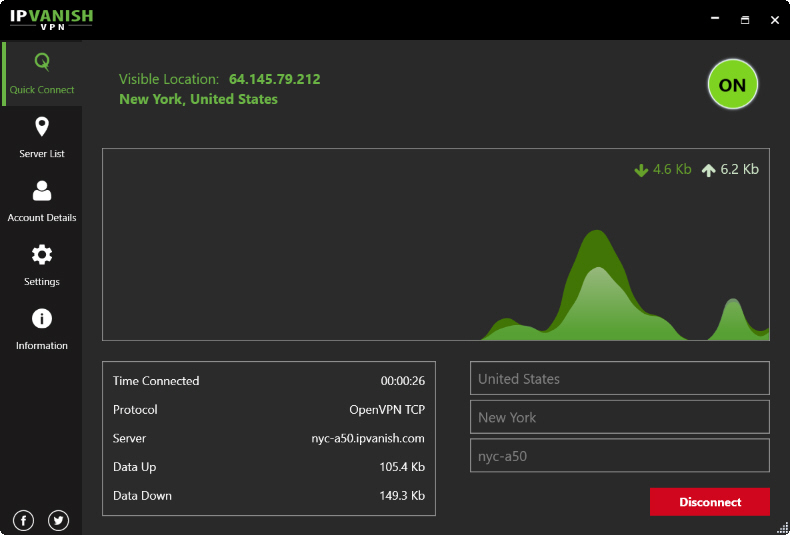 VPNs (Virtual Private Network) work by routing all of your web traffic to a VPN server through a secure, encrypted tunnel. Their usage has grown substantially in recent years as web users seek not only to circumvent geoblocking, censorship and ISP blocks, but also simply to enjoy a degree of anonymity online.
There are number of free and paid VPNs to choose from. While free might seem like the way to go, the truth is these tend to have restrictions, such as a limited amount of free traffic each month, fewer servers to choose from, and throttled speeds. They're fine for occasional use, but if you plan to employ VPN protection on a more regular basis, particularly for downloading files via BitTorrent or streaming on Kodi, then a paid solution, like IPVanish, makes a lot more sense.
Features
IPVanish certainly gives you a lot of value for your money. It offers 850 servers across more than 60 countries; you get unlimited bandwidth, and protection in the form of 256-AES encryption.
In addition, IPVanish doesn't log traffic or sell customer data, and allows for anonymous torrenting and unlimited P2P traffic. You can use it on five devices simultaneously, and all major operating systems are supported, including Windows, macOS, Ubuntu, Chrome OS, iOS, and Android. I've tested it on Windows, but there are full instructions for installing it on other platforms available on IPVanish's website.
Getting Started
IPVanish's interface has been designed to be as intuitive as possible. The Quick Connect section lets you select the country you want to appear to be based in when browsing, as well as the city and server. While it offers most of the major countries you'd expect to find in a VPN, you also get some more obscure options, such as the Republic of Moldova, and Kyrgyzstan. Russia is notably absent from the list because IPVanish's zero-log policy conflicts with the laws over there.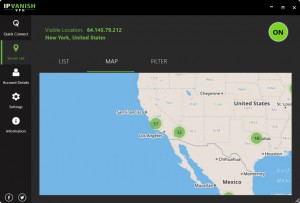 Once you've made your selection, just hit Connect and you'll be ready to begin browsing securely.
The panel on the left shows the time connected, protocol, server, and data up and data down. A graph above lets you keep an eye on your traffic. When you're ready to end the protection, just click the Disconnect button. There's also an on/off button at the top right.
On the left side of the interface is a sidebar which lets you access the full selection of servers. You can view this as a list (and sort by country, or search by name), on a map, or by filtered. This last option lets you filter the list by country and latency -- handy if you just want the fastest location.
The sidebar also lets you access your account, and the settings. You can have IPVanish start with Windows, and choose whether or not to connect automatically. You can also specify whether you want to connect to the last used server, the fastest server, or the fastest server in a particular country.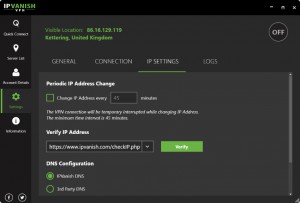 There are a bunch of other features available too -- you can have IPVanish periodically change the IP address (the minimum interval time is 45 minutes) and use a third-party DNS in place of IPVanish's own, if you wish.
You can also manage your connection and view the logs.
Performance
I've been using IPVanish on and off for the past couple of months now, and run regular tests through Ookla's Speedtest tool. Typical speeds for my internet connection are a ping of 4ms, and download speeds of 168Mbps and uploads of 10Mbps. Turning on a VPN -- any VPN -- has an impact of course. In the case of IPVanish, running the test just now on a local server, saw the ping increased to 37ms, and download speeds reduced to 50Mbps, and uploads to 9.23Mbps. Going international gave me a ping of 168ms, a download speed of 36.68Mbps and upload speeds of 10Mbps.
In every-day browsing I haven't noticed a massive slowdown, and if you have a slower internet connection, then the difference will be less obvious.
As for pricing, IPVanish takes the smart approach of keeping the feature set the same for all users, and just changing the price based on how happy you are to pre-pay. It's currently priced at $10 per month, $26.99 for 3 months (avg. $8.99/month) and $77.99 a year (avg. $6.49/month). IPVanish does run regular offers though, so keep an eye out for those and you may be able to make some welcome savings.
Summary
If you're looking for a good VPN with a wide range of options, then IPVanish certainly fits the bill. The fact it doesn't log your traffic, or sell your data, is a definite plus, as is the sheer number of IPs and servers available to choose from. It's very easy to use too, which should make it appealing to less-technical users.