Fitbit launches 'Ionic' fitness smartwatch to take on both Android Wear and Apple Watch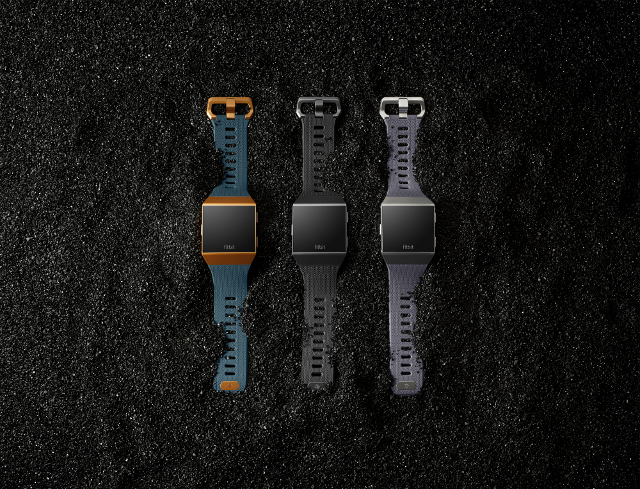 For many consumers, buying a wearable is all about fitness. In that case, a health-focused device, such as a Fitbit, makes a lot of sense. The problem, of course, is that no one only exercises -- they live their lives and do other things like shopping and listening to music. That is why it was frustrating that Fitbit did not produce a more robust wearable -- an actual smartwatch.
Today this changes, as Fitbit officially unveils the Ionic smartwatch, which is compatible with both iOS and Android. Rather than run Android Wear, it leverages a new operating system called Fitbit OS. It features what you would expect from a Fitbit, such as counting steps and monitoring heart rate, but it also has enhanced modes for running and swimming too. It will also work with some popular services, such as Starbucks and Pandora. The smartwatch even features a new mobile payments system called Fitbit Pay. Best of all, the Ionic features up to four days of battery life -- much longer than its competitors' offerings.
"A health and fitness first platform, Ionic offers a highly personalized experience not previously seen in other smartwatches. Ionic builds on Fitbit's health and fitness expertise with a new relative SpO2 sensor, making it possible to track deeper health insights like sleep apnea in the future, industry-leading GPS tracking, on-device dynamic workouts, improved heart rate tracking, and water resistance up to 50 meters. Plus, smart features like contactless payments, on-board music, smart notifications, and a variety of popular apps and clock faces available in the Fitbit App Gallery. Ionic also has all the core features our users love from Fitbit like four-plus day battery life, automatic activity and sleep tracking, and cross-platform compatibility. Ionic is available for pre-sale today on Fitbit.com and in retailers globally starting October 2017, with a new Fitbit Ionic adidas special edition device coming in 2018. The Fitbit app software development kit (SDK) will be open to developers in September 2017," says Fitbit.
The company also says, "Ionic runs on Fitbit OS, the company's new operating system for smartwatches that will be regularly updated to add new user experiences. This includes the launch of the Fitbit App Gallery, where you can select the apps and clock faces that appeal to you so you're always armed with the information you want most, in a way that reflects your own personal needs and style. The App Gallery offers a range of health and fitness apps from Fitbit like Exercise, Fitbit Coach, Relax, Timer and more, as well as popular apps that are designed to make life easier and more convenient when you're on the go. Each app is designed specifically for Ionic so you don't have to download an accompanying mobile app or have your smartphone nearby."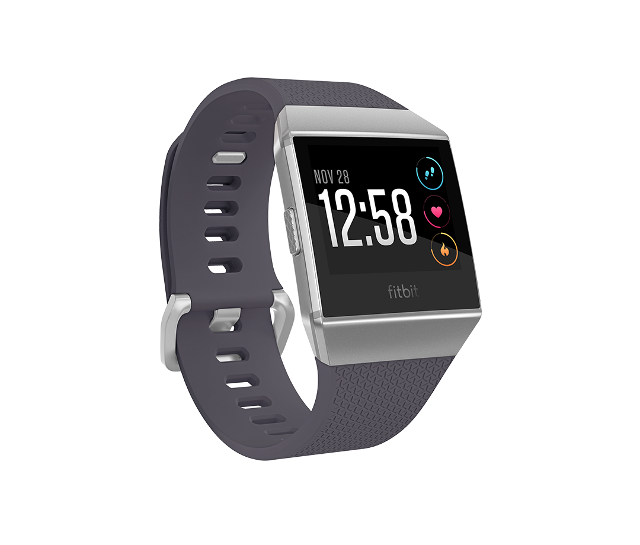 You can begin pre-ordering the Fitbit Ionic fitness smartwatch today here in three color options, but it will not begin shipping until October. That is also when you will be able to buy it from various retailers, such as Amazon, Best Buy, Target, and more. How much does this new smartwatch cost? It is $300, which is reasonable when compared to Apple Watch and various Android Wear products. There is also a $60 2-year protection plan.
Of course, smartwatches are also fashion statements, so there will be several alternative bands available for purchase, ranging from $30 to $60, in materials such as rubber and leather. There will likely be much less expensive third-party offerings too. In addition to replaceable wrist bands the company will also be selling new "Fitbit Flyer" wireless headphones ($130) and the "Fitbit Aria 2" smart scale ($130). Clearly the company is hoping you will open your wallet wide this holiday season.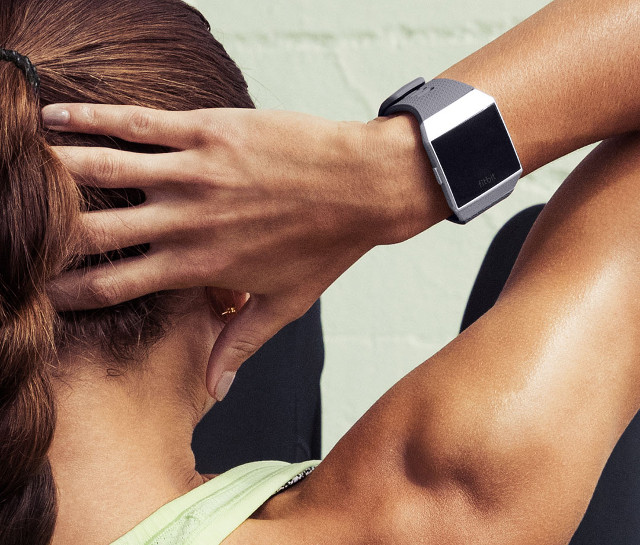 So, is Fitbit too late to the smartwatch game? Actually, no. Truth be told, both Android Wear and Apple Watch are still in an uncertain place, and both offer fairly lackluster experiences. Fitbit has seemingly gotten in at an ideal time, as there is still room for another wearable and platform. It won't be easy, mind you, but Fitbit has the name-recognition and a good number of loyal users that could potentially lead to success.
What do you think of the Fitbit Ionic? Please sound off in the comments below.