Ashampoo Music Studio 7 is your one-stop music center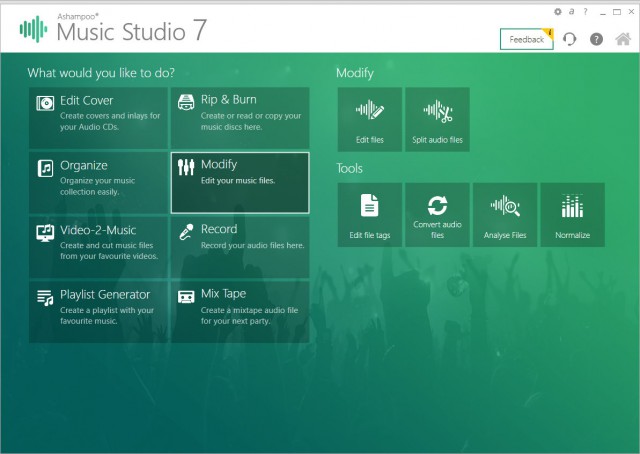 They say everyone has a book in them. Using this theory, everyone should have a song, too. But, it's not as easy to create a track from scratch. You can lay down a beat, but you really need a keyboard to control input and also some basic composition understanding, such as how to create a chord.
An easier way is to, well, borrow from other people. Effectively that's how a DJ will learn his trade. They take songs created by other bands and add their own components or simply mix together for one continuous track. Obviously, it goes without saying that you need permission if you use their songs commercially, but having the right tool helps too.
Ashampoo Music Studio 7 is a one-stop music toolkit. On a very basic level, you can rip tracks from your CDs and start to build a digital music collection. On a more complex level, you can use Music Studio to create your own customized tracks. Once you rip a track (from various locations), you can then tweak, make a few edits and add your own changes.
Once you've edited your tracks, the next step is to play them back to other people (note you might need a commercial licence if you intend to play tracks to people other than your friends) and that's where the Trackmixer tool helps. Music Studio will examine the tracks you want to mix together and harmonize them so they flow seamlessly.
You can also convert tracks for different devices, change your tracks so they play at the same volume and will cleanse your collection so you can easily remove duplicates and other unwanted tracks.
Ashampoo Music Studio 7 normally retails for $39.99, but is currently available for $19.99. A trial version is available so you can try before you buy.