Apple Watch Series 3 is plagued by battery issues and LTE problems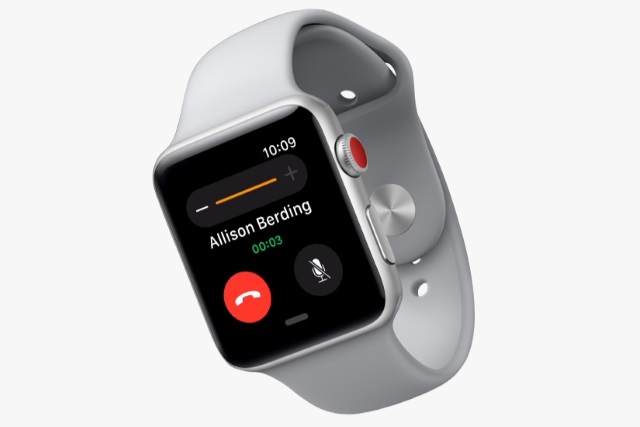 When Apple unveiled the Apple Watch Series 3 just over a week ago, there was much excitement at the fact that the smartwatch now features LTE connectivity. It's finally possible to make a call from your Apple Watch without having your iPhone nearby -- although there's the slight dampener that the watch does not support roaming.
Now the first reviews of the Apple Watch Series 3 are starting to trickle in and, while they are generally positive, they highlight a couple of issues. Battery life seems to be rather less than was proclaimed at launch, and Apple has also identified LTE issues that prevent the watch from using cellular.
See also:
It should come as little surprise that Apple's claim of all day battery life is rather put to the test in the real world. If you use GPS on your new Apple Watch or the headline feature -- making calls -- the battery takes a real hit. The Verge is just one of the sites to report serious battery drain issues when using LTE.
It became apparent after my first full day using the Apple Watch Series 3 with LTE that something wasn't right. My review Watch was paired with an iPhone 8 and was on an AT&T wireless plan. In one of my initial tests, I went for a walk with the phone on airplane mode, and tried to send text messages and use Siri to initiate phone calls through the Watch. Those didn't work. I tried asking Siri basic questions. That didn't work. Siri also wasn't "talking back" to me, something that's supposed to be a new feature on the Series 3 Watch.

Phone calls did sometimes work from the Watch, but I had to manually tap through my contacts or recent calls list on the Watch and initiate the call that way. (Calls through Bluetooth headphones sound good, but the Watch's built-in audio isn't ideal for extended conversations.) By 11:42 that morning, after 60 minutes of working out with LTE, multiple attempts to use Siri, and two seven-minute phone calls, the Watch's battery had drained to 27 percent.
This review also picked up on the LTE issues. Site editor Lauren Goode noticed that her Watch was not only struggling to connect to LTE, but would also connect to random wireless networks. This is an issue that Apple has acknowledged. In a statement to the Verge, the company said:
We have discovered that when Apple Watch Series 3 joins unauthenticated Wi-Fi networks without connectivity, it may at times prevent the watch from using cellular. We are investigating a fix for a future software release.
With no hint of when the fix will be issued, this is something that's surely going to be a concern for anyone who has placed an order and is currently waiting for their new Apple Watch to arrive.