Amazon unveils $99 next generation Echo, making Apple HomePod dead on arrival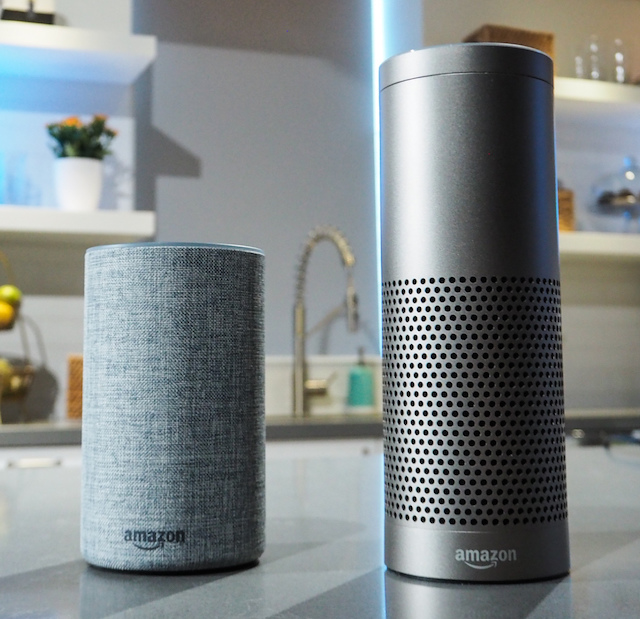 Amazon's Echo and associated Alexa assistant have taken the world by storm. Despite being a big company, Amazon's success in this market was very unlikely. Companies like Microsoft, Google, and Apple should be leading, but no, an online bookseller has been the true trailblazer in voice assistant technology.
Today, Amazon unveils the next generation Echo, and oh my, it looks amazing. Not only is it much shorter than its predecessor (still taller than Echo Dot), but it is wrapped in fabric, creating a more inviting experience in a home. It even has improved audio quality. Best of all? It is even less expensive at a mere $99. Unfortunately for Apple, this will essentially make its upcoming $349 Siri-powered HomePod dead on arrival.
"With an all-new compact design, Echo fits easily into any room in your home while delivering next generation far-field performance and improved room-filling sound. Pick from a variety of shell colors and finishes to fit into your home's décor -- choices include charcoal, sandstone, heather gray, oak veneer, walnut veneer, and silver," says Amazon.
For $50 more, you can purchase the "Echo Plus", which focuses more on home automation, and comes with a Philips Hue light bulb in the box. This device looks like a first-generation Echo -- not wrapped fabric, and a taller design.
Amazon explains, "With its built-in smart home hub, Echo Plus makes connecting to compatible smart home devices easy. Just say, 'Alexa, discover my devices,' and Echo Plus will automatically discover and set up compatible lights, locks, plugs, switches, and more without the need for additional hubs or apps. This simple set-up works with a variety of ZigBee products from leading brands such as Philips Hue, GE, Kwikset, and more. To help get your smart home started, Amazon customers will receive a Philips Hue smart lightbulb with the purchase of an Echo Plus while supplies last."
Amazon is not stopping there, however. In addition to the new Echo, it is selling the $35 Echo Connect -- a device that connects your Echo to your landline phone line. In other words, you can make actual phone calls using your Echo and your existing landline phone number. While this sounds sort of cool, it will be speakerphone only -- private calls will not be possible.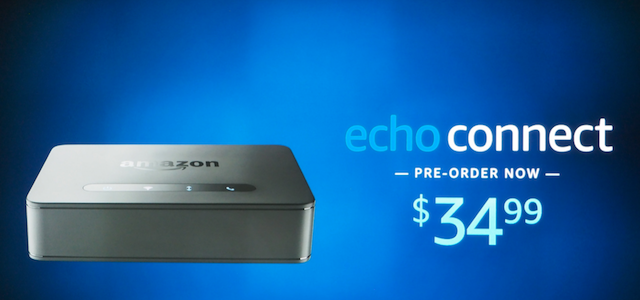 The company is also launching what it calls "Echo Buttons," which are standalone buttons that can be used to do things like play games. Imagine a trivia game, for instance, where every family member has a dedicated wireless button to "buzz in." It could be fun. They are priced at $20 for two, essentially making them $10 each. It is not clear if they will be sold individually, however. A family of three might have to buy four.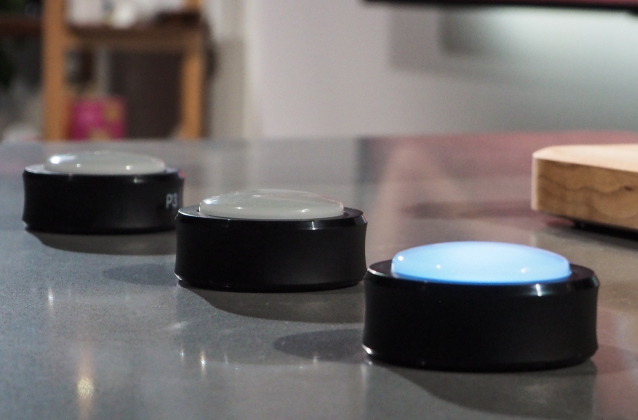 As a final surprise, Amazon is also introducing the "Echo Spot." This is sort of a mix between an Echo Dot and an Echo Show. It is a diminutive smart device with a circular color screen. You get a visual UI without having the bulk and size of the Show. It is priced at $129.
Tom Taylor, Senior Vice President, Amazon Alexa says, "Echo Spot combines the popular small design of Echo Dot, the display of Echo Show, and the features you love about Alexa into an all-new, stylish and compact device. See the weather, watch video news briefings, glance at your alarm clock, check on your kids, and more -- we think customers will find lots of places for Echo Spot in their homes."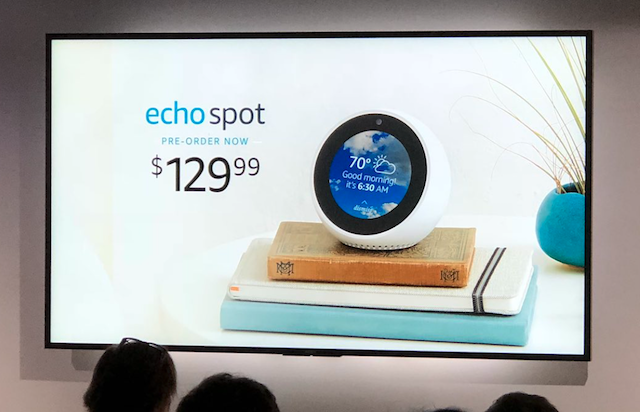 What do you think of these new Amazon devices? Does Apple stand a chance selling a home assistant at more than triple the price of the new Echo flagship? Please tell me in the comments below.