OnePlus 5 is not your typical flagship [Review]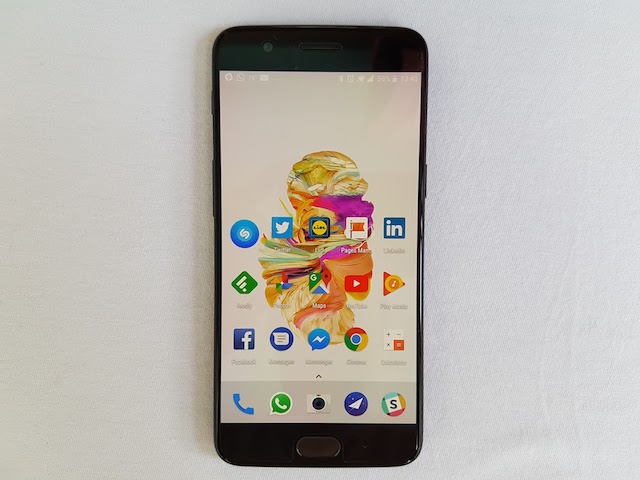 There are few smartphones that attract as much attention as a new OnePlus flagship. And it is easy to understand why. You get pretty much everything that you expect from a flagship device, but at a fraction of the cost. That recipe has not changed with this year's OnePlus 5.
Though it has not changed dramatically on the outside, the new "flagship killer" is more powerful and exciting than ever. It's also more expensive, which brings up an interesting question: Is the OnePlus 5 still special in today's crowded market?
What's in the box?
I have always enjoyed unboxing OnePlus' flagships. The packaging is top quality and the white and red color combination of the box looks fantastic. But what's most interesting is inside.
The OnePlus 5 that I have tested is the Slate Gray model featuring 8GB of RAM and 128GB of storage. It sits at the top of the current lineup; it costs $539. However, no matter if you get this one or the 6GB OnePlus 5 with 64GB of storage (which goes for $479), the accessories are the same.
So, under the OnePlus 5, you get a folder with the usual documentation and a SIM ejection tool and below that there is the USB Type-C cable and Dash charger. As with previous OnePlus flagships, there are no earphones in the box.
OnePlus does sell quite a few accessories for the OnePlus 5 through its online store, so if you want to get a case or earphones you can get them alongside the device.
At the time of writing this article, you do get a pair of OnePlus-branded Bullets (V2) earphones for free though. Just add them to the cart before placing your order to take advantage of this offer.
Design


The OnePlus 5 looks and feels like a premium smartphone. It's made out of metal, the buttons have a nice feel, build quality is very good, and the fingerprint sensor is in the right place -- embedded in the home button.
The button location is standard: there's a volume key on the left side and a power button on the right. The USB Type-C port and the 3.5mm headphone jack are at the bottom.
Display
If there is one constant in the OnePlus universe, that's the display. Since the original "flagship killer," which arrived in 2014, every OnePlus device had a 5.5-inch display with a resolution of 1,920 by 1,080. The technology inside may have evolved, but the two main specs have remained the same.
That is also true for the OnePlus 5. And that is not a bad thing, because it works well all things considered. The flat front panel allows you to use all the space on the AMOLED screen, unlike on other smartphones, which have rounded displays.
The resolution has never been a problem in terms of sharpness either. For most of us, 1080p is the limit anyway for the videos that we watch on YouTube or Facebook. Looking at photos you will be perfectly happy with it.
If there is a downside to it, it is what users report as jelly scrolling. OnePlus may say that this is perfectly fine, but this is the only flagship that I have seen that exhibits this issue. It does not bother me, but it is something worth pointing out.
Moving past it, the display looks alright. It gets plenty bright, photos and videos look good, and there is an option to tweak the colors too. But there is room for improvement here. The current crop of flagship displays make it seem a bit dated now.
Camera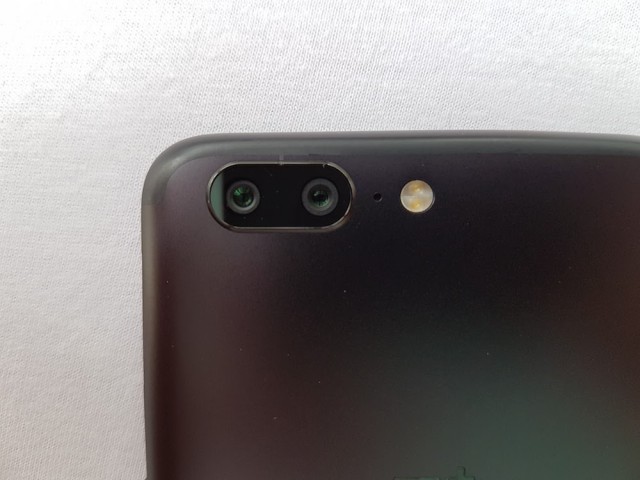 The OnePlus 5 is the first smartphone that I have ever used that has a dual camera. I did not expect to like this kind of setup so much, but after using it here it feels like a must-have. Let me explain why.
The telephoto camera (which has a 20MP Sony IMX 350 sensor) that complements the now-standard wide-angle shooter (which uses a 16MP IMX 398 sensor) makes the OnePlus 5 more versatile than other smartphones. You can take photos of subjects that are a bit farther than usual without zooming in artificially and losing quality.
I took some photos for the Hawkeye Firefly 8S review with the OnePlus 5 and I loved the fact that I did not have to get super close to it to get a good closeup. Same goes for portraits. It works so much better than the wide-angle camera in these kind of scenarios.
The wide-angle camera is more than fine, but it is nice to be able to switch to the telephoto camera when you want a narrower field of view or get a nice bokeh effect. That too is available in the camera app.
Where the telephoto lens does not shine is in low light. The standard lens is better, featuring a much wider f/1.7 aperture compared to the f/2.6 aperture of the telephoto lens.
Also, there is electronic image stabilization available for the standard camera, but nothing for the telephoto camera. Optical image stabilization is not part of the feature set, quite likely because OnePlus wanted to keep the price reasonable.
In terms of video, the OnePlus 5 works well. You have 4K at 30FPS as the maximum option, but also 1080p at 60FPS and 30FPS if you want to keep the size down. And the quality is good.
Something else that impresses about the photograph experience on the OnePlus 5 is the front-facing camera. Because the smartphone can light up the screen when you take a selfie in low-light, selfies actually look good now. It's a super nice touch. Again, this is something every smartphone should have.
The camera app itself is pretty great too. You get access to advanced features, if you want, but out of the box it is set up just right. The design is nice and clean. Switching between modes is easy too.
Performance
OnePlus has equipped its latest flagship with the most-powerful processor in Qualcomm's lineup, the octa-core Snapdragon 835. It tops out at 2.45GHz. The graphics is an Adreno 540 unit, that's top-notch as well.
There is also 6GB or 8GB of RAM, depending on which OnePlus 5 model you get -- in this case, it is the latter. For storage, the smartphone uses a UFS 2.1 chip.
What this all means is that the OnePlus 5 is super fast. It works smoothly everywhere and, because of all that extra RAM (compared to other players in this space), it should continue to do so years down the road.
The light customizations in OxygenOS and the lower display resolution (compared to other flagships) do help things here, but, first and foremost, it is that top-spec hardware combination that impresses the most. To put things into perspective, the OnePlus 5 has twice as much RAM as my laptop!
Battery life
The OnePlus 5 features a 3,300mAh battery, which is around average (if not a bit on the small size) for an Android smartphone of this size. I typically get between four to five hours of screen-on time and around a day of standby, as you can see in the screenshots below.
My usage is not heavy, but I do have a fair number of apps syncing in the background. That affects performance. Also, signal strength is not fantastic where I live, which also hurts battery life as well.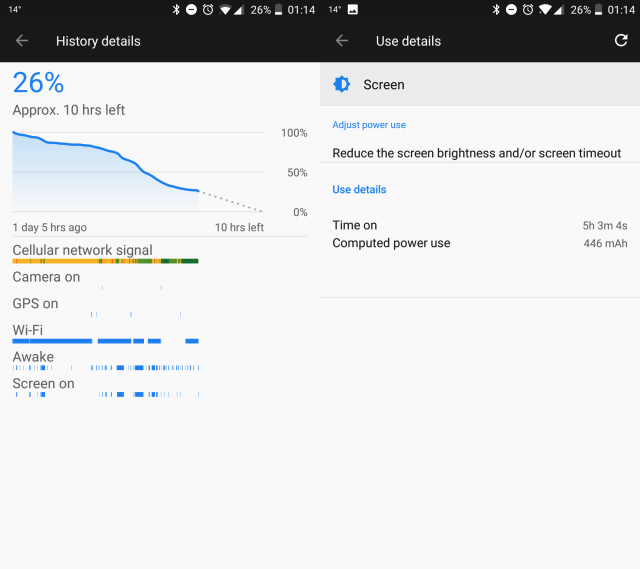 Overall, though, the OnePlus 5 is reliable. I can easily get through the day on a single charge. And when it comes time to plug it in, there's fast charging available (Dash Charge, which is proprietary to OnePlus, tops out the battery at 5V 4A).
OxygenOS
OxygenOS is one of the lightest Android skins around. The amount of customization is kept to a minimum on the OnePlus 5, just like on previous flagships.
It's based on Android 7.1.1 Nougat and, with the exception of some useful add-ons, it is pretty much close to what some call "stock" Android. You will notice some differences though.
There is a custom launcher, no app drawer button (but you do get the app drawer when you swipe up from the bottom), a list of all the menus in Settings, and a bunch of other bits and bobs here and there.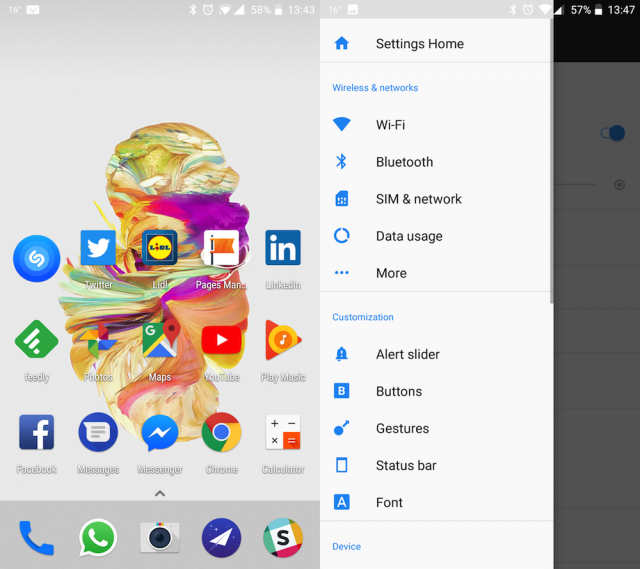 Part of the experience is that there is no classical do not disturb functionality, that kicks in automatically, which I have always found strange. But, other than that, it is hard to fault OxygenOS.
OnePlus has done a good job with the updates as well. Since it introduced the OnePlus 5, it released a significant number of updates, which have improved the user experience, fixed bugs, and added new features. Android 8.0 Oreo is in the cards too, though there is no official release date yet.
What else?
Here are some other things that you should know about the OnePlus 5.
It comes in at 154.2 x 74.1 x 7.25 mm and 153g. One hand usability is fine, thanks to the rounded edges.
It has capacitive keys, but you can also use on-screen buttons if you prefer. That's something that can be changed in Settings.
There is Wi-Fi 802.11 a/b/g/n/ac with MIMO, Bluetooth 5.0 and NFC on board. It's got 4G LTE support.
The screen is called Optic AMOLED. On top, there's a sheet of Corning Gorilla Glass 5 for protection, but you also get a screen protector applied from the factory.
There's an ambient display feature that lets you see notifications during sleep, and a night mode that makes the screen easier on the eyes.
The camera app supports RAW capture and HDR. The front-facing camera has electronic image stabilization.
A different kind of flagship
The OnePlus 5 is a high-end product, but it is not your typical flagship. Compared to any of the traditional players in this space, it is significantly more affordable. But it does not skimp on features.
That dual camera is pretty cool, the performance is top-notch and the software is well sorted. Its weakness is the display. However, for the money, you can forgive OnePlus for not going with something more exciting.
After using it as my daily driver, I think it is the perfect smartphone for someone wanting the flagship experience but without paying the flagship price. I like it, I like it a lot.