Macrium Reflect Free 7.1 adds Hyper-V support, now licensed for commercial use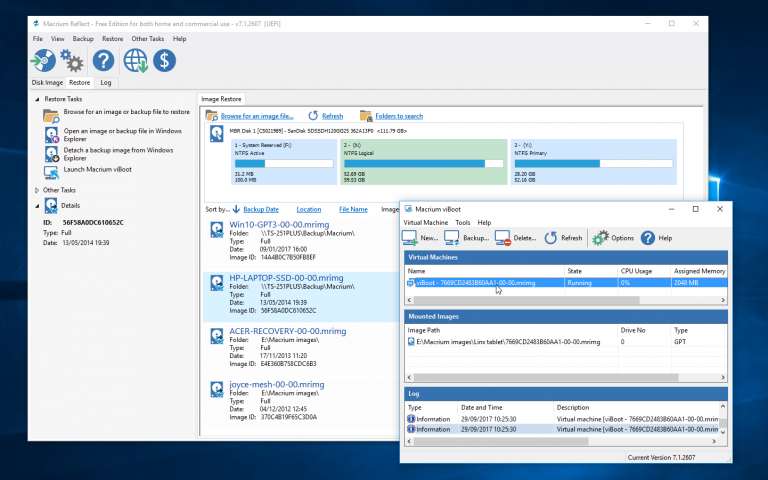 Paramount Software (UK) Ltd has released Macrium Reflect Free Edition 7.1, a major new release of its disk imaging backup tool for Windows.
Macrium Reflect 7.1 adds three headline features: integrated viBoot2 providing instant virtualization of Macrium backup images, Task Scheduler 2.0 API use for compatibility with the latest versions of Windows 10, and finally a license for use in a business as well as a non-commercial environment.
Macrium Reflect Free is our go-to image-based backup utility. Version 6 added support for differential images to reduce backup sizes, and we're pleased to report this feature remains in place in this new version. Incremental backups understandably remain restricted to users of the paid-for version, which was updated to version 7 back in February.
Version 7 adds support for Macrium viBoot. This feature allows users to create, start and manage Microsoft Hyper-V virtual machines using one or more Macrium Reflect image files. A guide to using the feature can be found in the online knowledgebase.
The relaxing of license restrictions means Macrium Reflect Free can now be used in commercial environments, albeit with no support -- businesses are encouraged to upgrade to a paid version, which comes with additional benefits.
The new release also switches to using the Windows Task Scheduler 2.0 API having encountered numerous problems with the older 1.0 API. This should improve compatibility on all machines running Windows 10 Anniversary Edition or later.
At time of writing, version 7 isn't available as an in-app update to existing users; instead, download the new version and install it over the top of your existing version.
Macrium Reflect Free Editon 7.1 is a freeware download for PCs running Windows XP, Vista or 7, and the installer includes both 32-bit and 64-bit builds.