Synology's new DS418play NAS lets you stream two 4K videos simultaneously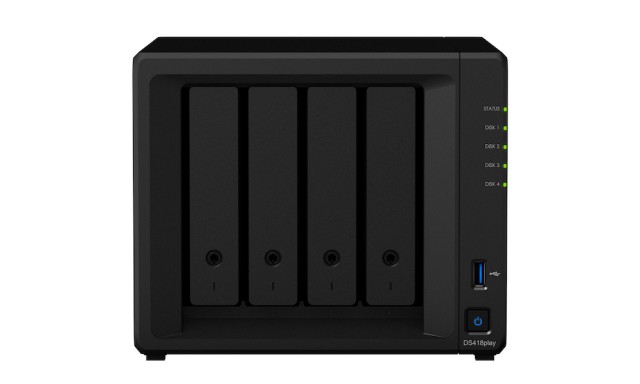 Synology has expanded the DS418 line with the introduction of the new DS418play. The NAS, which joins the DS418 and DS418j in the consumer-oriented four-bay range, is optimized for multimedia content.
The claim to fame of the DS418play is that it can transcode up to two channels of H.265 or H.264 4K content at the same time, which basically means that you will be able to stream two 4K videos at the same time on a smartphone and tablet using the NAS' processing power.
"Mobile devices supporting 4K video recording are becoming increasingly popular. However, since 4K video clips are capacity-consuming and not all TVs at home support 4K video playback, users tend to record videos with lower resolution as an alternative," says Synology product manager Michael Wang. "With DS418play supporting up to 40TB of raw capacity, users can store their favorite videos in ultra-high definition, organize and share videos with families and friends effortlessly, and transcode videos on-the-fly to allow video playback on devices that do not support 4K."
For the DS418play, you will be able to install multimedia apps, like Video Station, Photo Station and Audio Station, from Synology's app store. The NAS comes with DiskStation Manager (DSM) 6.1, Synology's custom operating system, out of the box.
Synology says that the DS418play also features AES-NI hardware accelerated encryption and encrypted data transfers of up to 226MB/s for reads and 185MB/s for writes (that goes up to 220MB/s when link aggregation is enabled). It features two Gigabit LAN ports.
The processor is a dual-core 64-bit Intel Celeron J3355 that is paired with 2GB of DDR3L RAM. The RAM can be expanded to 6GB by adding a 4GB module in the empty slot.
The DS418play can house up to four 10TB drives. You can install 3.5-inch HDDs and 2.5-inch HDDs and SSDs. The NAS also comes with two USB 3.0 ports, if you want to connect external devices to it.
How much? Synology tells me that the DS418play costs $429.99. It is available right now.