SteelSeries Arctis 3 gaming headset now available in blue, grey, and red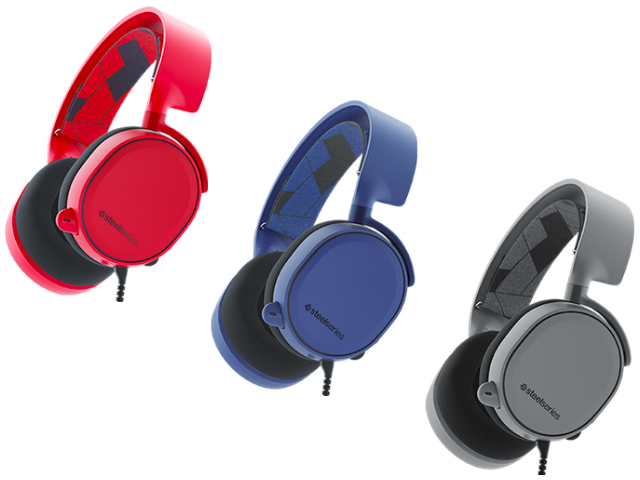 Both PC and console gaming are wildly popular nowadays -- people even game professionally. Who would of thought in the early days of, say, "Pong," that people would eventually earn money for playing games? Crazy, right? Well, that is the the state of the world nowadays. Heck, gaming tournaments are even getting exposure on television -- TBS, for instance, broadcasts them weekly every Friday night.
To better enjoy their video games, consumers often purchase gaming peripherals and accessories, such as mice, keyboards, and game pads. For many, a headset is also a popular purchase, as it can let them either trash-talk opponents or communicate with teammates. SteelSeries makes many types of gaming peripherals -- including headsets -- and today, it announces that the popular and affordable Arctis 3 is now available in three new limited edition colors -- blue, grey, and red. Best of all, when you buy this headset in one of the new colors from SteelSeries' web store, the company will donate 10-percent to "Ditch the Label" -- an organization with a mission to stop bullying.
ALSO READ: SteelSeries launches 'complete package' APEX M750 Mechanical Gaming Keyboard
"The Arctis 3 features SteelSeries' low-distortion speakers combined with 7.1 surround sound to deliver incredible sound while gaming on PC, portable console and across mobile devices. Featuring the best microphone in gaming, the SteelSeries ClearCast mic is a retractable bi-directional system that delivers clear voice communication while acoustically eliminating all background and surrounding noise," says SteelSeries.
This slideshow requires JavaScript.
The company further says, "The Arctis 3 uses an original ski-goggle suspension headband and AirWeave ear cushions for evenly distributed, lightweight comfort. Outperforming all other headsets in its class, the Arctis 3 is an analog wired headset equipped with 7.1 surround sound and is fully compatible with Nintendo Switch, PC, Mac, Xbox, PlayStation, VR and mobile devices."
Ready to buy the SteelSeries Arctis 3 in solar red, boreal blue, or slate grey? You can get one here now for $79.99. Remember, folks, not only will you get a quality headset, but you will also be helping to stop bullying. SteelSeries hopes to raise $10,000 for this cause, and your purchase will assist the company in reaching its goal.