SteelSeries launches 'complete package' APEX M750 Mechanical Gaming Keyboard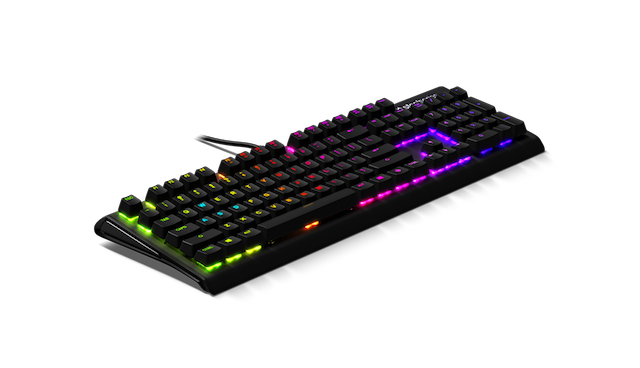 If you are a PC gamer and you don't have a mechanical keyboard, you simply aren't doing life right. Look, a truly great video game player can succeed with any properly functioning keyboard and mouse, but if you can get an edge, why not take it? A mechanical keyboard doesn't just provide a more satisfying gaming and typing experience, but they are often built to last, making them a wise investment.
Today, respected manufacturer SteelSeries launches a new such mechanical gaming keyboard that it is referring to as the "complete package" -- bold words! The APEX M750, as it is called, has QX2 switches that the company claims will offer superior gaming performance. Since it is a gaming product in 2017, it of course has customizable RGB lighting.
"The M750 brings new QX2 mechanical switches, per key RGB lighting and SteelSeries Engine Apps to gamers, giving them the ultimate combination of beauty, performance and customization. The APEX M750 features SteelSeries' QX2 linear mechanical gaming switches to deliver ultra-fast and consistent gameplay. Their low-force, linear actuation point also deliver a whisper-quiet response and have a guaranteed lifespan of 50 million key presses. The keyboard was designed with an aerospace aluminum core for durability, stability and a sleek, modern look," says SteelSeries.
Ehtisham Rabbani, CEO, SteelSeries explains, "Gamers have strong and vocal opinions about keyboards; and it's a crowded market with vast options of different switches, features and materials, but there are always compromises. That is what makes the Apex M750 different -- we didn't compromise on any of it, instead we listened and are delivering the complete package. With the launch of the new keyboard we are proud to bring new and first-to-market SteelSeries Engine features to gamers, like the Discord App, ImageSync and more."
This slideshow requires JavaScript.
SteelSeries shares the following specifications.
Top Material Series 5000 Aluminum Alloy
N-Key Roll Over 104-Key(All)
Anti-Ghosting 100 percent
Illumination Individually controllable per-key RGB, including whole-keyboard patterns, and reactive typing effects
Weight 2.2 lbs
Height 153.5 mm
Width 454 mm
Depth 46.7 mm
Cable Length 6.5 ft
Switch Type & Name SteelSeries QX2 Linear Mechanical RGB Switch
Switch Actuation Point 2 mm
Total Travel 4 mm
Force 45cN
Lifetime 50 Million Keypresses

The SteelSeries APEX M750 can be had today for $140 directly from the manufacturer here. While that is a rather high price for a mechanical keyboard nowadays, SteelSeries is known for making high-quality products, so it should last you for many years. Not to mention, it looks super cool too.