Google's new Pixel 2 and Pixel 2 XL get three years of software updates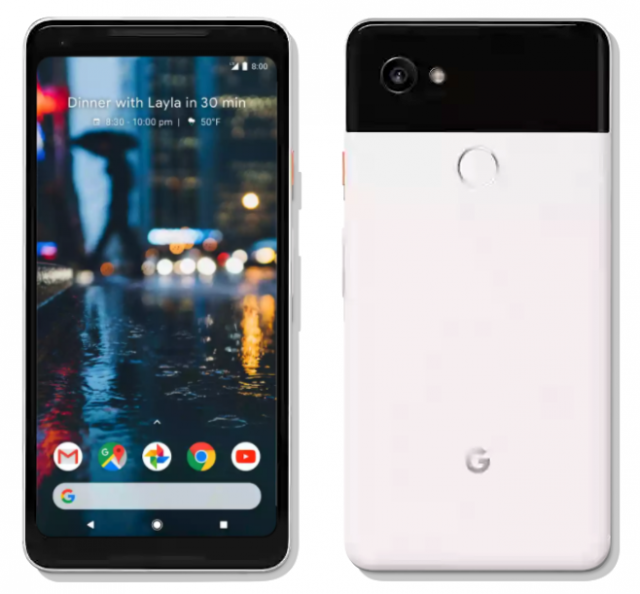 Google just announced the second-generation Pixel smartphones. The new Pixel 2 and Pixel 2 XL, which come with Android 8.0 Oreo, feature a best-in-class camera, improved display with always-on functionality, faster internals and more storage than before.
The main differences between the Pixel 2 and Pixel 2 XL are in the display and battery departments. The Pixel 2 features a 5-inch AMOLED screen with a resolution of 1,920 by 1,080 and 16:9 aspect ratio whereas the XL version comes with a 6-inch pOLED panel with a resolution of 2,880 by 1,440 and 18:9 aspect ratio. The Pixel 2 XL has the most-impressive display of the two, hands down.
The Pixel 2 XL's screen is similar to what you can find on flagships like the Apple iPhone X, LG G6, Samsung Galaxy S8 and Galaxy Note 8. The Pixel 2 looks more mundane in comparison, featuring a traditional panel and massive top and bottom bezels. If you squeeze the Pixel 2 or the Pixel 2 XL, you'll get Google Assistant on the screen.
On the battery side of things, the Pixel 2 XL bests the Pixel 2 again. It comes with a 3,520mAh battery, while its smaller brother features a 2,700mAh battery. Both give you up to seven hours of use after 15 minutes of charging.
Obviously, the Pixel 2 XL is also bigger than the Pixel 2. The Pixel 2 XL comes in at 157.9 x 76.7 x 7.9mm (6.2 x 3.0 x 0.3in) and 175g (6.2oz). The Pixel XL measures 145.7 x 69.7 x 7.8mm (5.7 x 2.7 x 0.3in) and weighs 143g (5.01oz). Considering their display and battery sizes, there is not a massive difference in footprint and weight between the two. Now, let's talk about what they have in common.
The camera on the new Pixel 2 offers the best photography experience on a smartphone, besting all other smartphones in the DxOMark charts with a score of 98. The Pixel 2 dethroned the Apple iPhone 8 Plus and Samsung Galaxy Note 8, which are now tied in second place with a score of 94 points.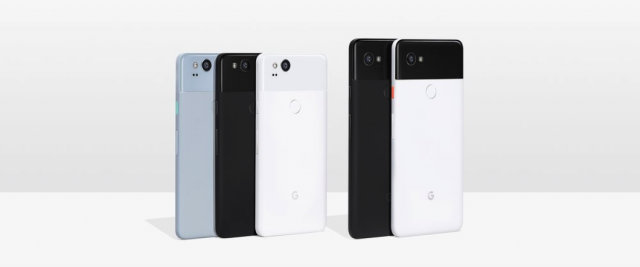 So, what's so great about it? The 12.2MP camera on the back of the Pixel 2 and Pixel 2 XL features dual pixel technology to offer "perfect background blurs." Google says that this also applies to the front-facing camera, which as an 8MP sensor. This is done using a combination of computational photography and machine learning.
There is also optical and electronic image stabilization on board, just like you would expect, though this year both Pixel smartphones get it (not just the XL model, like last year). That is good news for those who prefer the smaller footprint of the Pixel 2. What is more, the rear shooter is paired with an f/1.8 lens, which is well suited for night time photography.
The front camera features an f/2.4 aperture. It tops out at 1080p 30FPS for video recording. The rear shooter maxes out at 4K 30FPS; 1080p at 120FPS is also available and so is 720p at 240FPS. What's more, Google says that users will get unlimited storage for original-quality photos and videos for free until the end of 2020.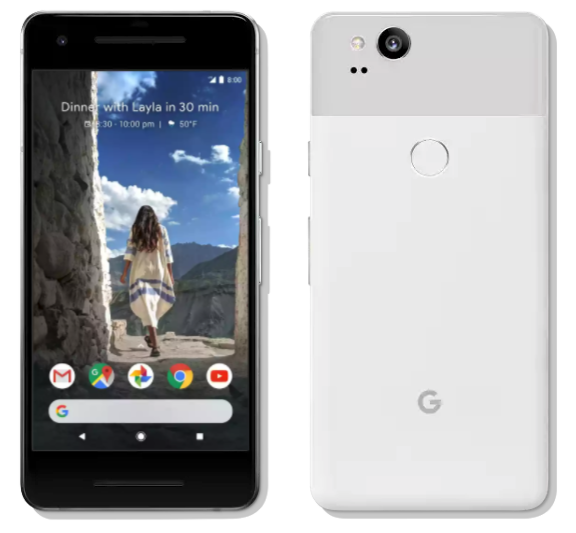 The processor on the Pixel 2 (featured above) and Pixel 2 XL is an octa-core Qualcomm Snapdragon 835, which has four cores topping out at 2.35GHz and four at 1.9GHz. It's paired with 4GB of RAM. There are two storage options available, 64GB and 128GB.
Both smartphones feature stereo speakers on the front, USB 3.1 with a Type-C port, Bluetooth 5.0, Wi-Fi 802.11 a/b/g/n/ac, NFC, worldwide carrier support, IP67 water and dust resistance and a minimum of three years of operating system and security updates. As expected, there is no 3.5mm headphone jack, though there is an USB Type-C adapter included in the box.
The Pixel 2 starts at $649 and is available to pre-order starting today. Available colors are Clearly White, Just Black and Kinda Blue, though the last one is only offered if you go with Verizon. The Pixel 2 XL, which starts at $849, is offered in Black & White and Just Black. The 128GB model adds $100 to the cost.
Google says that the Pixel 2 and Pixel 2 XL will be available at launch in Australia, Canada, Germany, India, UK and US, and Italy, Singapore and Spain later this year. In the US, they will be offered through Best Buy and Verizon as well as Google Store.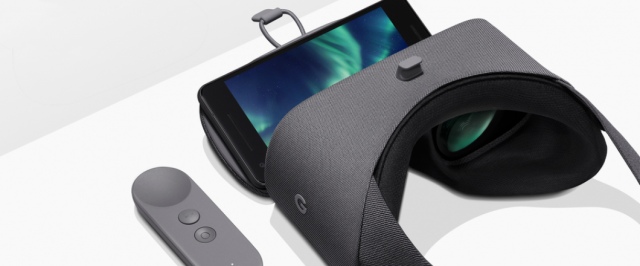 Also new is an augmented reality headset, called Daydream View, which is designed to work with the Pixel 2 camera, and supports tracking and renders objects at 60FPS. Daydream View, which you can see above, will be available later this year through multiple retailers, including Best Buy and Amazon, in multiple markets.