Windows Firewall Control 5 released, extends protection offered by built-in firewall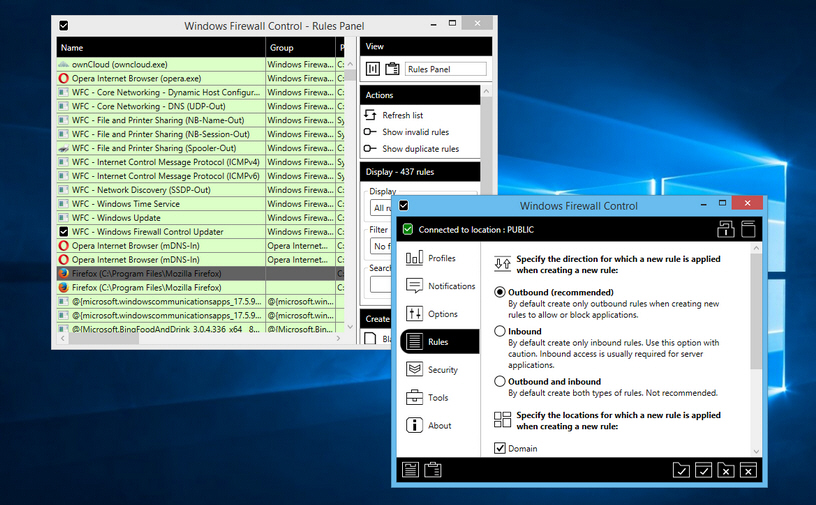 Why does anyone need a third-party firewall when Windows offers one of its own? One huge plus for switching firewalls is to provide yourself with two-way protection: the Windows Firewall only monitors inbound traffic from the internet, not traffic that originates on your PC.
The annoying thing is, the Windows Firewall can offer two-way protection, but it's fiddly to configure and not enabled by default. Enter stage left, the recently updated Windows Firewall Control 5.01.
Windows Firewall Control allows you to extend the capabilities of the built-in Windows Firewall to give you extra protection without having to clog up your PC with yet another third-party tool. If you've already got a firewall in place, we'd recommend sticking with that, but if you've been putting up with basic protection, the tool may appeal.
Version 5.0 adds a handful of minor new features: "Auto refresh on open" and "auto receive updates" options for the Connections Log. The main window now displays the currently connected location of the Windows Firewall, while users can access the program website through the About tab.
Otherwise there's an updated manual, plus a host of fixes, all outlined in detail at the program's website.
After installation, the program offers one of four basic filtering modes: none, Low, Medium or High. The Medium setting should be used to control outbound connections, but note that by default all outbound connections will be blocked until rules have been created. If problems occur, setting the mode to Low should resolve things temporarily.
The simplest way to add rules is to use the "Click a program window" button in Windows Firewall Control, then click an open window of the program you wish to give outbound access to. Rules can also be created manually or by selecting individual program executables.
Although the program is free, donating for a suggested $10 gives users access to additional features as well as priority support via email. The key one is a Notifications System that simplifies the task of adding rules through Learning Mode, which automatically allows digitally signed programs to make outbound connections.
Windows Firewall 5.01 is available now as a free or donationware download for PCs running Windows 7 or later.