Fake Adblock Plus extension fools thousands of Chrome users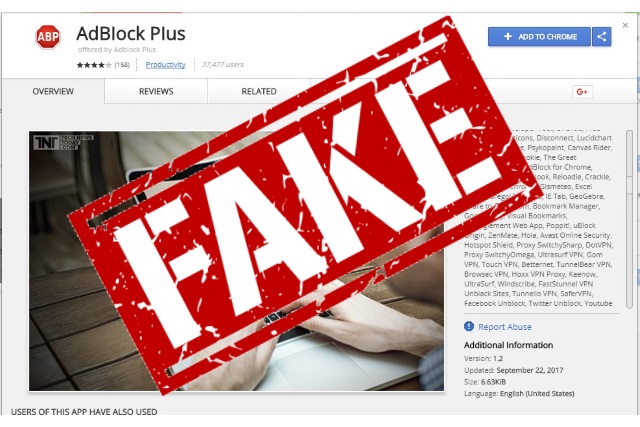 The proliferation of online ads means that more and more people are turning to ad blockers, and Adblock Plus remains one of the most popular. Taking advantage of this, fraudulent developers pushed a fake version of the Adblock Plus extension into the Chrome Web Store, bypassing Google's checks and filters.
In all, 37,000 people were tricked into downloading the fake version of Adblock Plus. Google has now acted and removed the fake listing from the store.
See also:
The Chrome Web Store listing closely mimicked the look of the official Adblock Plus extension, using the same name and keywords, save for slightly tweaked capitalization (AdBlock Plus). The fake extension was highlighted by SwiftOnSecurity who said that Google is allowing fraudsters to smear the names of legitimate developers:
Google allows 37,000 Chrome users to be tricked with a fake extension by fraudulent developer who clones popular name and spams keywords. pic.twitter.com/ZtY5WpSgLt

— SwiftOnSecurity (@SwiftOnSecurity) October 9, 2017
I'm being mean to Google because there's no way their Chrome team is happy with this extension vetting/moderation situation.

— SwiftOnSecurity (@SwiftOnSecurity) October 9, 2017
Although the fake extension managed to gain a lot of reviews, one reviewer pointed out that after installing it they noticed a lot of tabs opened in their browser.
Image credit: Aquir / Shutterstock