PC market declines further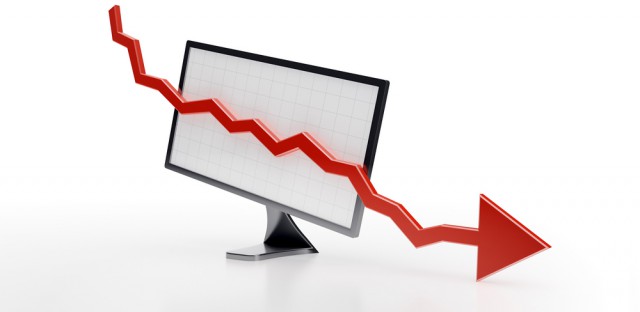 It is no secret that the PC market is struggling. Even though there are some encouraging signs, like upgrades to Windows 10 on the business side, it is becoming harder and harder for manufacturers to attract buyers -- even in the back-to-school season.
Gartner, which just released its report on PC shipments in the third quarter of 2017, says that "traditional promotions," like back-to-school sales, are "no longer an effective growth driver," which is why this back-to-school sales season has been "very weak." The report says that the market declined by 3.6 percent year-over-year, as a result.
"While there were signs of stabilization in the PC industry in key regions, including EMEA, Japan and Latin America, the relatively stable results were offset by the U.S. market, which saw a 10 percent year-over-year decline in part because of a very weak back-to-school sales season," says Gartner principal analyst Mika Kitagawa. "Business PC demand, led by Windows 10 upgrades, continued to drive PC shipments across all regions, but its refresh schedule varies by region. The countries with stable economies, such as the US, have created a positive sentiment among businesses, especially for small and midsized businesses (SMBs), which are more vulnerable to external events, such as economic or political."
PC makers shipped 67 million units last quarter, down from the 69.51 million units shipped a year ago. HP was the only top vendor to post gains, with all other major players being in the red. The maker actually did well in all the important regions. Apple posted the biggest losses, per the report, shipping nine percent fewer Macs year-over-year (4.61 million units, down from 4.88 million units in Q3 2016), among the top vendors.
That's the global view. In the US, things have been worse. Shipments were down by 10.3 percent, with the biggest loser at the top being Lenovo, which shipped 25.2 percent fewer units year-over-year (1.79 million compared to 2,40 million units). HP, again, came on top, though it also posted weaker figures (down 2.7 percent to 4.66 million units from 4.79 million units).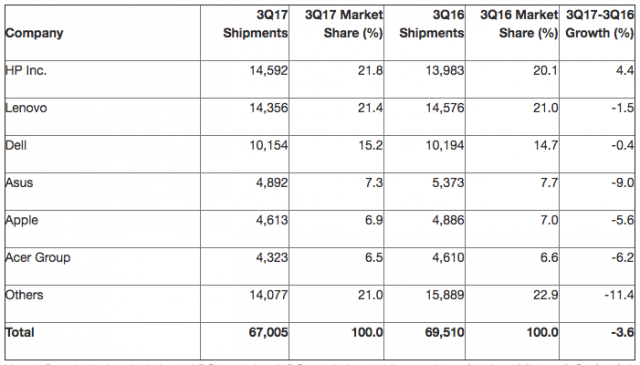 These figures include shipments of desktops, laptops and so-called ultramobiles, like the Microsoft Surface Pro. However, Chromebooks are excluded.
Photo Credit: Mopic/Shutterstock