Synology DiskStation DS418j is a four-bay NAS ideal for home users [Review]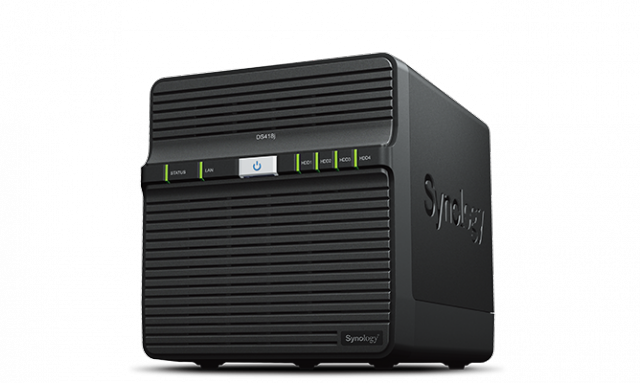 The new DiskStation DS418j is among Synology's most attractive options for home users with higher storage needs. Part of the entry-level J Series, the four-bay NAS has solid hardware and all the right features that you expect in this segment, including a powerful operating system and lots of useful software add-ons.
It is also among the most-affordable NAS devices in the four-bay range, which makes it a prime choice for buyers on a budget. But, just how good is it in real life? I've tested the DS418j to find out.
Design and specs
The DS418j looks the part for a NAS. It's all black, save for the power button, which is silver, and the status LEDs on the front, which light up green in use. The front panel lets you know the status for the NAS, wired connection, and the four drives. On the back, you have the Gigabit LAN port, the two USB 3.0 ports and the power port; there is also a Kensington Security Slot and a reset button.
The specs sheet is pretty long, so here are the main things that you need to know about the DS418j. It's got a Realtek 64-bit dual-core processor clocked at 1.4GHz, 1GB of DDR4 RAM, room for four drives (it supports both 3.5-inch and 2.5-inch HDDs and 2.5-inch SSDs) for a maximum capacity of 40TB, two USB 3.0 ports, and a Gigabit LAN port.
Synology says that the DS418j offers transfer speeds of over 112MB/s for encrypted reads and 87MB/s for encrypted writes. Power consumption is claimed to be 21.22W in use and 8.97W in hibernation; it comes with a 90W power adapter. The noise level is 20.6dB(A). It measures 184 x 168 x 230mm and weighs 2.21kg, sans drives.
Installing the drives
Adding drives to the DS418j is pretty simple. The bays are accessible by opening the back panel (the two screws can be removed by hand), though you will need a screwdriver to secure the drives to the tray.
Synology recommends that you secure the drives to the tray and, after you insert it back in the NAS, use two more screws (on the left and right side) to keep it in place as well. Because this setup requires the drive to have threaded holes in the middle, with a 2.5-inch HDD (which lacks those) you cannot secure the tray to the chassis. Still, it will stay in place just fine.
The drives are formatted before you can use them with the NAS, so make sure that you have everything backed up if you plan on reusing older HDDs or SSDs. Also, keep in mind that there's no hot-swap support, so you shouldn't insert and remove disks when the DS418j is on.
DSM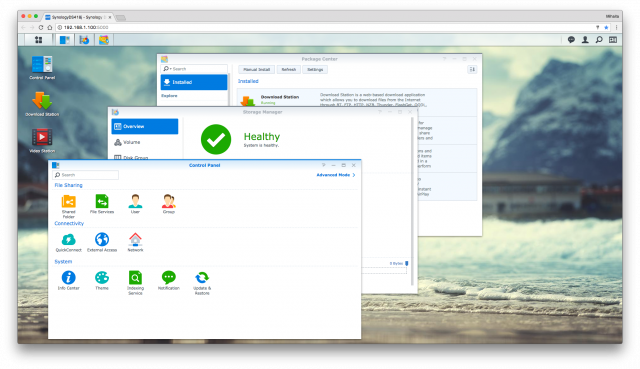 The real magic of any Synology NAS comes from its operating system. It's called DiskStation Manager -- or DSM for short -- and it is, in one word, sublime. DSM is really powerful, coming with a solid feature set out of the box, but, at the same time, it is also fairly easy to use. And it comes with its own app-store, called Package Center.
Package Center comes in handy if you want to add extra features, like a download manager (which supports BitTorrent, FTP, HTTP and lots of file-sharing sites, among others), a cloud sync tool (which works with popular services such as Google Drive), a security solution, a mail server or a video player.
The list of available packages is rather long. Many of them are made by Synology, but there are third-party ones too, like an Apache web server -- which is developed by the Apache Software Foundation. That is not the only app of this kind, as you can also find a Git Server, Node.js, Perl, Python, Ruby, WordPress and others. You can take a look at all the available options here.
These sort of packages make the NAS so much more versatile. Take WordPress for example, which allows you to host a blog locally, or Git Server, which lets you have your private software version control system. Sure, you can use your PC for these kind of things too, but the NAS makes more sense in this scenario.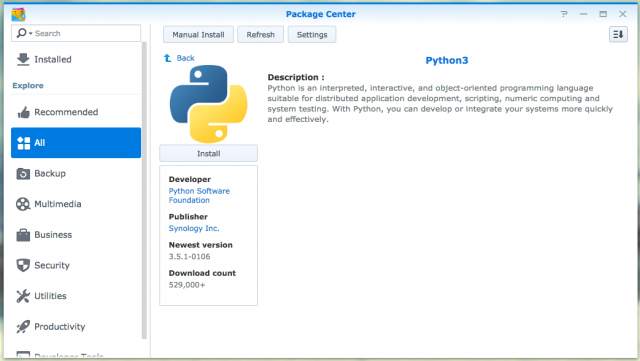 DSM is available through the browser, so it works on all types of devices. The interface should feel familiar. There are shortcuts on the desktop, a Start-like menu on the top-left corner and a notifications center, user controls (like shutdown and logout), search and widgets in the top-right corner of the screen.
Everything opens in its own window, in the same browser tab, and, just like with other operating systems, you get an icon in the taskbar so you can switch between the apps. Mind you, apps run in the background, so when you open one you are only just activating its UI, not starting it. This allows the DS418j to do things, like download files or index multimedia content, even when the browser tab is closed.
Coming from a barebones NAS device, like the Seagate Central that I had for a few years, DSM feels like a huge leap forward in this regard. Before, I had to keep my MacBook on to download something on it. Now I can just open Download Station and drop a link in there instead and it will download files directly onto the drive.
Video Station is another favorite of mine, as it allows me to watch videos stored on the drive in the browser, without having to use a player like VLC on my MacBook. And, like Netflix, it autoplays the next video in the main folder. It also builds a library of sorts, based on the content that it indexes.
Of course, you can also set up the DS418j to work as your private cloud. You can remotely access the files stored on the drives, if you want or need to do so. Synology has a few apps that let you do that easily on a mobile device or via quickconnect.to/yourusername (obviously, you'll need to replace "yourusername" with your actual user name to have access). There's a wizard in DSM, called EZ-Internet, that makes setting it up really easy.
Since getting the DS418j, multiple updates were released, mainly to fix security vulnerabilities, with the latest version installed at the time of writing this article being DSM 6.1.3 Update 7. The DSM 6.1 update was released early this year, and it's also available for the other NAS devices in its range.
If you want to take DSM for a spin, there is an online demo that you can access here. It gets you access to pretty much all the features you may want to use.
Real-world performance
The DS418j is designed to be an affordable four-bay NAS for home users, and in that scenario it works great. During my time with it, it has performed flawlessly. To give you an idea of my setup, I am using a good Wi-Fi 802.11ac router, with Gigabit LAN ports, and a fast wireless connection -- which, no doubt, help things run smoothly. Also, my Internet connection is decent as well, with download speeds of up to 300Mbps (or so the ISP says).
In an impromptu test, the DS418j downloads files at nearly 30MB/s from the Internet, which is the most that I have seen to date compared to other tests. These kind of tasks load the processor to around 60 percent, using the setup that I have. Watching a 720p or 1080p video in Video Manager at the same time adds a bit more load, with the CPU usage rising to around the 90 percent mark, but playback is still buttery-smooth.
That does not mean that the DS418j is unbeatable. Throw enough at it and it will reach its limit, but for the average user at home it will be up to the task. Still, Synology does offer some more powerful options in this range, namely the DS418 and DS418play. Both support 4K video playback, but the latter lets you watch two at the same time.
Conclusion
The DS418j is a great NAS for home users who need to store lots of content -- the fact that it supports up to four drives means you can have quite a collection of files. It's got a powerful operating system, it works great and it's reasonably priced as well, being available for $299.99 on Amazon.