Synology announces DiskStation DS218play, DS218j and DS118 NAS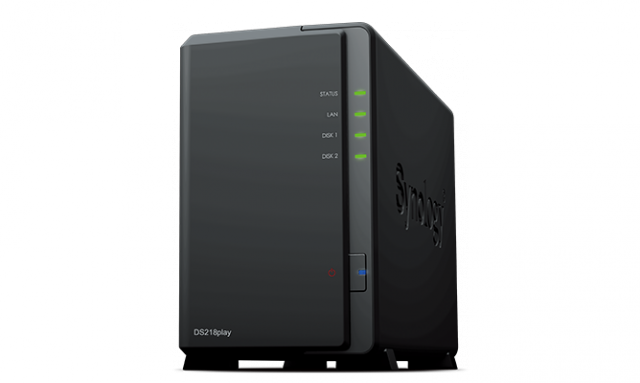 Synology is slowly but surely updating its DiskStation lineup, with three new models entering its two-bay and one-bay NAS ranges today: the multimedia-optimized DS218play, value-focused DS218j and performance-oriented DS118.
The DS218play, like the DS418play which Synology announced a month ago, is designed with high-resolution content in mind, being capable of 4K 30FPS video transcoding.
It is powered by a quad-core Realtek RTD1296 processor clocked at up to 1.4GHz. There is 1GB of RAM on board, and support for up to 24TB of storage. As the name suggests, there are two bays available.
The DS218play works with both HDDs and SSDs, featuring support for 3.5-inch and 2.5-inch drives. Synology says that the NAS tops out at 112MB/s for reads and writes.
It also comes with a Gigabit LAN port and two USB 3.0 ports so you can hook it up to a router and connect external drives, like a USB stick, to it. The DS218play can be had for $229.99.
The DS218j is the smaller brother to the DS418j I reviewed here. Like the DS218play, it is a two-bay option, which can be used with both HDDs and SSDs, sporting a maximum capacity of 24TB.
A dual-core Marvell Armada 385 88F6820 processor, with 512MB of RAM, runs the show. Performance is quoted at over 113MB/s for writes and 112MB/s for writes. The DS218j has a Gigabit LAN port and two USB 3.0ports.
It is power-friendly too, needing just 17.48W in use and 7.03W when the HDDs hibernate. The DS218j is priced at $169.99, which makes it the most affordable option here.
Last but not least we have the DS118, which offers a nice balance between performance and cost. Like the DS218play, the one-bay NAS is also powered an RTD1296 processor with 1GB of RAM. And it is also capable of 4K video transcoding.
Being a one-bay NAS, the DS118 is limited to 12TB of storage. You can use either a traditional HDD or an SSD with it. It comes with two USB 3.0 ports and a Gigabit LAN port. The DS118 costs $179.99.
Synology tells me that the DS218play, DS218j and DS118 are available starting today.