Twitter pledges to fix 'error' that hides bisexual search results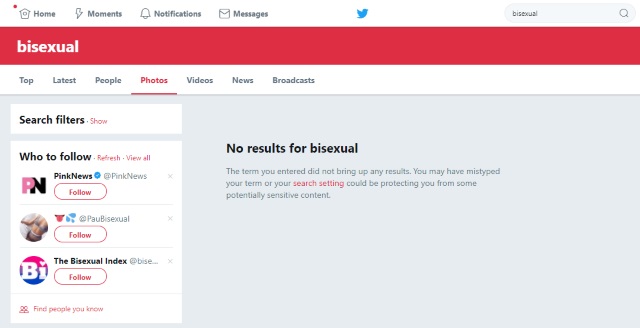 Twitter faced criticism over the weekend after it was discovered that the search term "bisexual" appeared to have been blocked. Users noticed that searching for the word returned no news or photo results, leading to claims of censorship and discrimination.
The company refers to the issue as "an error with search results for certain terms" and is "working quickly to resolve" it.
See also:
The issue arose just as Twitter faces mounting pressure and criticisms over its handling of abuse and adult content on the site. The company has started to introduce additional, clearer rules about the sort of content and behavior deemed acceptable, but it's not clear whether the disappearance of bisexual content is related to changes that have been made behind the scenes.
Twitter insists that the censorship is accidental and is working to get things sorted out:
We've identified an error with search results for certain terms. We apologize for this. We're working quickly to resolve & will update soon.

— Twitter Support (@TwitterSupport) November 5, 2017
At time of writing, there are still no photos or news results when searching with the word "bisexual," and Twitter users are questioning what happened and why it is taking so long to resolve.