Google Files Go is a new Android app that lets you manage and share files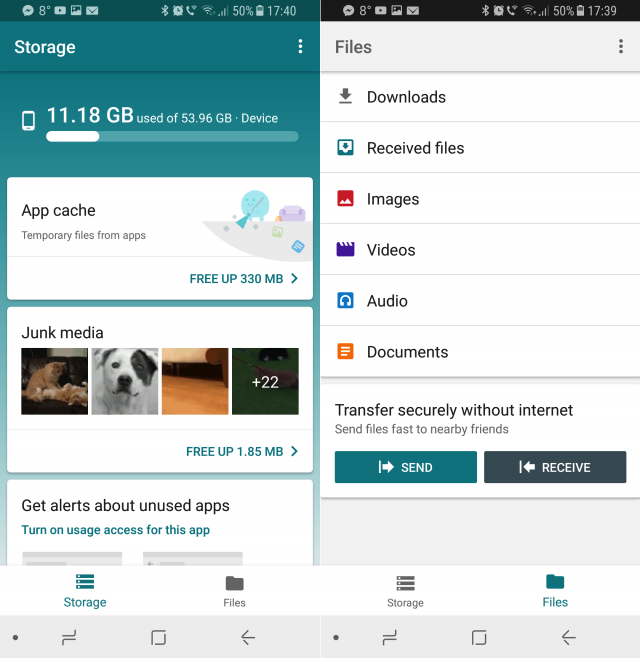 Google is getting ready to expand its collection of Android apps once more, as it just introduced a new title on Google Play. Currently available as a preview, Files Go lets you manage and share files and free up space on your smartphone or tablet.
The app is split into two tabs, one that's called Storage, which helps you delete the app cache, remove files and get notifications for unused apps, and another, named Files, which is where you will find the file manager and the option to send and receive files.
The Storage tab is populated with cards for different things, like large files that you can remove, duplicate content or junk files. At the top of this tab, Files Go lets you know how much storage you have used out of the total available on your smartphone or tablet.
In the bottom-right corner of the card, the app lets you know how much storage you can free up. Tap that and you are then taken to a list of files it flagged. You can select individual items or everything and hit the delete button at the bottom to free up storage.
I am not sure how it flags those files for removal, as there is no information about this mentioned in the app. It would be nice if Files Go could check your files against Google Photos backups, for instance, as to skip content that's not been safely backed up.
Also related to this tab, you can get notifications for low storage, unused apps, downloaded files and large files. But, if you want, those can be disabled in the Settings menu, which, right now, doesn't have a ton of options that you can play with.
The Files tab lists six file categories on my device, namely Downloads, Received files, Images, Videos, Audio, and Documents that I can go through to find content. Tapping on a PDF, for instance, gives me the following options: select, rename, share, file info and delete.
Sharing through that dropdown menu, you are taken to a typical Android share menu. However, if you go back to the Files tab you can use the Send option, which starts a hotspot, to share content with a nearby Android user. That's going to be much faster, as it will use the Wi-Fi for that.
Google is pretty proud of the fact that this is a "light" app, announcing in Files Go's description on Google Play that it only needs under 6MB of space. That's not something that will likely matter much to most folks, but what will is the fact that it is pretty responsive at this stage.
Being a beta, Files Go is likely to change until it is deemed ready for prime time, but if you want to check it out now follow this link to take you to its Google Play landing page.