OnePlus 5T: Is this the best flagship killer yet? [Review]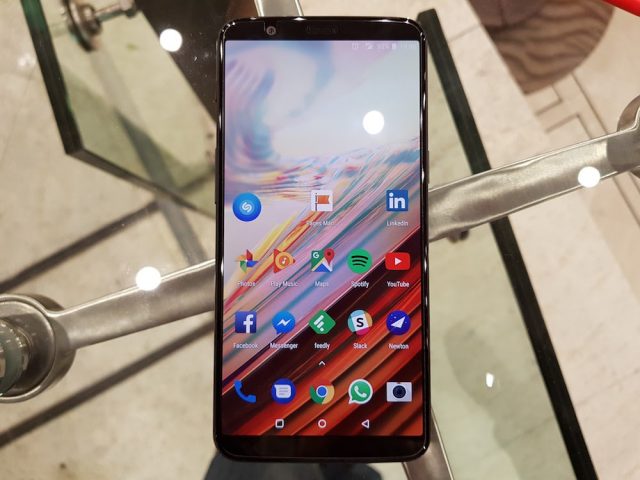 It does not take long to realize that the OnePlus 5T is designed to impress. The new flagship killer ticks all the right boxes with its high-end processor, cutting-edge display, dual camera and premium unibody construction. It is a tour de force, and that is before we even consider the price.
But specs do not tell the whole story. There is more to the OnePlus 5T than meets the eye. It feels balanced, as my colleague Joe Wilcox would put it, unlike any other flagship killer before it and many of its rivals. Undoubtedly, it is the most attractive smartphone that OnePlus has released so far.
What's in the box?
OnePlus has kept the design of the boxes it ships its flagships in (as well as what it includes inside) similar over the years. The OnePlus 5T arrives in a nice, white box with discreet logos that matches its premium aspirations.
Inside, you will find the OnePlus 5T, the power adapter and the USB Type-C cable as well as an envelope containing the usual literature and a SIM ejection tool. There are no headphones in the box, just like with previous OnePlus flagships.
Design
OnePlus has improved its design over the years and the new OnePlus 5T is undoubtedly the most striking flagship it has released so far. In Midnight Black, it looks premium and understated.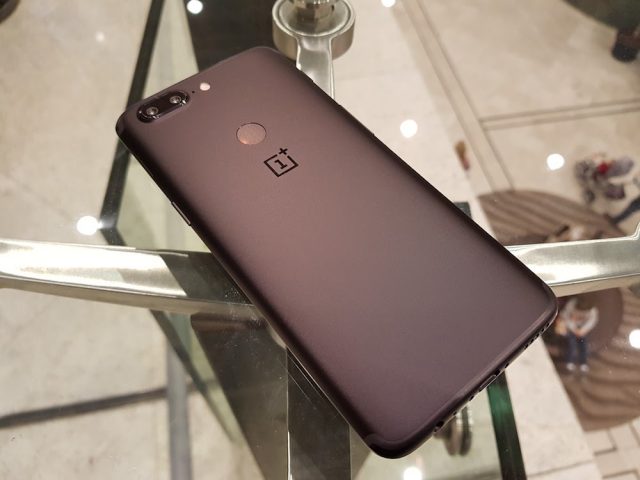 The unibody is constructed out of aluminum and it has a lovely finish. The fingerprint sensor is on the back, in the upper half, and just below it is the only logo you will find on the OnePlus 5 -- the OnePlus logo.
The dual camera is positioned in the top left corner and next to it you will find the dual LED flash. You can see the antenna lines on the back, at the top and bottom but, overall, the back looks nice and clean.
There are three buttons on the side, the Alert Slider and volume key on the left and the power button on the right. There are no capacitive keys or home button here. So, on the front, you will only see the cutout for the speaker, the front-facing camera on the left and the LED notification light, when it blinks.
Display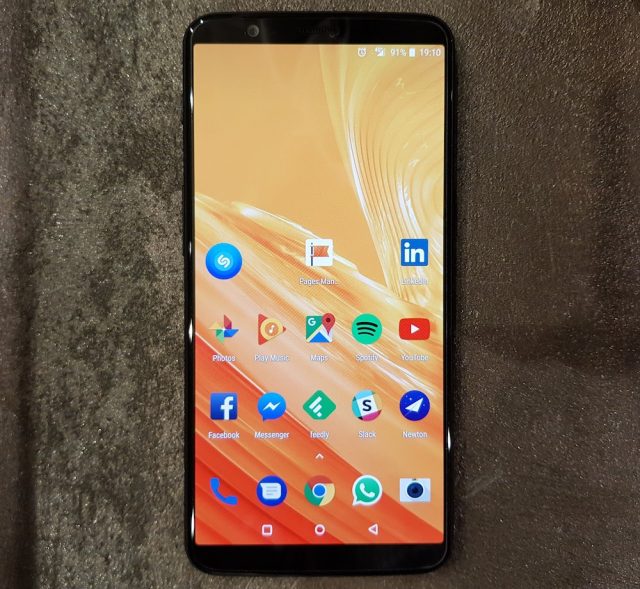 The OnePlus 5T uses a cutting-edge display which makes it look and feel like a premium smartphone should. The 6.01-inch panel has a resolution of 1,080 by 2,160, which gives it a density of 401 pixels per inch, and an 18:9 aspect ratio. It's of the AMOLED variety as well.
The display is great. It's got punchy colors, large viewing angles and high brightness. It also seems to be energy-efficient, based on battery life. What is nice is that you can change the way colors look, as there is support for different modes like sRGB and DCI-P3 (it also gets an adaptive mode and a custom one too).
OnePlus continues to ship its latest flagship with a screen protector pre-installed. It's a nice touch and the fact that it's professionally installed means you are unlikely to want to take it off. It covers the usable part of the display and integrates well with OnePlus' official cases.
Camera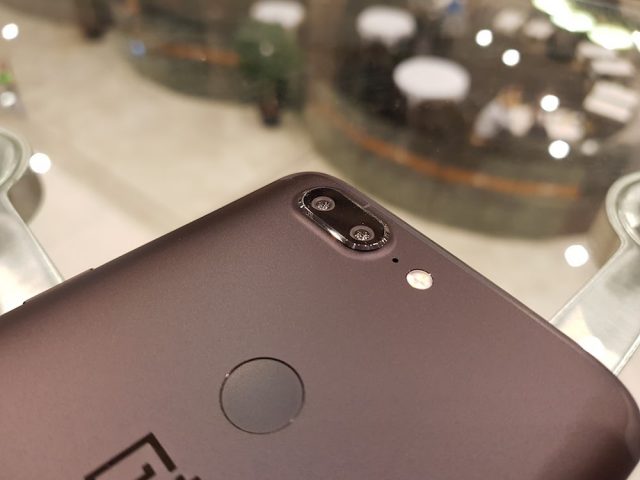 OnePlus is among the first companies to embrace a dual camera and the one on the OnePlus 5T is its best yet. It's comprised of a 16MP main camera and a 20MP secondary camera. Both have an f/1.7 aperture and both feature a 27.22mm focal length (equivalent to a 35mm camera).
You would expect the secondary camera to have a telephoto lens, but OnePlus decided to go a different route here. It is used for low-light photography and it uses what OnePlus calls "Intelligent Pixel Technology" to merge four pixels into one, so that it can cut down on noise.
This means that you do not get optical zoom. Instead, you have software algorithms mimicking this effect. You can't really tell that it is doing this and the transition between the two modes (1x and 2x) is seamless. Below you can see photos taken in the same place in standard and zoom modes. To view the photos in full size, open them in a new tab and remove the "-225x300" or "-300x225" sequence at the end.


So, how does it perform? The quality during daylight is good. There is enough detail and colors look accurate for my taste. There are some scenes (see the two darker sky shots below) where I wish the HDR effect could be more pronounced, but overall the quality is solid.










The dual camera setup allows the OnePlus 5T to deliver an impressive depth of field (bokeh) effect. You can tell the difference between standard and portrait mode (if you look at the full-size photos). The background is blurrier in the latter.


In low-light, while it does take full advantage of those wide apertures, the dual camera could use optical image stabilization to improve quality a bit further. If you keep the OnePlus 5T steady you can take some nice shots, but it takes a bit more effort than I would like and motion-blur is likely to creep in. Also, the dual LED flash could be a bit more powerful.






Performance
Performance is, in one word, sublime. There is no lag to speak of anywhere. Everything opens fast and there is no sluggishness to be found when there are loads of apps opened in background. That's no doubt helped by the octa-core Qualcomm Snapdragon 835 processor, which tops out at 2.45GHz, and the UFS 2.1 storage, both of which are the best that you can get today. The huge amount of RAM (8GB in this review unit, 6GB in the base model) does not hurt either.
Battery life
I have to admit that I am a bit surprised by the OnePlus 5T when it comes to battery life. Its predecessors have not been the best performers, and I imagined that the latest flagship killer would be no different. As it turns out, I was wrong.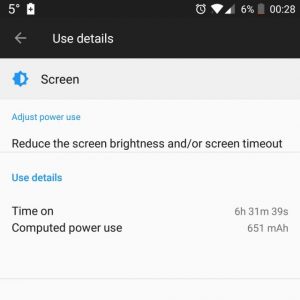 Based on how and where I use my smartphone, I typically do not see above four hours of screen on-time. The OnePlus 5T can easily manage six hours over more than a day of standby. I am impressed. And it's only got a 3,300mAh battery.
As I am writing this article, it has 41 percent battery left and nearly four hours of screen on-time. It's been charged 19 hours ago and the battery menu tells me I have about 13 hours of battery life left.
The most that I have seen was six hours and 32 minutes of screen on time with six percent battery life and over a day of standby. I expect that it can perform even better, if I cut down on the number of apps syncing in the background, keep the screen brightness constant and do not turn the screen on every time I get a notification.
The OnePlus 5T comes with fast charging support (it's called Dash Charge). To take advantage of this, you need to use it with the provided power adapter and cable, otherwise you are limited to standard charging speeds. It would be nice if OnePlus could provide support for Quick Charge as well, so it works fine with other adapters too.
OxygenOS
One of the best things about the OnePlus 5T is OxygenOS. Now at version 4.7.1, the Android 7.1.1 Nougat-based distribution comes with few customizations, useful add-ons and no bloatware. It's a joy to use.
In terms of customizations, OnePlus has not changed much. The launcher is a bit different, as it comes with no app drawer button (instead, you swipe up to bring it up), and the settings menu includes a fair number of extra options, but everyone should feel right at home using OxygenOS.
In this version of OxygenOS, OnePlus has included a couple of new features, like Parallel Apps, which lets you "close" apps so you can use them with different accounts, a Gallery Map, which lets you see photos based on location, an App Locker, which lets you lock apps with a password or fingerprint, and gestures, that let you, for instance, double tap to wake the display and swipe down with three fingers to take a screenshot, among other things.
What you do not get is Android 8 Oreo, which is the latest version of Android. OnePlus will make it available early next year for the OnePlus 5T, but it would have been nice to ship its latest flagship with it from the start.
What else?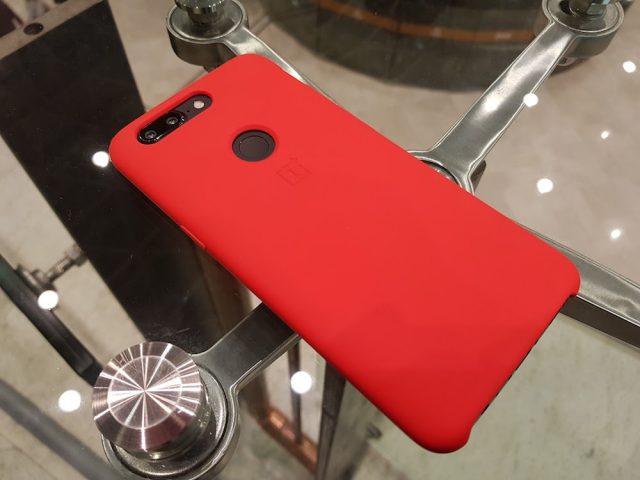 The OnePlus 5T is easy to handle for a smartphone with such a big display. That's helped by the small bezels and the fact that there are no buttons to take up precious space on the front panel, so it only measures 156.1 x 75 x 7.3 mm -- and it weighs 162g (5.7oz). It looks well proportioned too.
It comes with a USB 2.0 port with a Type-C connector and support for audio over USB, which means that you can use the latest generation of headphones. But because it also has a 3.5mm headphone jack, you're free to use your existing ones as well. It's nice to have this kind of flexibility.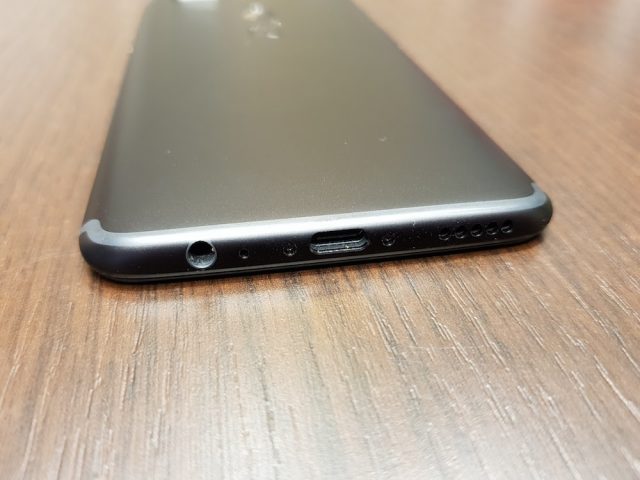 I have mixed feelings about the alert slider. On one hand, it's nice to have a quick and easy way to toggle behind the different sound modes, but, on the other, I wish that it could be overridden with a do not disturb setting. It's not difficult to implement, and I hope that OnePlus will introduce one.
There are different ways to unlock the phone and I found that the face unlock and fingerprint scanner work great together. And they're really fast too. It took me a while to realize why the OnePlus 5T was taking me to the homescreen so quickly when looking at it -- the face unlock is that quick. The fingerprint scanner is top-notch too, with OnePlus claiming that it takes less than 0.2 seconds to unlock the device.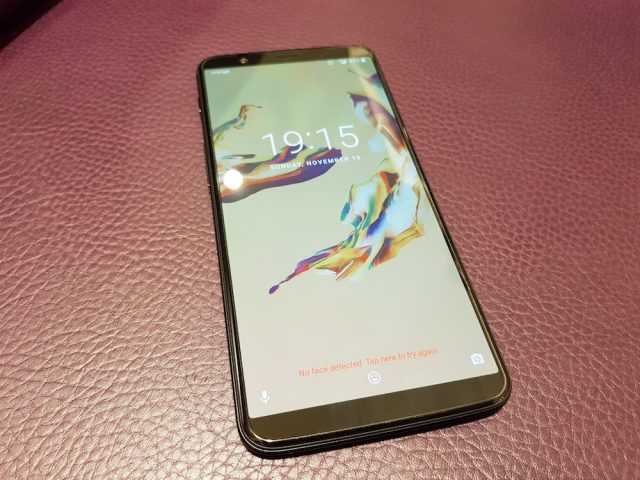 There is no microSD card slot, but you do get a lot of storage out of the box. The base version comes with 64GB while the top-spec model gets 128GB. For most people, that should plenty for apps, music, videos and games.
The OnePlus 5 comes with dual SIM and 4G LTE support, so you can use it on two network at the same time. There is also Wi-Fi 802.11 a/b/g/n/ac (with support for 2.4GHz and 5GHz bands) with MIMO 2x2, Bluetooth 5.0 and NFC.
Verdict
The OnePlus 5T is an impressive smartphone that manages to do everything well. There is lots to like about it, like the hardware that's typically found on rivals costing nearly twice as much, the quality software and, of course, the price: $499/€499/£449 for the 6GB/64GB version and $559/€559/£499 for the 8GB/128GB model. If you get it, it will keep you happy for a long time.