Moshi releases first-ever certified 5K USB-C to DisplayPort cable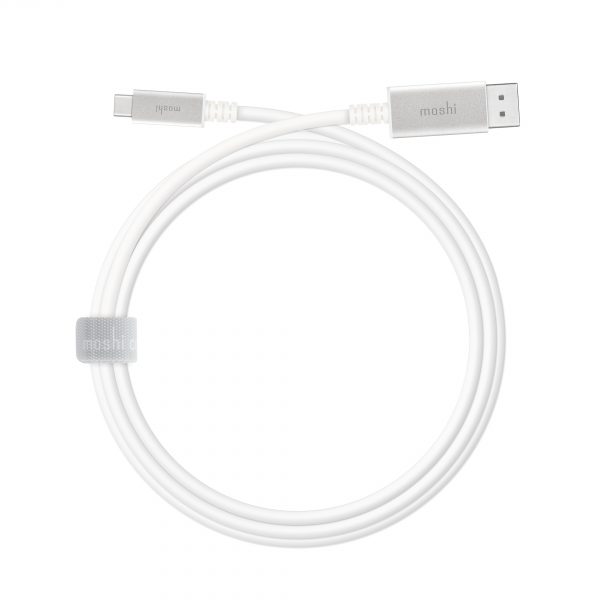 While the MacBook Pro doesn't have a dedicated video port, that really doesn't matter. Thanks to its versatile USB-C ports, any port can output video with the correct cable or dongle. In other words, a USB-C to HDMI, VGA, or DisplayPort cable can allow you to easily connect a computer to a monitor or television.
Most USB-C to DisplayPort cables claim 4K support at the most, but there is a new cable that takes things up a notch. You see, a new product from a company called "Moshi" can apparently do 5K at 60Hz. The company claims this is the first-ever USB-C cable to be certified by VESA for that resolution. It can even do 4:4:4 chroma subsampling. While it is designed for MacBook and MacBook Pro, it should work fine with Windows and Linux computers too.
"The VESA certified cable allows you to conveniently connect your USB-C or Thunderbolt 3 (USB-C) computer to a 5K DisplayPort display, monitor, or projector. The new cable builds on Moshi's legacy of creating premium accessories and peripherals in their signature aluminum-encased style. With DisplayPort surpassing HDMI as the first protocol to support 5K resolutions in the consumer space, this cable is designed for high-resolution graphics applications such as photo/video editing and competitive gaming," says Moshi.
The company further says, "Moshi's USB-C to DisplayPort Cable delivers industry leading resolutions up to 5K. The cable uses high-speed HBR3 technology to support up to 5120 x 2880 video output with a 60 Hz refresh rate. Users can easily connect a new USB-C-enabled Mac or PC to a 5K DisplayPort monitor to enjoy crystal clear video as well as multi-channel digital surround sound. Both ends of the cable are encased in anodized aluminum to minimize electromagnetic interference and ensure long-term reliability. The cable also features bi-directional support to connect your DisplayPort computer to a UHD monitor with a female USB-C input."
If you want to order this five-foot cable for yourself, you can get it here. I must warn you however, that it is a bit pricey. How expensive is it? An eye-popping $55. While that is a lot of money for a cable, it may be worth the money if you own a 5K display. It looks rather well-built too.