JBL and Under Armour launch UA Sport Wireless Flex headphones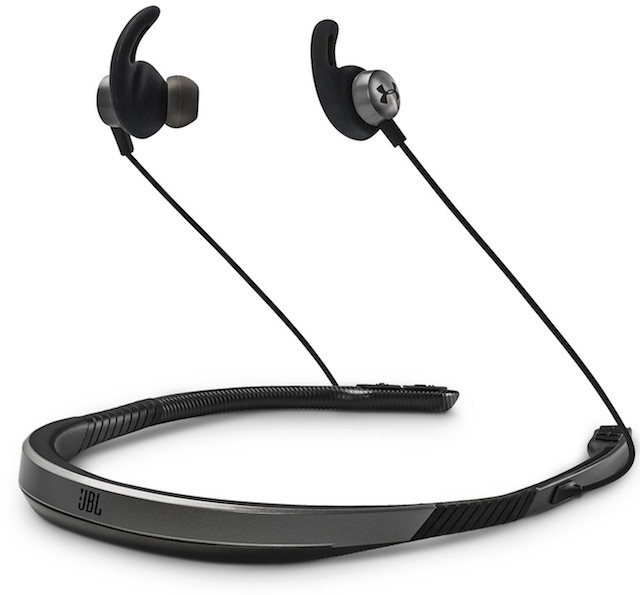 Wireless headphones are rather common nowadays, especially with many manufacturers removing the traditional 3.5mm audio jack from smartphones. While you can opt for a set that connect by USB-C or Lightning, Bluetooth is much more elegant. True, they have to be charged regularly which is a valid pain point, but for many, the benefits simply outweigh the negatives.
One group of consumers that can benefit greatly from wireless headphones are those that exercise, including runners. When working out or running, traditional wired headphones can get tangled, caught on machines, or pull on ears -- very annoying. Today, JBL and Under Armour unveil a new set of Bluetooth headphones that should have athletic consumers giddy. Called "UA Sport Wireless Flex," they rest around your neck for maximum comfort. To make them stand out, they have a pretty cool feature not found on most other headphones -- LED lighting for nighttime safety.
"UA Sport Wireless Flex is built with bend-and-stay Flex Zones in the neckband for adjustable fit and all-day comfort. Users can adjust the Flex Zones for continuous comfort or in-workout stability. UA Sport Wireless Flex includes a best-in-class Speed Charge Battery, which allows for one hour of playback with just five minutes of charging time, and plays for over 11 hours when fully charged. The headphones feature an embedded RunSafe LED feature with three flashing modes for increased visibility and safety in low-light conditions," says JBL.
This slideshow requires JavaScript.
The company also says, "UA Sport Wireless Flex is tuned with JBL Charged Sound, a sport-optimized, acoustic research-based sound signature– custom developed by JBL for Under Armour headphones. To ensure a secure fit, the headphones feature two-piece Sport Flex eartips in three size options. Magnetic earbuds eliminate the hassle of untangling cords, enabling quick access when heading to the gym or receiving a phone call. For convenience, four simple buttons enable athletes to control their music, take phone calls, control the RunSafe LED, and even trigger Siri and Google Now."
JBL highlights the following significant features of the UA Sport Wireless Flex headphones
Adjustable Flex Zones
11+ Hour Battery with Speed Charge
RunSafe LED
Magnetic buds
Bluetooth wireless
JBL Charged Sound
Easy four-button controls
Sweat resistant
If you want to score your own set of UA Sport Wireless Flex headphones by JBL and Under Armour, I am happy to say they are available immediately for $129.99 here. Even if you don't exercise, they would make a brilliant gift for someone that does. For a limited time, JBL will even supply a complimentary membership to MapMyRun Premium for an entire year -- a $30 value.