Twitter introduces new 'threads' feature for easier tweetstorms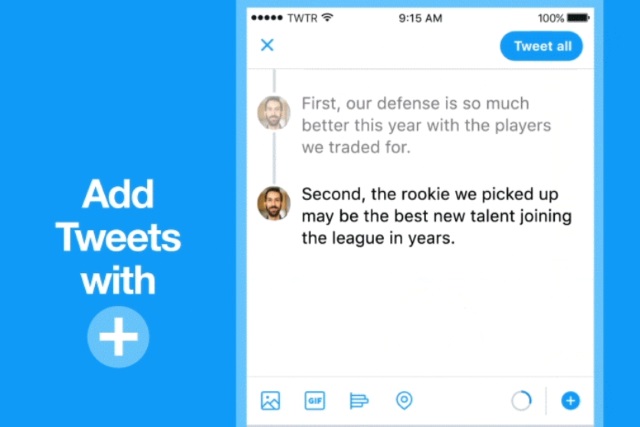 It's just over a month since Twitter doubled the maximum possible length of tweets to 280 characters -- but this was not enough for many people. However, rather than further increasing the length of tweets, the site has instead introduced another feature users have been begging for -- threading.
The threading of tweets -- linking together multiple related tweets so people can follow a longer piece of writing -- has been tried by users in a couple of ways (numbering tweets or self-replying, for example) for some time now. But the new feature is the first time there has been official support, and the implementation should go down well with users.
See also:
The idea is an incredibly simple one. You can start typing a tweet and if you realize you have more to say -- either because you've run out of space and don't want to have to reword things, or because you think of something else you'd like to add -- you can simply add a secondary tweet. For the benefit of your followers, these tweets are threaded.
In a blog post about the new feature, Twitter says:
We've made it easy to create a thread by adding a plus button in the composer, so you can connect your thoughts and publish your threaded Tweets all at the same time. You can continue adding more Tweets to your published thread at any time with the new "Add another Tweet" button. Additionally, it's now simpler to spot a thread -- we've added an obvious "Show this thread" label.
Threading is available online and in the iOS and Android apps. Twitter suggests you might want to use the feature to "serialize a longer story or thought, or provide ongoing commentary on an event or topic."