Microsoft Launcher is very popular with Android users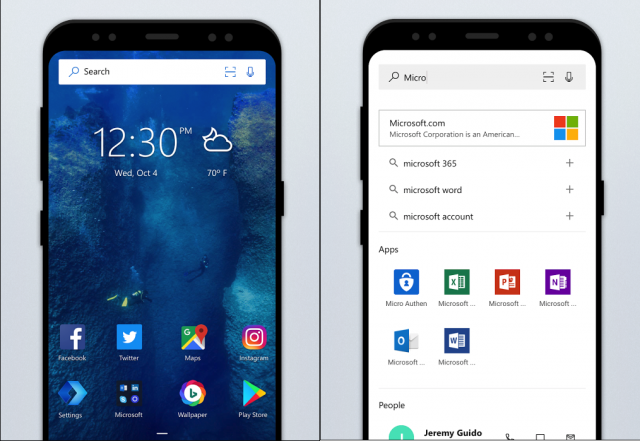 Microsoft has become one of the most relevant mobile developers by offering its best products and services to (virtually) everyone who owns a smartphone and tablet -- for free. Major apps like Word, Skype and Outlook are among the most popular titles in their respective categories on the two biggest platforms: Android and iOS.
Microsoft did not stop there though, as it also created new apps specifically tailored to attract new users on a platform. Microsoft Launcher is one of them, being designed as an alternative launcher for Android devices that ties in with the company's other products. And, believe it or not, users have responded really well to it.
As noted by MSPoweruser, Microsoft Launcher has crossed the 10 million downloads mark on Google Play. Google counts individual installs as separate downloads, which means that the launcher has been installed on at least 10 million different devices to date. That's pretty impressive, wouldn't you agree?
Many Windows Phone users have abandoned the platform for Android, as it offers a much more robust experience in this day and age, and, for those folks, Microsoft Launcher nicely ties in many of their favorite apps that shipped with the tiled mobile operating system.
You get Bing wallpapers, Bing search, access to Outlook.com, the Office suite, Cortana, Wunderlist, support for Continue on PC, and much more. It's probably what Bill Gates was talking about when he described the experience that he gets using his Android smartphone.
As someone who's used Windows Phone in the past, it definitely feels the closest to Microsoft's original interpretation, though it's difficult to ignore that the platform is underpinned by Google services. There's a feeling I can't shake that something is off about the whole thing when I'm looking at an all-Microsoft app lineup on my homescreen.
That will change as Microsoft continuously improves the launcher. It got a pretty nice update last week, which, among other things, added more flexibility for the UI, fixed some bugs and beefed up performance. I quite like that, as it shows that Microsoft will go the distance to support its customers and attract new ones.
If you want to give Microsoft Launcher a try, hit this link to take you to its Google Play page.