Azdome DAB211 dash cam: Solid 1440p video at an affordable price [Review]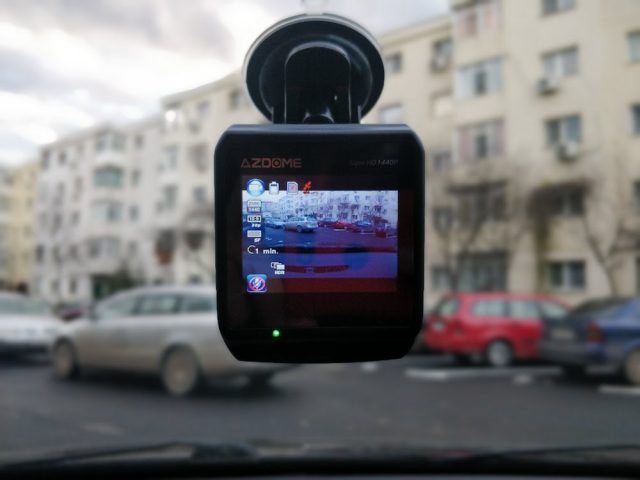 While other markets have long moved beyond 1080p, the dash cam space continues to churn out devices that top out at this resolution. So, drivers looking to try 1440p or 4K do not have a whole lot of options to choose from.
The Azdome DAB211 is among the more interesting exceptions, as it comes with 1440p video recording and a solid design at a very affordable price. But just how well does it perform? I've tested it to find out.
What's in the box?
Azdome ships the DAB211 along with all the accessories you need to install the dash cam in your car. There are two mounts included, one with adhesive tape and the other featuring a suction cup. To route the cable there are four clips (with adhesive tape) that you can mount on the windshield.
The DAB211 is powered via USB. It comes with a two-port 12V adapter, so you can also charge a smartphone or tablet at the same time. There is also a shorter USB cable in the box, that you can use to connect the DAB211 to your PC.
Design and ease of use
No matter which mount you opt for, the DAB211 is designed so that you can install and remove it in a few seconds. The arm that attaches to the windshield mount allows the dash cam to slide in and out, so you can leave the mount and arm in place and only (install or) remove the dash cam when you need to put it away.


It's a clever setup that gives you enough flexibility so you can get the angle just right. That's further helped by the lens that moves up and down so you can fine tune the vertical alignment. To find the best position, you can use the 2.31-inch display on the back. It acts as a viewfinder for the camera and lets you play with all the different settings.
The DAB211 has an interesting feature, that I have not seen in other dash cams. It has an internal battery, which allows it to work even when it's disconnected from the power adapter. That can come in handy sometimes -- for instance, if you need to remove the power adapter to connect a car fridge.
The dash cam starts recording automatically when it's connected to the power adapter. However, even though the manual says that it should turn off automatically when the power is cut, it stays on in my case. I am not sure whether it has anything to do with the internal battery (which can power it for a fair bit) or the power socket that's in my car.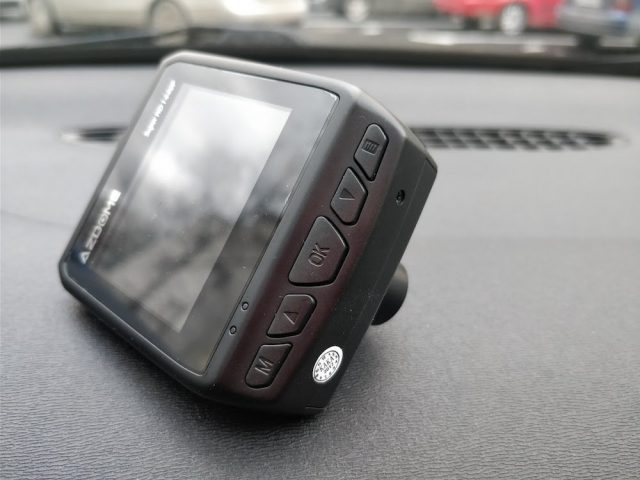 There is not a whole lot that I wanted to change after setting up the DAB211. I switched the audio recording off, after testing it briefly, so that there are no issues with the video samples on YouTube, and switched between the video modes -- unlike many dash cams, the DAB211 lets you choose between multiple resolutions, like 720p, 1080p and 1440p.
Getting back to the settings menu, you can scroll through all the options (and make changes) using the physical buttons below the display. This is the best design in my opinion as it is reliable in all sorts of conditions. With capacitive keys, for instance, you may have trouble operating the system when your fingers are wet or you are using gloves. Buttons, on the other hand, work in both of those scenarios.


You will also find a built-in GPS, which lets you add the speed in the bottom section of the video -- alongside the time stamp. This can be disabled in the settings menu, if you want. What's more, there is a driver assistance feature (ADAS) as well, along with an accelerometer that kicks in when the DAB211 senses an accident.
Video quality
The DAB211 comes with an Ambarella A12A55 chipset and a 4MP OV4689 sensor with a 150-degree lens. This combination allows for a wide range of video resolutions and quality levels. But, how does it perform? Very well, and that applies to both daylight and low-light conditions.
Based on my experience using the DAB211, dash cams, and action cameras, a video mode that lets you shoot at 60FPS will deliver the smoothest video. That's available on the DAB211 (video is recorded at 1080 for the 60FPS option), so I mostly stuck with it for the review. It's the first time that I had this option on a dash cam so far. That's also the case for 1440p, which has been used in the second part of the test.
To give you an idea about the level of detail, the DAB211 when set up in 1080p 60FPS mode records video at a bitrate of 21.7Mbps according to QuickTime. That's far higher than other dash cams I have used.
That means that an hour of video would occupy about 9.5GB on space on your microSD card. Assuming you have a 32GB microSD card, you should get about three hours of footage in that mode before the oldest part is overwritten.
When recording at 1440p, the bitrate is slightly higher at 24Mbps. With the improved resolution and quality come larger files, as you will need about 10.55GB for an hour of footage. It is not a significant difference, as you can see, which is why I recommend going with it if you want the best-possible quality.
Video samples
The video samples that you can check out below have been uploaded to YouTube without any prior editing. The quality, however, may be impacted by YouTube's compression algorithms, which are automatically applied when the content is uploaded.
Support
Looking at Azdome's website, for the DAB211 you can get an English manual and a video player. The latter is available for both Windows PCs and Mac devices. At the time of writing this article there is no firmware update listed.
The video player comes in handy if you want to view your positioning on a map. The GPS information is read from the video. By default it uses Baidu Maps, but you can switch to Google Maps in the menu. It updates your location pretty quickly.
Verdict
The DAB211 is well thought-out, featuring higher resolution video and better quality than many of its more expensive rivals. It is also competitively priced, being available for $79.99 on Amazon.