Toshiba unveils CANVIO PREMIUM, ADVANCE and BASICS USB external hard drives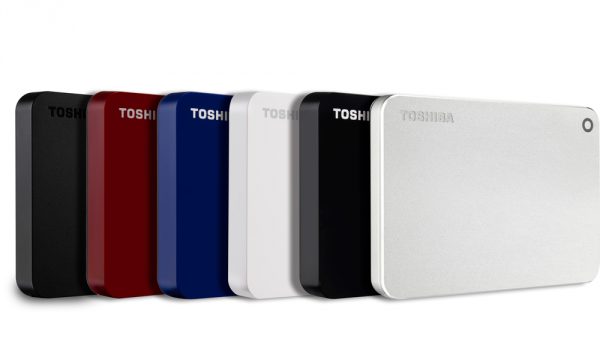 Solid state drives are ideal for portable storage. Why? They are small, fast, and have no moving parts. Unfortunately, SSDs are also a bit expensive per gigabyte compared to mechanical hard drives.
If you need external storage that won't break the bank, and speed is not a major factor, a mechanical USB hard drive is still a great choice. Over the years, I've had great experiences with Toshiba CANVIO drives. Today, the company unveils three new models -- CANVIO BASICS, ADVANCE, and PREMIUM.
"The CANVIO models blend form and function, offering high-capacity storage, easy backup and trustworthy security in a slim, stylish design. Additionally for ADVANCE and PREMIUM models, the brand new Toshiba backup software is available for download, enabling users to easily back up important data through an improved user interface with options to set your own backup schedule. Additionally, the brand new Toshiba security software allows for simpler password setting with a more intuitive user interface so users can protect private data and prevent unauthorized access," says Toshiba.
Michael Cassidy, vice president, Consumer HDD, Toshiba explains, "We are always striving to create more compact, high-capacity devices to handle the growing amount of digital content that today's consumers need to store. Achieving 1TB per platter capacity is a major milestone that allowed us to create our densest storage solution yet. These new drives offer high-capacity storage in an easy-to-use, slimmer design, making it more convenient than ever for consumers to store their files."
Toshiba shares the details about these three models below.
The CANVIO PREMIUM series offers versatile connectivity in a stylish design with an aluminum finish and diamond-cut edges in silver metallic. The device is easy to store with the thinness body and give it a sharper look. It is accompanied by a USB Type-A to USB Type-C adapter that can be inserted in any orientation for easy connectivity to everything from notebooks to high-end desktop PCs. The 2TB devices in the Premium line have a 13.5mm profile, 5.5mm slimmer than the previous model. The 1TB devices also have a 13.5mm profile and the 3TB devices have a 19mm profile.

The CANVIO ADVANCE series is available in four color options – black, white, blue or red – with a glossy finish. The 1TB and 2TB devices in the line have a 14mm profile, 5.5mm slimmer than the previous CANVIO CONNECT II model, and the 3TB devices provide a 19.5mm profile. Additionally, the ADVANCE model offers Toshiba backup software and security software for download, enabling users to easily back up and protect important data through password protection and an improved user interface.

The CANVIO BASICS series offers an entry-level 2.5-inch portable hard drive for all your storage needs, ranging from PC data to photography. The model is pre-formatted for Windows PCs and works right out of the box, allowing users to collect content immediately and take their drive anywhere. Available in 2TB, 1TB or 500GB, the new BASICS series features a minimalistic design, sleek, matte surface and a thin 14mm profile.
These drives can be had in February 2018. Pricing is not yet known, but it will vary based on model and capacity. Which will you choose? Please tell me in the comments below.