CORSAIR launches water-resistant K68 RGB Cherry MX mechanical gaming keyboard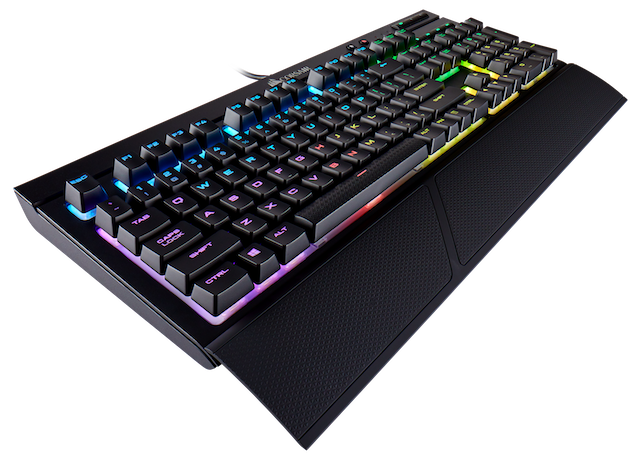 If you don't have a mechanical keyboard, I straight up feel sorry for you. I mean, look, if you like your current non-mechanical keyboard, then more power to you, but there's a good chance you simply don't know what you are missing. If you are a millennial in particular, you probably missed out on the good ol' days of computing when keyboards weighed a ton and were built like tanks -- the throw-in keyboards that desktop manufacturers include nowadays are largely garbage. Mechanical keyboards are just so much more rewarding and satisfying to use.
Today, CORSAIR launches its all-new K68 RGB mechanical gaming keyboard, and it has a lot going for it. First of all, it is IP32 water resistant, so if you spill your drink (or sweat profusely on it), it is less likely to break. Since it is a gaming product, it is chock-full of RGB lighting, because all gaming gear must glow -- it's the law. Best of all, it uses authentic Cherry MX switches (either red or blue) -- not some sort of knock-off.
ALSO READ: CORSAIR VENGEANCE LPX CMK32GX4M4K4333C19 is world's fastest 32GB (4x8GB) DDR4 RAM kit
"Like all CORSAIR mechanical keyboards, the K68 RGB uses only German-made Cherry MX gold-contact keyswitches for the utmost in reliability and consistency. Each switch is rated to over 50 million key presses, ensuring that the 50 millionth key press feels just as good as the first," says Corsair.
The company also says, "With stunning RGB lighting embedded into every keyswitch, it's easy to light up K68 RGB in almost any way you can imagine, from smoothly shifting colors and transitions to dynamic reactive effects. Choose from dozens of pre-programmed presets, thousands of user-made downloadable profiles, or create a unique custom lightshow, all from with the powerful CORSAIR Utility Engine (CUE) software. CUE also offers complete lighting synchronization between compatible CORSAIR mice, headsets and accessories with a single click, making it easy for gamers to make all their gear match. Every key is also fully programmable in CUE, from simple re-maps to complex multi-function macros, giving gamers the crucial edge when they need it the most."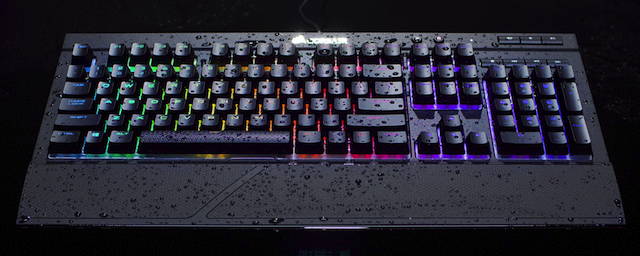 Corsair shares the following notable specifications.
Warranty: Two years
Weight: 1.41kg
Key Switches: Cherry MX Red (CH-9102010) or Blue (CH-9102011)
Keyboard Backlighting: RGB
Dimensions: 455mm x 170mm x 39mm
Report Rate: 1000Hz
Matrix: Full Key (NKRO), 100 percent anti-ghosting
Keyboard Size: Standard
Media Keys: Dedicated (MUTE, VOL DOWN/UP, STOP, PREV, PLAY/PAUSE, NEXT)
Wrist Rest: Yes
CUE Software: Enabled
Cable Type: Tangle-free rubber
WIN Lock: Yes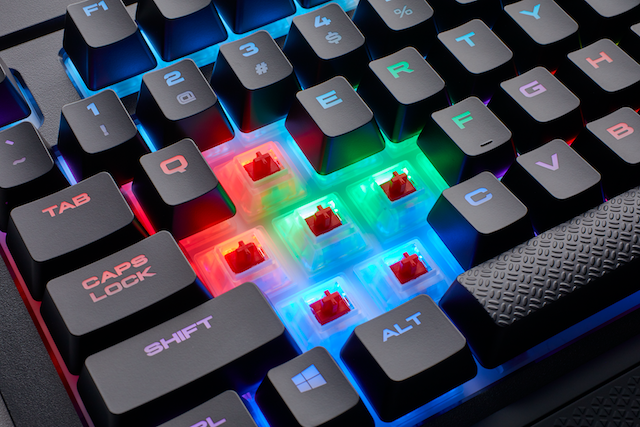 For a mere $120, you can score this beautiful K68 RGB mechanical gaming keyboard here now. Quite frankly, this model in particular has everything going for it -- the trustworthy CORSAIR name, durability, RGB lighting, Cherry MX switches, media controls, and software-based (Windows only) customization options. What is stopping you?