Judge refuses to quash arrest warrant for Julian Assange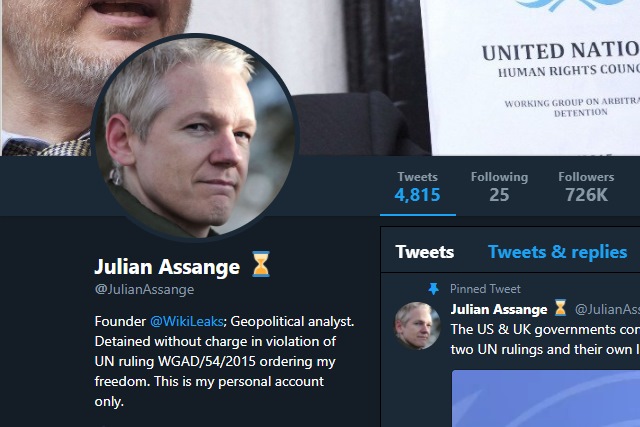 A UK judge has refused to cancel a warrant for Julian Assange, meaning that the WikiLeaks founder still faces arrest if he leaves the Ecuadorian embassy in London where he has taken up residence. The judge said that Assange "appears to consider himself above the normal rules of law and wants justice only if it goes in his favor."
Assange skipped bail back in 2012, fearing extradition to Sweden where he faced rape charges, and further fearing being handed over to the US where he believes he faces charges of revealing state secrets. Although Sweden has since dropped charges, he could still be arrested in the UK for breaking his bail conditions.
Assange was criticized by senior district judge Emma Arbuthnot for failing to appear in court, who also countered his argument that he has been imprisoned in the embassy. She went on to say that Assange appeared to be a "man who wants to impose his terms on the course of justice, whether this jurisdiction or in Sweden." She pointed out that the case in Sweden was only dropped because of his refusal to surrender to the country.
Delivering her ruling, the judge said:
I find arrest is a proportionate response even though Mr Assange has restricted his own freedom for a number of years.

Defendants on bail up and down the country, and requested persons facing extradition, come to court to face the consequences of their own choices. He should have the courage to do the same. It is certainly not against the public interest to proceed.
Taking to Twitter, Assange expressed surprise at the ruling:
Statement on court: We are surprised. The judge went outside what the parties presented in court. This seems to have led to the significant factual errors in the judgment. US DoJ confirmed to Reuters again yesterday that its case is ongoing. There are 3 months to appeal UK ruling

— Julian Assange ⌛ (@JulianAssange) February 13, 2018
While Assange and his team have suggested time and time again that his life in the Ecuadorian embassy is akin to incarceration, the judge disagreed:
He can leave the embassy whenever he wishes; secondly, he is free to receive, it would seem, an unlimited number of visitors and those visits are not supervised; thirdly, he can choose the food he eats, the time he sleeps and exercises. He can sit on the balcony (I accept probably observed by the police and his supporters) to take the air. He is not locked in at night. I suspect if one were to ask one of the men incarcerated in Wandsworth Prison whether conditions in the Ecuadorian embassy were akin to a remand in custody, the prisoner would dispute the working group's assertions.
Assange was also criticized for being a drain on police resources during his self-imposed exile in the embassy.