Samsung Notebook 9 Pen, Notebook 9 (2018), and Notebook 7 Spin (2018) will hit stores on February 18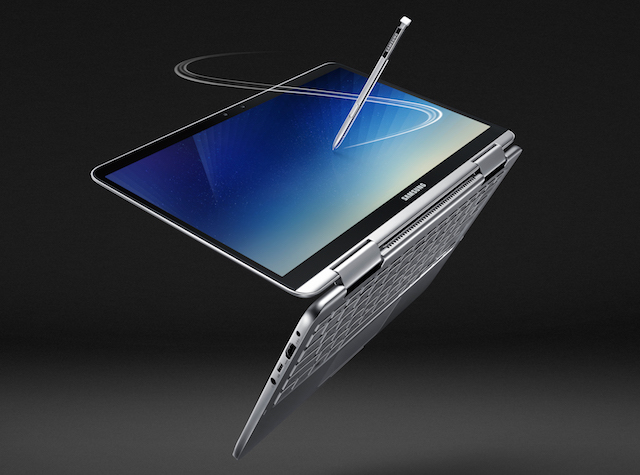 Samsung makes excellent products -- it cannot be denied. While the company is probably best known for its wildly popular Android smartphones, the Galaxy-maker is much more than that. You can pretty much outfit your entire home with Samsung appliances and electronics -- televisions, Blu-ray players, refrigerators, washing machines, and more.
Where Samsung doesn't shine as brightly is with computers. Don't get me wrong, I am not saying the company makes bad Windows 10 laptops and Chromebooks -- quite the contrary -- but consumers are probably more likely to think of companies like Dell, Lenovo, and Acer for this market. Samsung has seemingly been trying to change this, however, as it has been pumping out some beautiful machines. Today, the company announces that its anticipated trio of Windows 10 laptops -- the Notebook 9 Pen, the Notebook 9 (2018), and Notebook 7 Spin (2018) -- will finally hit stores on February 18.
"Our new ultraslim notebooks combine convenience with performance and design – establishing what it means to create a premium PC experience for the way we live and work today. Whether you're working up an important presentation, drafting your next big plan, or playing your favorite game on the go, you need immersive graphics, processing power, and frame rate. Our new series of notebooks give you the screen, power, graphics, memory, storage, and battery life to make your old laptop seem, well, old," says Samsung.
ALSO READ: Samsung unveils high-performance 800GB SZ985 Z-SSD
The company further says, "Before we engineered our new notebooks, we listened to you. We heard what you wanted and what you needed. You told us you wanted the flexibility to do, with one notebook, more than you can do with a simple tablet or a thick laptop. So we designed a range of mobile computing experiences to meet the needs of the modern, mobile workforce—helping everyone do more at home, at the office, and on the go."
What's cool about this lineup, is that all three models have specific purposes. In other words, if you are in the market for a new laptop, there is a good chance one of these machines will tickle your fancy. The Notebook 9 Pen is quite literal to its name, as it is a convertible that comes with an active pen. The Notebook 9 (2018) is a traditional laptop that can be configured with Nvidia graphics. The Notebook 7 Spin is an affordable affair, good for home, school, or business.
All three will go on sale starting February 18. You can check out detailed information on them below.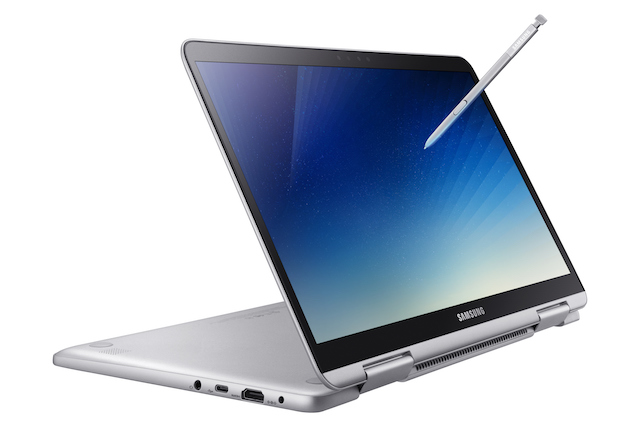 Samsung Notebook 9 Pen 13" (930QAA-K01)

PRICING

$1,399.99

AVAILABILITY

Samsung.com

PROCESSOR

8

th

Generation Intel® Core™ i7 Processor

MEMORY

8GB

STORAGE

256GB

GRAPHICS

Intel® UHD Graphics 620

POWER

39Wh

WEIGHT

2.2 lbs

CMF

Light Titan

DIMENSION

12.22 x 8.13 x 0.57-0.65 inches

PORTS

1 x USB-C™ [up to 5Gbps*, 4K display out with optional adapter, Charging]

1 x USB3.0

MATERIAL

Metal12 (Mg)

DISPLAY

13.3" Samsung RealView Touch | FHD (1920 x 1080) | Max 500nits

CAMERA

IR camera, 720p

SPEAKER

1.5w X 2

STYLUS

Samsung (S) Pen

SECURITY

Fingerprint, Windows Hello, Privacy Folder

KEYBOARD

Backlit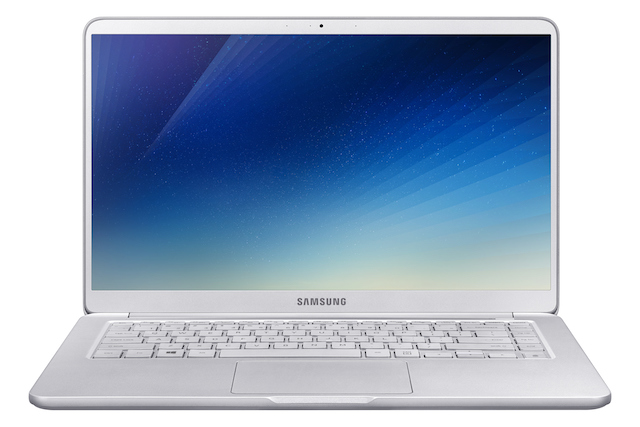 Samsung Notebook 9 (2018)

Notebook 9 (2018)

13.3"

(NP900X3T-K01)

Notebook 9 (2018)

13.3"

(NP900X3T-K02)

Notebook 9 (2018)

15"

(NP900X5T-K01 & NP900X5T-X01)

PRICING

$1,199.99

$1,299.99

$1,299.99

 

$1,499.99

(external graphics card)

AVAILABILITY

Samsung.com
Samsung.com
Samsung.com

PROCESSOR

8

th

Generation Intel® Core™ i5 Processor

8

th

Generation Intel® Core™ i7 Processor

8

th

Generation Intel® Core™ i7 Processor

MEMORY

8GB

8GB

8GB

STORAGE

256GB

256GB

256GB

GRAPHICS

Intel® UHD Graphics 620

Intel® UHD Graphics 620

Intel® UHD Graphics 620

Option: NVIDIA® GeForce® MX150 (GDDR5 2GB)

POWER

75Wh

75Wh

75Wh

WEIGHT

2.2 lbs

2.2 lbs

2.76 lbs

 

2.84 lbs

CMF

Light Titan

Light Titan

Light Titan

DIMENSION

12.18 x 8.19 x 0.57 inches

12.18 x 8.19 x 0.57 inches

13.7 x 9.03 x .060 inches

PORTS

1 x USB-C™ [up to 5Gbps*, 4K display out with optional adapter, Charging]

2 x USB3.0

1 x USB-C™ [up to 5Gbps*, 4K display out with optional adapter, Charging]

2 x USB3.0

1 x Thunderbolt™ 3

2 x USB3.0

1 x USB2.0

MATERIAL

Metal12™(Mg)

Metal12™(Mg)

Metal12™(Mg)

DISPLAY

13.3" RealView Display | Full HD (1920 x 1080) |Max 500nits

13.3" RealView Display | Full HD (1920 x 1080) | Max 500nits

15" RealView Display | Full HD (1920 x 1080) | Max 500nits

CAMERA

720p

720p

720p

SPEAKER

1.5w X 2

1.5w X 2

1.5w X 2

SECURITY

Fingerprint, Windows Hello, Privacy Folder

Fingerprint, Windows Hello, Privacy Folder

Fingerprint, Windows Hello, Privacy Folder

KEYBOARD

Backlit

Backlit

Backlit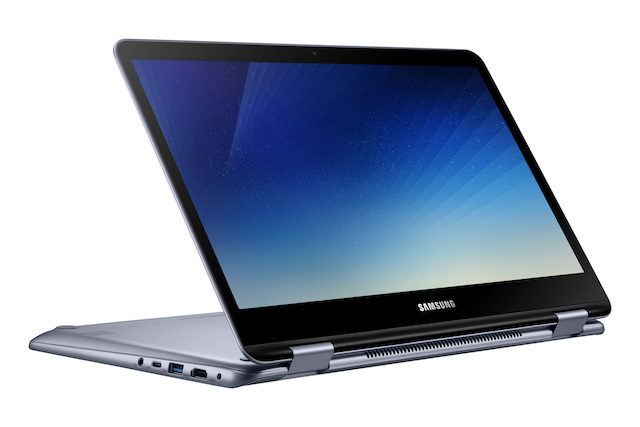 Samsung Notebook 7 Spin (2018) 13.3" (NP730QAA-K01)

PRICING

$899.99

AVAILABILITY

Samsung.com

Bestybuy.com (including in-store)

PROCESSOR

8

th

Generation Intel® Core™ i5 Processor

MEMORY

8GB

STORAGE

256GB

GRAPHICS

Intel® UHD Graphics 620

POWER

43Wh

WEIGHT

3.2 lbs

CMF

Stealth Silver

DIMENSION

12.43 x 8.48 x 0.73inches

PORTS

1 x USB-C™ [up to 5Gbps*, 4K display out with optional adapter, charging]

1 x USB3.0

1 x USB2.0

MATERIAL

A/C Metal

DISPLAY

13.3" Samsung RealView Touch | FHD (1920 x 1080) | 300nits

CAMERA

Web camera, 480p

SPEAKER

1.5w X 2

STYLUS

Active Pen (sold separately)

SECURITY

Fingerprint, Windows Hello, Privacy Folder

KEYBOARD

Backlit