StarTech launches Thunderbolt 3 Dual-4K Docking Station with SD Card Slot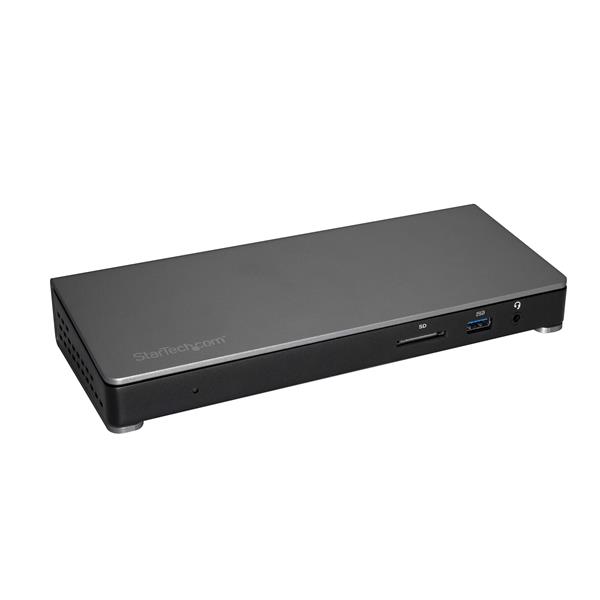 Ever since I bought my 2016 MacBook Pro, I have been obsessed with Thunderbolt 3 docks. Why? Because I like to use my laptop as a desktop when I am home. I need to connect a monitor, keyboard, mouse, external hard drive, USB webcam, and more. A TB3 docking station allows me to easily connect all these things to my MacBook Pro with a single cable, while also charging it. This solution works with compatible Windows machines too.
Today, StarTech launches the Thunderbolt 3 Dual-4K Docking Station with SD Card Slot and it looks amazing. As the name implies, it can push two 4K monitors -- one using its DisplayPort, and the other with an included (and optional) USB-C to DisplayPort cable. In addition to dual-4K, it can also handle a single 5K display. Also indicated by the product name, there is an SD card slot on the front. This is very much appreciated, as the MacBook Pro has no such card reader.
On the front, besides the SD card reader, is a USB 3.0 Type-A port and a headset port. On the rear, in addition to the aforementioned DisplayPort, are four more USB 3.0 Type-A ports, one USB 3.0 Type-C port, two Thunderbolt 3 Type-C ports (one connects to the laptop), gigabit Ethernet, and the power port. Speaking of power, this docking station can deliver up to 85 watts.
"StarTech.com's new Thunderbolt 3 dock is a perfect companion to the latest generation of powerful, yet thin and light laptops in the market. Corporate users and multimedia professionals will benefit from the portability and productivity this dock provides in even the most demanding applications," says Nirav Gandhi, Director, Product Development, StarTech.com.
This slideshow requires JavaScript.
Jason Ziller, General Manager, Client Connectivity Division at Intel explains, "With 40Gbps of bandwidth available through a single cable, Thunderbolt 3 enables exciting new products delivering multi-stream HD or 4K video and super-fast storage. StarTech.com's new Thunderbolt 3 Dual 4K Docking Station exemplifies the ease-of-use and productivity gains that are possible with Thunderbolt 3."
The following chipsets are what power this mighty dock.
Intel - Alpine Ridge JHL6540
Texas Instruments - TPS65983
Fresco - FL1100EX
Intel - WGI210AT
C-Media - CM6533
Genesys Logic - GL3226
If you want to purchase the aluminum StarTech Thunderbolt 3 Dual-4K Docking Station with SD Card Slot for yourself, you can get it here immediately in space gray. How much does it cost? $404.99. Yes, that is a lot of money, but StarTech's products are solidly built and should last a long time.