TaoTronics LED Desk Lamp with Wireless Charger [Review]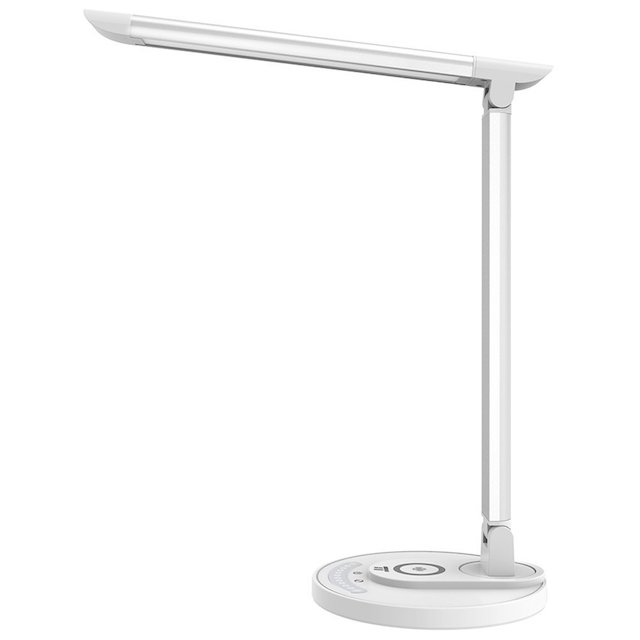 It is hard to get excited about a desk lamp. I mean, let's be honest -- they supply light and that's the end of the story, right? Well, no. Not necessarily. Actually, thanks to LED technology, there have been big advancements in both design and lighting capability.
Believe it or not, I am excited about a desk lamp, and there are many reasons why. It is from a company called TaoTronics and the product name is "LED Desk Lamp with Wireless Charger" (model number TT-DL036). As the name implies, it can wirelessly charge your compatible smartphones, such as the Galaxy S8 or iPhone 8. Actually, any device with Qi charging capabilities can be charged just by being placed on the lamp's base.
I recently bought an iPhone 8 Plus, so this lamp was very much desirable for my computer desk. I am happy to report that wireless charging works flawlessly. I just drop my iPhone on the proper spot, and bam -- I am off to the races. Please note, it may take a little practice to learn the correct placement of your specific smartphone.
The lamp supports a maximum of 10 watts output using the wireless charging method, so you will juice up your device quite quickly. The newest iPhones, for instance, support a max of 7.5w wireless charging, so you will be golden here. Quick-charging is supported for compatible Android devices, such as Samsung Galaxy S8 or the upcoming S9.
Don't have a smartphone with Qi wireless charging capability? Do not worry. There is also a USB Type-A port on the rear of the lamp, which can be leveraged for a wired experience. The USB port supplies 5 watts of charging.
Charging aside, this thing is a lamp, and it serves the lighting function quite brilliantly. The bulb is actually a long LED strip and it can be turned on and off using a touch-capable button on the base. Once the light is on, you can also change the lighting temperature. There are five levels from which to choose, ranging from 2700-6000k. In other words, you can make things warm or cool -- a great benefit for your eyes. This is controlled by tapping a touch-sensitive button.
In addition to temperature, you can also adjust brightness. This too utilizes touch controls. There is a curved touch strip on the base that offers seven levels of brightness. You can tap on the strip, or as I prefer, slide your finger along it to adjust the level. There is a max of 410 lumens.
After you get everything set up the way you like it, you may worry that you will lose your settings by turning the lamp off. Your fears there are unwarranted, as the lamp has a cool memory feature. Every time you turn on the lamp, it will retain your settings from the previous use. Nice!
Speaking of adjusting, there are an infinite number of possibilities to adjust the position of the LED light strip. The strip itself is connected to an arm, and at the neck where it connects, it has a wide range of motion. You can move the strip up and down 130 degrees, but also, you can turn the strip left or right 90 degrees to point the light in those directions rather than straight down.
The same up-and-down adjustment is found where the arm attaches to the base, meaning you can further tilt everything back or forward another 150 degrees. This can allow the LED strip to point directly at you -- a good option for taking selfies, actually.
The adjustment potential doesn't stop there -- nope. Actually, where the arm connects to the base, it is also sitting on a swivel. Should you need to, you can rotate the arm to the right and left, about 45 degrees in each direction. All of this comes together for one of the most versatile desk lamps I have ever experienced.
From a quality perspective, the LED strip and the arm are covered in aluminum, but for the most part, this is a very plastic-y affair. And that's not a bad thing. Actually, the plastic feels solid, and the white color blends well with the silver aluminum. The base is heavy, and is not at all likely to tip over. The bottom has a felt-like texture, meaning it should resist sliding and won't scratch wood.
The big question is, do I recommend the TaoTronics LED Desk Lamp with Wireless Charger? The answer is a resounding "Hell yes!"
Here's the deal, folks -- there's a ton of value to be found here. For $40 you aren't just getting a high quality (and beautiful) LED desk lamp, but a 10w wireless charging pad too. Let's not forget that it also offers USB charging as well. Quite frankly, TaoTronics could ask double the asking price and it would still be worth it.
Besides being an excellent desk lamp, I can see this being a great tool for amateur photographers. They can point the lamp at the subject and then adjust both temperature and brightness to fine-tune their shot. Again, how this only costs $40 is beyond me.
If you want to buy the lamp that will light up your life, you can grab the TaoTronics LED Desk Lamp with Wireless Charger from Amazon here. Highly recommended.