I cut the cord and switched to YouTube TV -- I couldn't be happier [Review]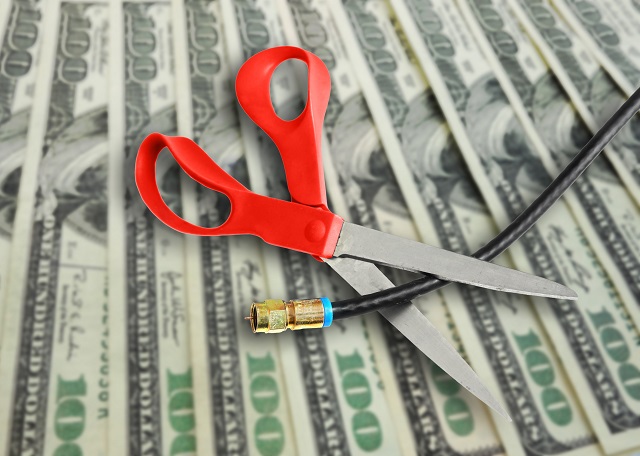 For 2018, I decided to take stock in my finances to see exactly where my money is going each month. I found many ways to cut costs, such as making my own lunch instead of buying something from a deli each day. In New York, a sandwich, bag of chips, and a Snapple can easily run you $13! Food aside, there was one thing in particular that was really destroying my budget -- cable.
When I say cable, I am referring to the traditional "triple play" service, where you get television, internet, and phone. For this, I was paying over $200 a month! This was without any premium channels -- no HBO, Starz, or Showtime. The most ridiculous part? I was being charged monthly rental fees for the cable boxes and modem. Well, enough was enough. Thanks to YouTube TV, I "cut the cord" and I couldn't be happier.
Before I did anything though, I did my homework on the various streaming TV services, such as Hulu with Live TV, DirectTV Now, and Sling TV. Ultimately, I chose YouTube TV because it is affordable, offers an unlimited storage DVR for no extra cost, and the promise of live local sports. I also selected it because it offers an Apple TV app, meaning my 4th-gen device, and Apple TV 4K would be ready to go -- no need to purchase anything else.
Did I sign up and cut the cord immediately? No. I wanted to be sure that I liked YouTube TV before taking such a big step. Google offers a free trial, so I decided to leverage that to test it out. My concerns were potential poor video quality and buffering issues.
For the most part, the video has been flawless. Every once in a while, however, there is a temporary degradation of picture, where things get blurry. After a minute, however, it picks back up and gets crystal-clear again. This doesn't happen often, and could be an issue with my ISP or home network, but ultimately, it was not at all a deal breaker. Audio has always been wonderful, although for some reason, the ABC channel has a slight hum that is audible during quiet scenes. I reported this issue, but YouTube TV has not fixed it yet.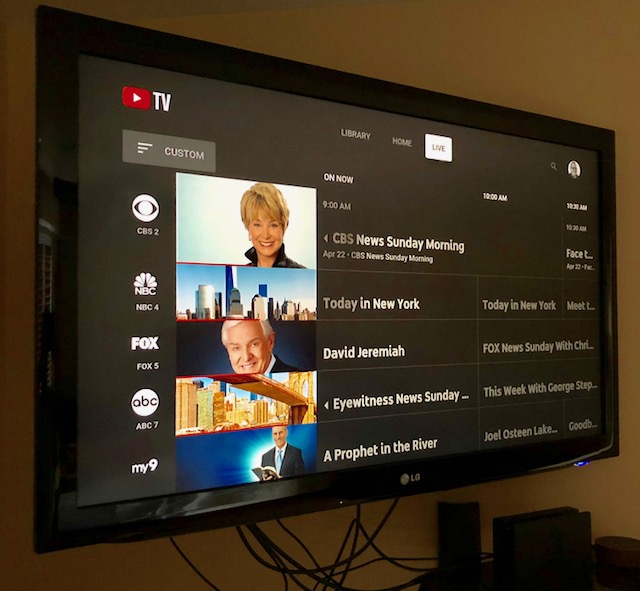 Satisfied with YouTube TV, I decided to cut both TV and phone service from the cable provider. Apple TV made losing the cable boxes no problem, but phone was an issue. Yeah, I could go with cell service only, but I like having a landline for emergencies. Not to mention, many friends and family members know that home phone number. Killing it was not an option. And so, I decided to go with magicJack.
If you aren't familiar, magicJack is a no-frills VOIP provider that offers home phone service for $35 a year. No, that is not a typo. That is the annual price. In comparison, I was paying the cable company $35 a month for phone service!
To sweeten the deal, the hardware is essentially free, as it costs $35 and includes a free year of service. I picked it up at Walmart. The hardware is a tiny box that plugs into one of the Ethernet ports on your router. Your phone also connects to the box. Like magic, you have home phone service in a neat little package.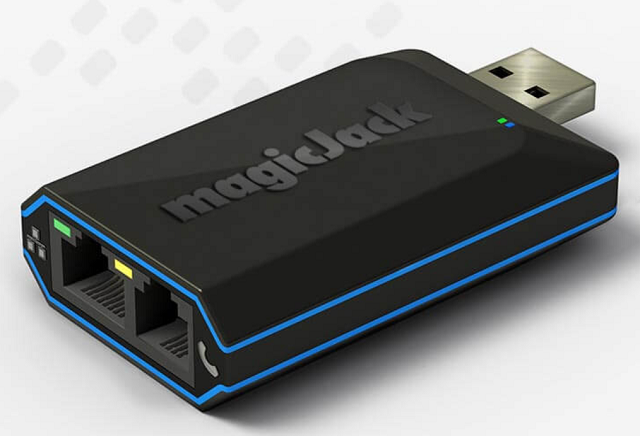 magicJack allows you to port your number too, making it perfect for my needs. I am thrilled to say, magicJack has been glorious -- perfect call quality at an affordable price. There is even an app that lets you make and receive calls when away from home. Amazingly, you can send and receive text messages too.
Unfortunately, I cannot end my relationship with the cable company entirely, as it is literally the only broadband provider in my area. I would have to keep it as my ISP. This also means I would have to keep renting my modem from them at $10 a month, right? Heck no. I decided to buy a DOCSIS 3.0 modem on Amazon for $60. This purchase would pay for itself in just 6 months, as I would own the modem and no longer have to rent theirs.
Finally cut the cord on TV. So excited to drop off these rented cable boxes and modem today! pic.twitter.com/gLaGSZ4PPr

— Brian Fagioli (@brianfagioli) March 3, 2018
I giddily got a big cardboard box, and threw all of the cable company's rented equipment into it. It contained two cable boxes, two remotes, and a modem. I proudly drove to the cable company and turned it all in. It is worth noting that the monthly rental fees and DVR surcharges, when totaled, cost more than YouTube TV! The era of me being ripped off by the cable company was over.
With the YouTube TV trial over, and all my cable equipment turned in, it was time to really use Google's TV service full time. The most confusing aspect of a TV service like this is forgetting the concept that channels have numbers. In other words, with a traditional cable box, you have to memorize each channel's corresponding number so you can locate it. With YouTube TV, you just scroll through and click or tap on the one you want.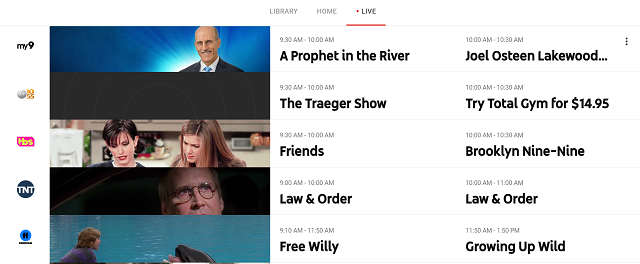 This was a daunting experience at first, because I felt like there was no rhyme or reason to the channel order. I was constantly searching for my favorite channels. This dilemma was short-lived, as I discovered you can set a custom view to change the order of the channels. I moved my most-watched to the top, and grouped other channels to my liking.
Even better, I could hide the channels I don't watch, reducing the number of them to scroll through. For instance, I am a Mets fan, so I hid the Yankees YES channel. I don't speak Spanish, so I hid those channels too. Ultimately, I was able to create a personal experience that made the TV viewing experience a dream.
It must be mentioned that while I am saving money with YouTube TV, I don't have the same number of channels. In fact, some of my favorites are not available, such as ID and TV Land. While I don't care for it, someone in my household is sad that we do not get MTV. With that said, YouTube TV is adding channels all the time. I follow them on Twitter, and every once in a while, they just randomly announce an addition. Best of all, my bill will not go up as a result.
The Post Cable Network has arrived. The warmest welcome to @Cheddar & the brand new Cheddar Big News, now available on YouTube TV! pic.twitter.com/ogZIDBIYmy

— YouTube TV (@YouTubeTV) April 17, 2018
All is not wonderful with the service. One of my biggest complaints involves a feature that made me choose YouTube TV in the first place -- the DVR. Here's the deal -- YouTube TV gives you the ability to stream shows directly from networks without going to the network's dedicated app. For instance, you can search for and stream CBS shows -- with unskippable commercials -- even if you didn't record it with the DVR. If you did record it, however, and it is also available to stream from the network, your DVR recording is blocked. This means you cannot watch the DVR version and fast forward through commercials. Annoying? Yes.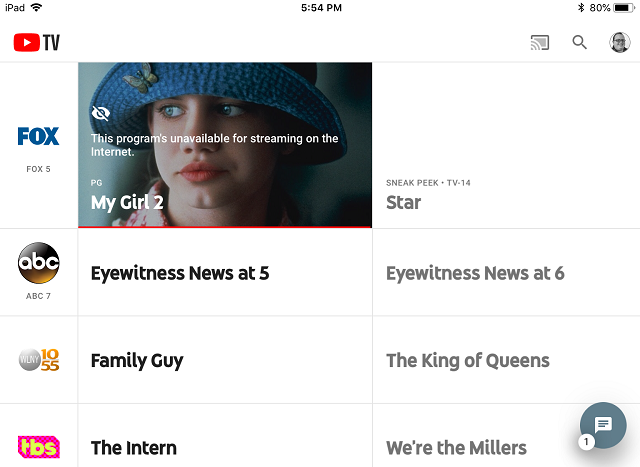 Also annoying? On a couple of occasions, movies have been blocked because the channel did not have "streaming rights" for it. As an example, the local Fox network was playing the movie "My Girl 2," and when a family member tried to watch it, they couldn't. I had to reach out to YouTube TV support to find about this streaming rights issue.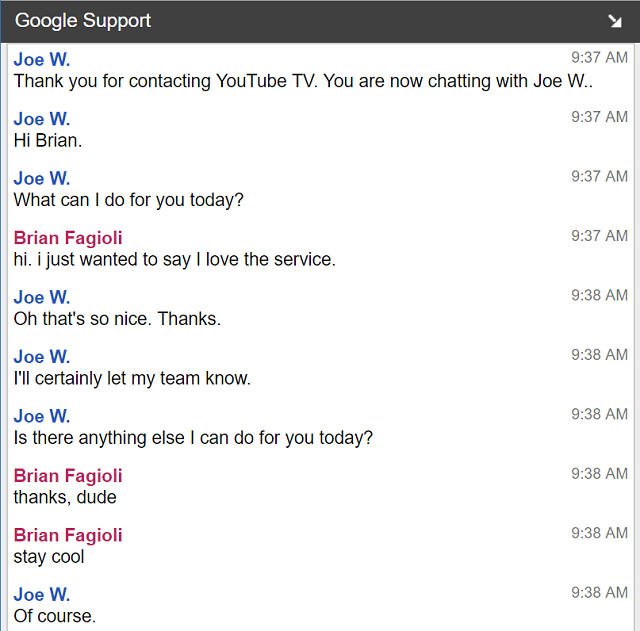 Luckily, YouTube TV customer support is one of the best I have ever experienced. From the mobile app or web browser, you can quickly do a live chat and speak to a real human. I feel very confident that if I need help, someone will be there. I also appreciate that the company is active and responsive on social media.
While I primarily watch TV at home, YouTube TV allows you to watch live programming on mobile too. I didn't expect to use this feature often, but it has come in quite handy. There have been times that I have shown up early for appointments, so while sitting in my car, I can watch some TV on my iPhone and relax. Once the weather gets better, I can see myself watching TV on my iPad in my backyard. The mobile app UI is well-designed too, making it a joy to use.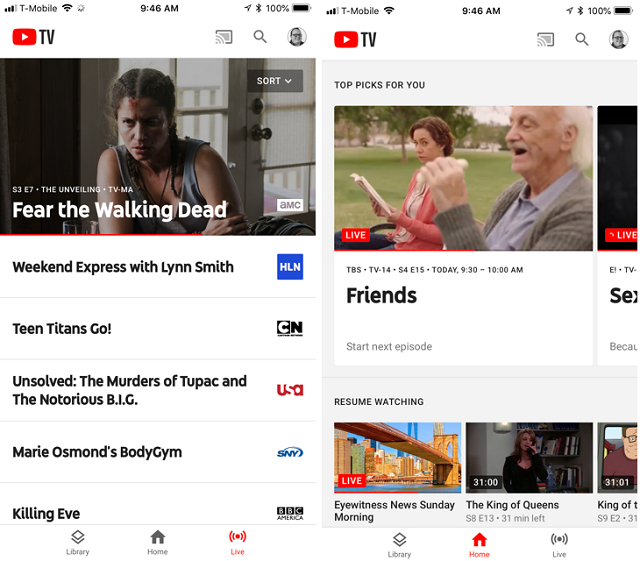 Also convenient is the ability to watch live TV using a web browser. With either Chrome or Firefox (not Safari), you can easily watch TV on your computer. I find this very useful, as my home office does not have a TV or media box. Instead, my Windows 10 desktop and monitor can serve as a television when I need a break.
When I signed up for YouTube TV it was $35 a month -- a price I am now grandfathered into. The price has since risen slightly to $40. Even with the higher price, I can't recommend YouTube TV enough. Despite a lack of some preferred channels, the overall selection is more than enough to keep me and my family satisfied. Both picture and sound quality are largely superb, and the interface is well thought-out and customizable.
If you are tired of being ripped off by your cable company, I highly recommend the affordable YouTube TV. It is the first television service I truly love.
Photo Credit: zimmytws/ Shutterstock