ASUS unveils Lyra Trio AC1750 dual-band mesh Wi-Fi system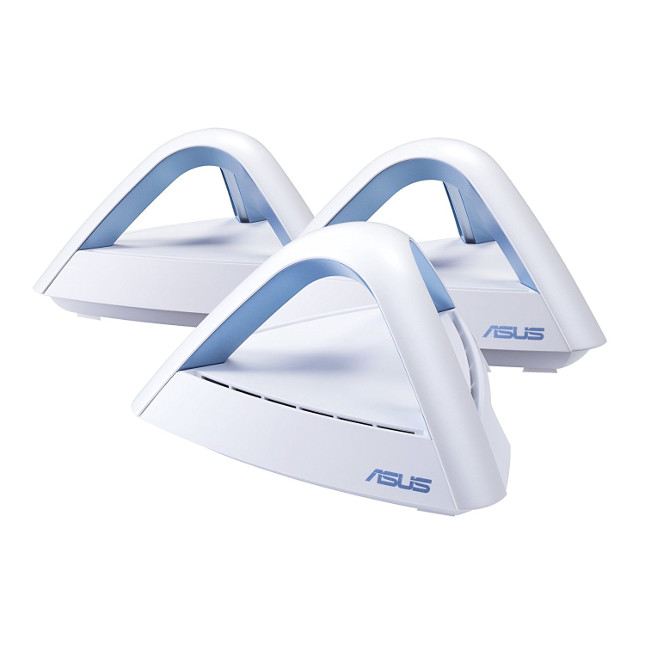 Mesh networking systems are all the rage these days, and it isn't hard to see why. Traditional wireless routers can be deficient in large houses, failing to reach all of the rooms. It can be quite frustrating to experience dead zones in your home, and fiddling with range extenders can be annoying. Mesh networks blanket your home in glorious Wi-Fi by utilizing several well-placed access points.
Today, ASUS unveils its latest mesh networking system. Called "Lyra Trio," it is comprised of three AC1750 access points. The 802.11ac devices are pyramid-shaped and contain vertical 3x3 MIMO antennas. If you don't have experience with setting up a home network, don't worry -- you can use a special smartphone app (Android and iPhone) to do so easily.
"Lyra Trio is a mesh WiFi system that uses multiple wirelessly connected hubs to deliver a superfast, secure signal to every corner of your home. It is designed to deliver a reliable, smooth signal whether you're in the basement, the garden or the living room. The multiple hubs of Lyra Trio work together to form a single network with one WiFi name. Once you're on the network, Lyra Trio automatically connects you to the hub with the best signal and seamlessly switches hubs as you move around your home. It's so smooth, you won't even notice it -- even if you're video chatting or streaming video," says ASUS.
ALSO READ: ASUS unveils the svelte ROG Zephyrus M Windows 10 gaming laptop
The company further says, "Lyra Trio provides always up-to-date protection with one-click firmware updates and AiProtection Classic cloud-based security powered by Trend Micro. These comprehensive security features safeguard online privacy and protect against internet threats for all devices connected to the network, even devices that do not have or are unable to run antivirus software -- such as connected smart home devices. It also includes parental controls that can be configured with a smartphone to let parents easily manage the amount of time their children spend online."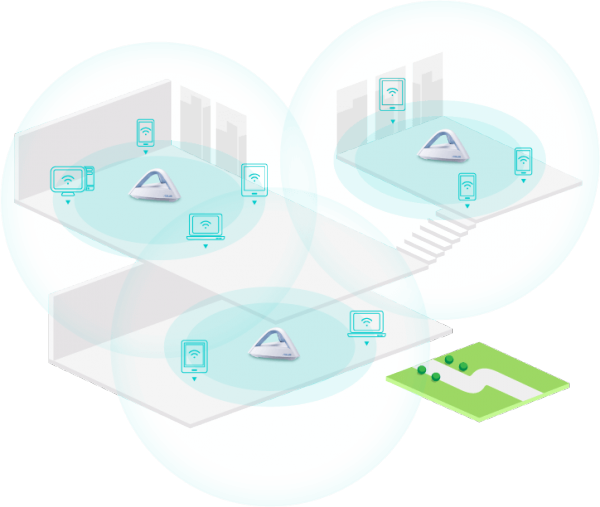 ASUS shares the following specifications.
Network Standard
IEEE 802.11a
IEEE 802.11b
IEEE 802.11g
IEEE 802.11n
IEEE 802.11ac
Product Segment
AC1750 superior AC performance : 450+1300 Mbps
Data Rate
802.11a : 6,9,12,18,24,36,48,54 Mbps
802.11b : 1, 2, 5.5, 11 Mbps
802.11g : 6,9,12,18,24,36,48,54 Mbps
802.11n : up to 450 Mbps
802.11ac : up to 1300 Mbps
Memory
Operating Frequency
2.4 GHz / 5 GHz
Encryption
WPA2-PSK
Management
DHCP
DDNS
Port Forwarding
System Event Log
VPN Support
IPSec Pass-Through
PPTP Pass-Through
L2TP Pass-Through
OpenVPN server
PPTP client
L2TP client
OpenVPN client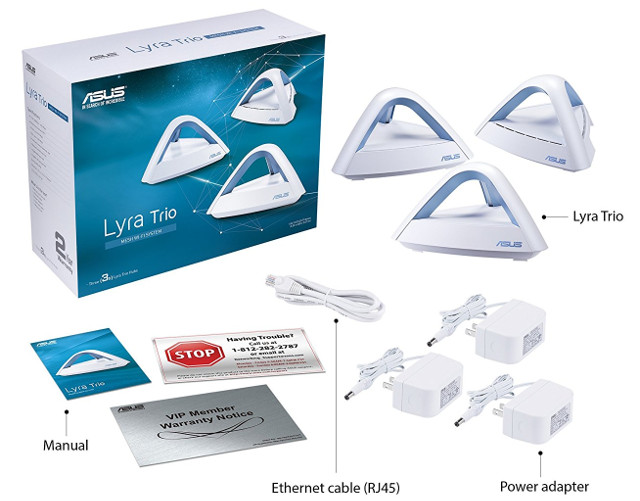 Unfortunately, the units only feature a single LAN port. If you have a lot of hardwired devices near your current router, you will have to leverage a switch -- a messy affair and yet another purchase. There are other mesh network systems that offer a base with four LAN ports, such as the excellent AmpliFi. The Lyra Trio AC1750 seems best suited for homes that use wireless devices almost exclusively.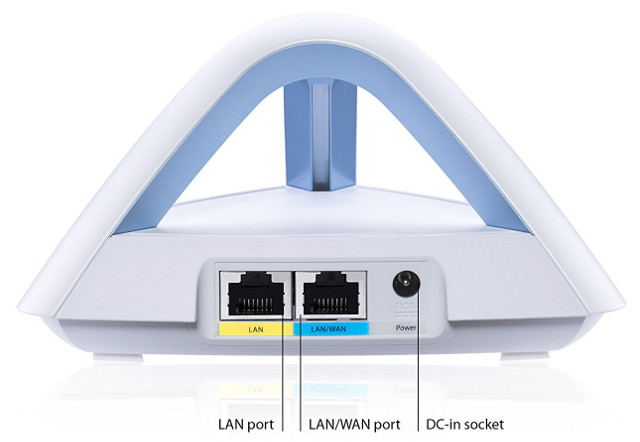 ASUS has been delivering exceptional home networking products over the last several years, and the Lyra Trio AC1750 dual-band mesh Wi-Fi system should be no exception. If you want to pick up one for yourself, you can pre-order at Amazon here. The price is $300 and it should begin shipping on May 1, 2018.