Philips Momentum 43-inch 4K Quantum Dot Monitor is HDR1000 certified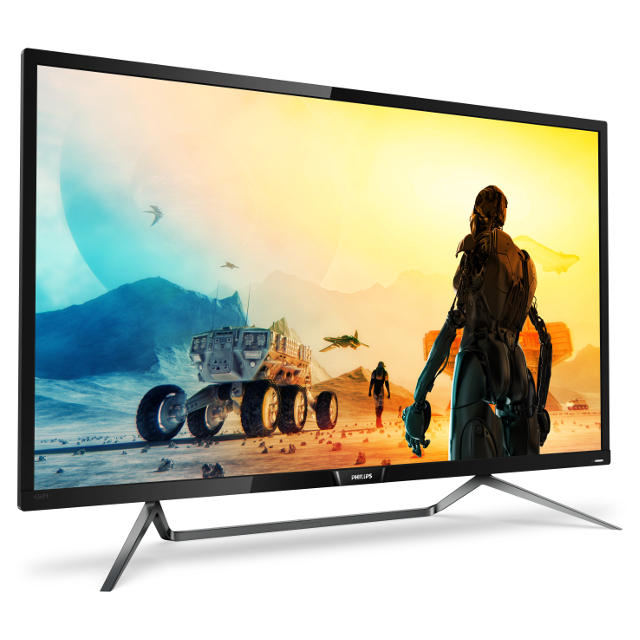 These days, 4K televisions and monitors are becoming much more common. Operating systems support them well, and there is a lot of available UHD content -- including on Netflix and YouTube. Not to mention, prices have dropped dramatically -- these 4K monitors are finally achievable by the average consumer.
Philips has announced an all-new 4K display called "Momentum" (model 436M6VBPAB) that is downright breathtaking. First of all, it is huge -- a massive 43 inches. Size aside, it has Quantum Dot technology, an insane 1,000 nits max brightness, 10-bit color, and most impressive of all, it is HDR1000 certified.
"The Momentum 436M6 features Quantum Dot Color and DisplayHDR 1000 for a wider range of more accurate colors -- especially dark reds and greens -- that stay crisp and clear even in bright light. DisplayHDR 1000 delivers a dramatically different visual experience. With a peak brightness of up to 1,000 cd/m2, incomparable contrast and captivating color, images come to life with much greater brightness while also featuring much deeper, more nuanced darks. It renders a fuller palette of rich new colors seen on the display," says Philips.
ALSO READ: Samsung CJ791 is world's first curved Thunderbolt 3 QLED display
"DisplayHDR is the display industry's first fully open standard specifying HDR quality. This standard spans across three performance tiers: DisplayHDR 400 (baseline), 600 (mid-range) and 1000 (high-end). These specifications are established using eight specific parameter requirements and associated test including: three peak luminance tests, two contrast measurement tests, color testing of the BT.709 and DCI-P3 color gamuts, bi-depth requirement test and a HDR response performance test."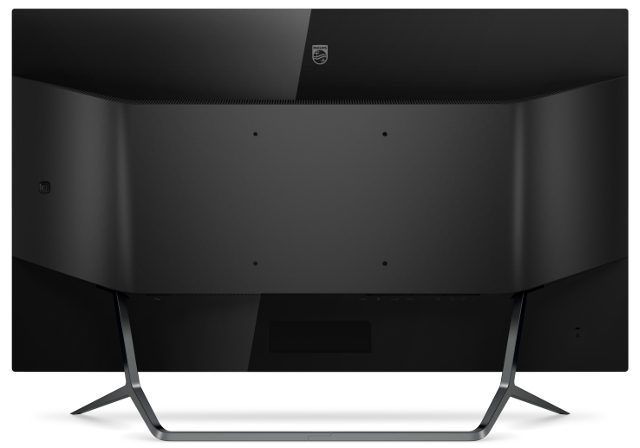 Philips shares the following specifications.
LCD panel type: MVA
Backlight type: W-LED system
Panel Size: 42.51 inch / 108 cm
Display Screen Coating: Anti-Glare, 3H, Haze 2%
Color gamut (min.): BT. 709 Coverage: 100%; DCI-P3 Coverage: 97.6%
HDR: DisplayHDR1000 and UHDA certified
Effective viewing area: 941.18 (H) x 529.42 (V)
Aspect ratio: 16:9
Optimum resolution: 3840 x 2160 @ 60 Hz
Pixel Density: 103.64 PPI
Response time (typical): 4 ms (Gray to Gray)
Brightness: 720 cd/m2 (typical), 1,000 cd/m2 (peak)
Contrast ratio (typical): 4000:1
SmartContrast: 50,000,000:1
Pixel pitch: 0.245 x 0.245 mm
Viewing angle: 178o (H) / 178o (V), @ C/R > 10
Flicker-free
Picture enhancement: SmartImage
Display colors: 1.07G (8bits + FRC)
Scanning Frequency: VGA: 47 - 63 Hz ; HDMI/
DisplayPort: 23 - 80 Hz / VGA/HDMI: 30 - 99 kHz; DisplayPort: 30 - 160 kHz
sRGB
Adaptive sync
LowBlue Mode
Signal Input: HDMI 2.0 x 1, DisplayPort 1.2, mini DisplayPort 1.2 x 1, USB-C (DP Alt mode)
USB: USB 3.0x2 (2 w/fast charging)
Sync Input: Separate Sync, Sync on Green
Audio (In/Out): PC audio-in, Headphone out
When you can buy the Philips Momentum 43-inch 4K Quantum Dot Monitor is a bit of a mystery. The company only says it will be available "this summer" which is a huge range. What we do know for sure, however, is the price -- $1,000. Yes, there are less expensive 4K monitors, but with all of the specifications and features considered, the cost is totally justified.