Amazon now offers a smart home security installation service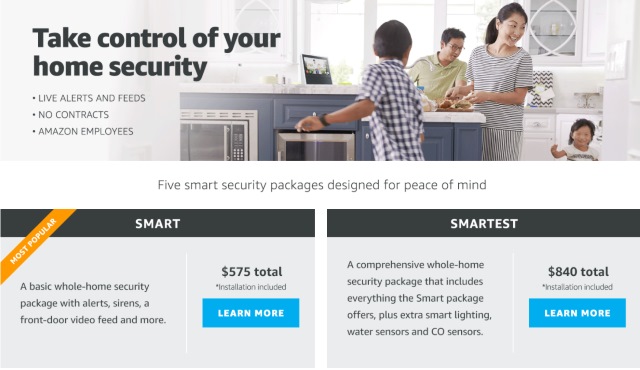 Earlier today, we revealed that Amazon is bumping up the price of a Prime subscription by 20 percent, but this is not the only news coming from the online giant. A newly discovered and little-advertised portal on the Amazon site finds the company offering smart home security installation services.
Ranging in price from $240 to $840, the Smart Home Services packages include the cost of both hardware and installation. In all, there are five packages to choose from, covering everything from simple smart lighting, to full-home security systems.
See also:
Importantly, all of the packages are one-off purchases. Amazon stresses that there are no hidden fees, and there's no monthly subscription to pay. It's not quite clear when Amazon launched the service, but there are reviews dating back to December. Quite why there was so little fanfare about it is anyone's guess.
The company has clearly recognized that while there is a reasonable level of interest in using smart devices to secure homes, many people are put off by the idea of installing it themselves. Rather than risking third parties interfering, Amazon thought that offering a paid-for installation service was the way ahead.
Amazon put some thought into the packages, going as far as offering one designed with those living in rental properties. Of its Indoor Base package, Amazon says: "Renting? This package is perfect for you because it doesn't require permanent changes to your home. If you decide to move, it can move with you." For $320, you get entryway sensors, a siren, a camera offering live video, and real-time alerts.
At the top of the range, there's the $840 Smartest package. This includes a siren, motion/contact sensors, safety sensors, camera, Echo Dot, indoor lighting, outdoor lighting, and a video doorbell.
Find out more about the available packages on the Amazon Smart Home Services page.