Amazon Key In-Car lets Prime subscribers have orders delivered to their car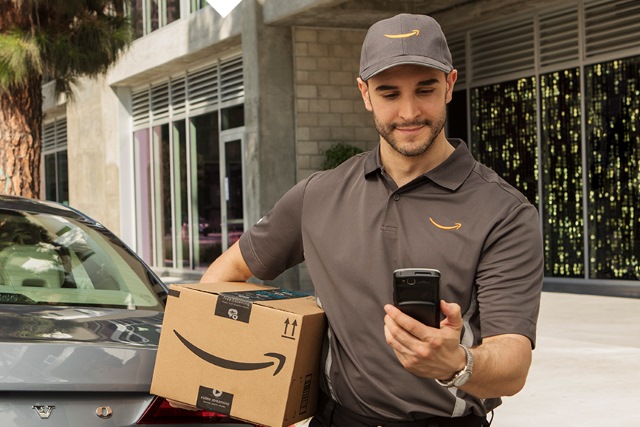 Through Amazon Key, Prime subscribers can grant delivery drivers access to their home using a special keypad so packages can be delivered when they're out. Today Amazon announces an extension of the program, Amazon Key In-Car, which lets Prime users have deliveries placed in their cars.
To start with, the service is available in 37 US cities, and there are plans to roll it out further. Shoppers are given a four-hour delivery window during which time their goods can be delivered to their vehicle. To start with, there is support for compatible 2015 or newer Chevrolets, Buicks, GMCs and Cadillacs with an OnStar account, and 2015 or newer Volvos with a Volvo On Call account. Vehicle support is also due to extend.
See also:
In-car delivery is available at no extra cost to anyone who already has a Prime subscription. Using a mobile app, users are able to give delivery drivers permission to access their vehicles, and notifications are sent out after a successful drop-off. Customers are also able to check that their car has been relocked.
Amazon shares a video showing off the benefits of its new service:
Peter Larsen, vice president of delivery technology at Amazon, says:
Since launching Amazon Key last November, we've safely delivered everything from cameras to collectable coins inside the home. Customers have also told us they love features like keyless guest access and being able to monitor their front door from anywhere with the Amazon Key App. In-car delivery gives customers that same peace of mind and allows them to take the Amazon experience with them. And, with no additional hardware or devices required, customers can start ordering in-car delivery today.
Amazon says that multiple layers of verifications are used to ensure the security of in-car deliveries, and an encrypted process is used to unlock cars to prevent eavesdropping. The company also explains that security measures are in place to ensure a vehicle is locked before a delivery driver leaves, but there is a safeguard that automatically locks vehicles after a period of time anyway.
To get started, you'll need an iPhone or Android app, as Amazon explains:
Complete one-time setup in the Amazon Key App to receive in-car deliveries -- no new hardware or devices required. Setup includes adding your vehicle and linking your Amazon account with your active connected car service account. On delivery day, the Amazon Key App lets you check if you have parked within range of the delivery location, and provides notifications with your expected 4-hour delivery time window (typically between 11 a.m.-3 p.m. for Two-Day Shipping and 5 p.m.-9 p.m. for Same-Day Delivery). The app also notifies you when your delivery is on its way, and your package has been delivered. You can also track when your car was unlocked and relocked in the app's activity feed, and rate your in-car delivery.
The Amazon Key mobile apps can be downloaded from the App Store and Google Play. You can find out more at amazon.com/keyincar.