System76 Oryx Pro Linux laptop is now thinner and faster, putting Apple MacBook Pro to shame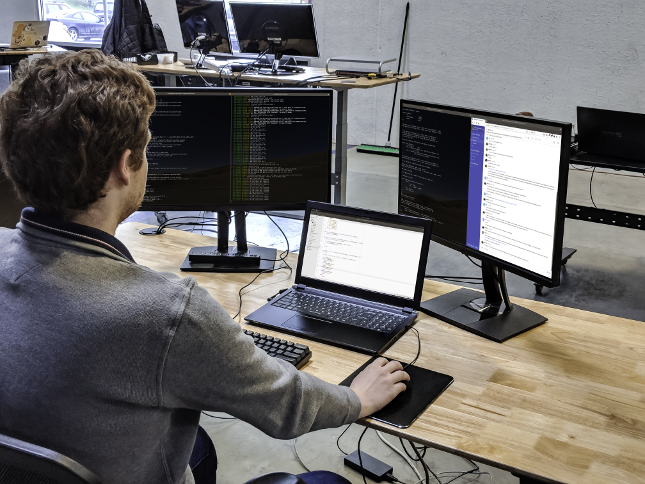 Last week, System76 started to share details about its refreshed Linux-powered Oryx Pro laptop. It would be thinner and more powerful, while adding twice the battery life of its predecessor. Unfortunately, we did not yet know exactly what the laptop looked like. Today, we finally have official images.
This new Oryx Pro is quite breathtaking, as it is a true Pro machine -- with the USB Type-A, Ethernet, and HDMI ports you expect -- while being just 19mm thin. It has the horsepower that power-users need, thanks to its 8th Gen Intel Core i7 processor and NVIDIA GeForce GTX 10-Series GPU. Hey, Apple, this is what a "Pro" laptop should be...
"The Orxy Pro puts the user in the driver's seat, with the ability to control battery life and performance using switchable GPU's. This feature allows the user to move from high demand tasks, to ultimate portability and battery life, at the switch of a button. The laptop is designed for the user that demands massive computing power (i.e. Machine Learning and AI programming) in a portable, lightweight chassis. To accomplish this, the chassis packs the impressively slim body with a high performance Intel CPU and NVIDIA GeForce GTX 10-Series GPU. The GeForce GTX 1070 version includes Nvidia's Max-Q thermal design," says System76.
ALSO READ: Ubuntu Linux 18.04 Bionic Beaver is here -- download it now!
The computer-seller also says, "The Oryx Pro moves flawlessly from on-the-go, to multi-monitor usage in moments allowing the user greater flexibility. With an HDMI port as well as 2 mini display ports the user can move from commute to command center at a moments notice. Users may also be particularly excited by its 6 cores and 12 threads. The optional HiDPI display has 3.1 million more pixels than Retina, enabling sharp video. The display allows users to play the most visually-impressive games at their maximum settings. Plus, advanced thermal techniques keep the Oryx Pro's high performance CPU and GPUs cool while gaming or completing compute intensive tasks."
This slideshow requires JavaScript.
System76 shares the following specifications.
Operating System: Pop!_OS 18.04 LTS (64-bit) or Ubuntu 18.04 LTS
Processor: 8th Gen Intel Core i7-8750H (2.2 up to 4.1 GHz - 9MB Cache -- 6 cores -- 12 threads)
Display: 15-inch HiDPI and IPS display options
Graphics: NVIDIA Geforce GTX 1060 or 1070
Memory: Up to 32 GB Dual Channel DDR4 @ 2400MHz
Storage: 1× M.2 SSD, 1× 2.5" 7mm height drive. Up to 6 TB total
Expansion: 2× USB 3.1 Type-C, 3× USB 3.1Type-A, SD Card Reader
Input: Multi-Touch Clickpad, Multi-Color Backlit Chicklet Keyboard
Networking: Gigabit Ethernet, Intel Wireless-AC WiFi, Bluetooth
Video Ports: 1× HDMI output port (with HDCP), 2× DisplayPort 1.3
Audio: Stereo Speakers, Stereo Mic, Headphone Jack, Mic Jack, S/PDIF
Camera: 1080p HD Webcam
Battery: 4 Cell Polymer -- 55 Wh
GPU: 1060 -- 150 W, AC-in 100-240 V, 50-60 Hz or 1070 -- 180 W, AC-in 100–240 V, 50-60 Hz
Dimensions:  14.96" × 9.92" × 0.73" (37.99 × 25.19 × 6.32 cm)
Weight: 4.37 lbs. (1.98 kg.)
While you can configure your own Oryx Pro here today, it won't ship until later this month. Pricing starts at $1,599, and it will increase based on specifications. While there are many different combinations, I would highly recommend upping the RAM to 16GB and upgrading to an NVMe SSD.
As an added bonus, the first 100 people to buy the Oryx Pro will get a commemorative movie poster based on this teaser trailer.