PortableApps.com launches Platform 15 with high DPI support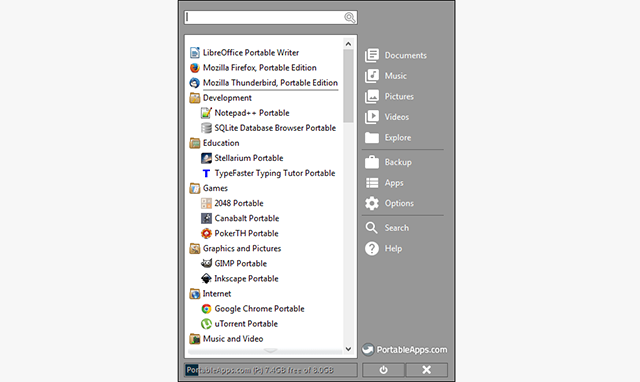 When traveling, we like to take as little as possible. We don't want to be dragging a huge 15" laptop on the road, but we still need access to our files, data and even our favorite apps.
With this in mind, often we carry around a small USB stick with our most important data. Simply plug the USB stick into any computer and you have full and secure access to your files, without having to worry about copying them to the temporary PC.
PortableApps.com has just launched Platform 15 and this is their platform for managing your portable apps. Portable apps are, as their title suggests, apps you don't need to install to use. You can put a portable app on your USB stick, connect to any computer, use the apps to edit your work, without any of this affecting the host computer. There's no installation, no Registry entries, no remote storage, nothing.
Once you have the PortableApps.com Platform 15 on your computer (or USB drive, stick or temporary device), you can then pick and choose from the apps you want within this new self-contained system and there's plenty of favorites to choose from, including Google Chrome, Firefox, Skype, Thunderbird, Gimp, LibreOffice and even games you could play on the road. A full list is available here.
There are also portable security tools, too, such as ClamWin, Kaspersky TDSSKiller, McAfee Stinger and Spybot. These enable you to run a scan for vulnerabilities if you're using someone else's computer and you're unsure about their setup. You can keep your passwords safe and secure in a portable version of KeePass, whilst Eraser will completely erase your traces if you do choose to install software on a remote host and want to securely remove this data.
So, what's new in Platform 15? High DPI screens are now supported, .NET app included, high contrast theme detection added, improved support for Windows 10 visuals and much more.
Download PortableApps.com Platform 15.